Posted on: Thursday, 11th April, 2013
London Liturgy to pray for the Church in Egypt
On Saturday, 13th April, 9:30 am. His Eminence Metropolitan Seraphim of the British Orthodox Church within the Coptic Orthodox Patriarchate will celebrate the Liturgy and invites all who wish to pray for the peace of Egypt and the safety of the Coptic Orthodox Church to unite with us in prayer.
The Liturgy will take place at St George in the East, Cannon Street Road, Shadwell, London, E1 0BH, beginning at 9:30 am with the Raising of Incense, and at 10:00 am with the Liturgy itself.
All interested and faithful Christians who are able to pray with us on this occasion are most warmly invited to do so.
Our worship will be in the English language.
The Church of St George in the East is only 4 minutes walk from Shadwell DLR station.
Posted on: Monday, 11th March, 2013
This is a warm invitation to two opportunities to worship with us in Windsor at our Orthodox Mission of St Andrew this week.
On Monday 11th March we are meeting to pray a service of Orthodox Evening Prayer in the English language. We begin our prayers at 6:30 pm at St Andrew's Church of England, Mill Lane, Clewer, Windsor. Father Peter Farrington will lead the prayers from the Orthodox Daily Office of the Coptic Orthodox tradition in the English language. After the service of prayer there will be time for conversation and refreshments.
On Saturday 16th March, this coming Saturday, we are meeting to celebrate the Orthodox Liturgy in the English language for the first time at St Andrew's, Mill Lane, Clewer, Windsor. Our morning of worship will begin at 9:30 am with the Raising of Incense, and the Liturgy itself will begin at 10:00 am. His Eminence Metropolitan Seraphim will celebrate the Liturgy assisted by Father Peter Farrington. There will be an opportunity for conversation and refreshments after the Liturgy.
You are most warmly welcome to attend either or both of these services. If you know of others who may be interested in participating in our Orthodox worship then do please pass this message on to them.
Posted on: Saturday, 1st May, 2010
Christ is Risen!
Our final Sayers Common Liturgy is scheduled for Sunday 27th June: Matins (9.30) & Divine Liturgy (10.15).  The decision to close the Sayers Common mission has not been taken without any regret and reflects a situation in which in terms of our limited resources we have over-stretched ourselves or 'spread ourselves too thinly' in taking this on and attempting to sustain it these past two years.
This year's Oriental Orthodox Festival is Saturday 8th May at the Coptic Centre, Shephalbury Manor, Broadhall Way, Stevenage SG2 8RH from 10:30 am to 4 pm.  The Council of Oriental Orthodox Churches in the UK organises the Festival and this year His Grace Bishop Angelos is hosting the event at the Coptic Orthodox centre at Stevenage.
The Festival includes a con-celebrated liturgy in which clergy of all of the member churches of the Oriental Orthodox community participate. A buffet lunch follows, made up of contributions brought by all of the participants at the festival, and the festival concludes with contributions from various Orthodox communities, which may include choirs performing hymns and songs from the various Orthodox traditions represented, and one or more short talks by some of the clergy.
The festival is an important opportunity for the various communities of the Oriental Orthodox communion in the UK to meet together to express our unity in the Orthodox Church, and to develop bonds of friendship and fellowship. It is important that as many clergy and people attend as possible to make the festival a success.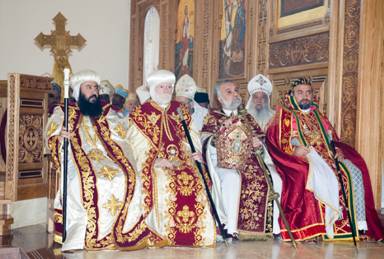 Coptic, British, Armenian and Syrian bishops together during the last Stevenage Oriental Orthodox Festival.
Upcoming events
19 April 2014

Joyous Saturday: Bournemouth

Saturday Worship 10.00
Paschal Vigil Liturgy 22.00

Eve of the Feast of Holy Pascha: Babingley

Eve of the Feast of Holy Pascha (Orthodox Easter)
4.00 -6.00 p.m A priest will be available for confessions.
7.00 p.m. Divine Liturgy for Holy Pascha

20 April 2014

Raising of Incense & Divine Liturgy: Doncaster

Raising of Incense – 9:45am
Divine Liturgy – 10:30am

Holy Pascha: Bournemouth

Morning Prayer with Holy Communion 10.00
Followed by Memorial Prayers, commencing at Church & continuing in
Wimborne Road cemetery

No service: Babingley

10.30 a.m. No service because of the celebration on Pascha Eve.