Posted on: Saturday, 19th June, 2010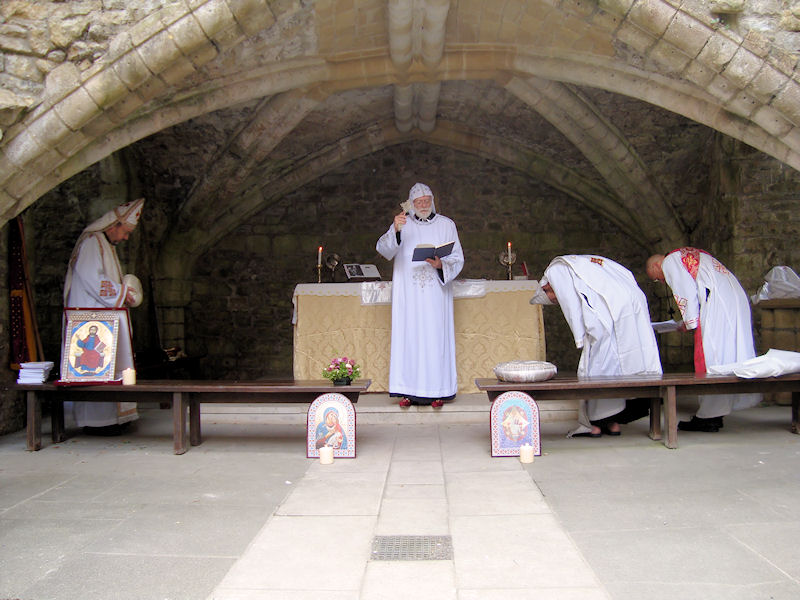 The annual Glastonbury Pilgrimage took place on 19 June and this year Abba Seraphim was invited to be the Orthodox celebrant in the morning. By convention this invitation rotates betweeen the Eastern and Oriental Orthodox Churches each being the celebrant in alternate years. Abba Seraphim was assisted by Fathers Simon Smyth (Bournemouth & Portsmouth) and Peter Farrington (Chatham), Deacon John Stuart (Exeter) and Subdeacon Wulfric Ashdown (Glastonbury). The Liturgy, which was held in the Undercroft, was well attended by a number of Orthodox church members, members of the British Orthodox Fellowship as well as clergy and faithful of other churches. In his homily Abba Seraphim spoke of the important tradition of pilgrimage and gave thanks for the revival of Glastonbury as a spiritual centre after the despoliation of the Reformation, "Through God's mercy Glastonbury was restored – not as it was – but pilgrims returned and worship was renewed. In spite of its neglect for more than three hundred years it never ceased to be a holy place and we enter with reverence and conscious that our devotions are part of the chain of prayer which links us with past ages."
Following the Liturgy, the Orthodox clergy joined in the Procession of Witness through the town before attending the Anglican High Mass in the Abbey ruins, celebrated by The Right Rev'd John Ford, Bishop of Plymouth, the new Pilgrimage Chairman, with the Right Rev'd Peter Price, Bishop of Bath & Wells as diocesan presiding from the throne throughout and assisted by a number of Anglican bishops, including the Right Rev'd David Silk, the former Pilgrimage Chairman and the two Provincial Episcopal Visitors, the Suffagan Bishops of Ebbsfleet (The Right Rev'd Andrew Burnham) and Richborough (The Right Rev'd Keith Newton) , The Right Rev'd Edwin Barnes, Bishop Emeritus of Richborough and The Right Rev'd David Thomas, Provincial Assistant Bishop of the Church in Wales 1996-2008. The homily on Priestly Vocations by Father Darren Smith, Secretary of the Additional Curates' Society, resonated with all Christian traditions. The weather remained dry and sunny and many pilgrims were able to picnic in the abbey grounds. Abba Seraphim and his staff, along with the Mayor of Glastonbury, were luncheon guests of the Pilgrimage Committee.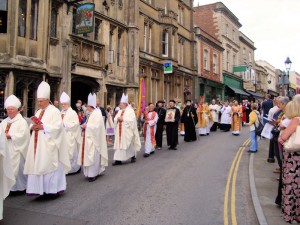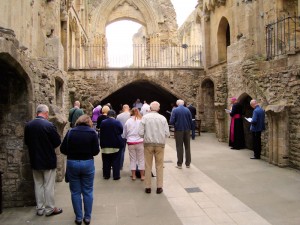 Upcoming events
26 October 2014

Morning Incense & Divine Liturgy: Bournemouth

Morning Incense 09.30, Divine Liturgy 10.15

Raising of Incense & Divine Liturgy: Doncaster

Raising of Incense – 9:45am
Divine Liturgy – 10:30am

Morning Prayer: Babingley

10.30am Morning Prayer

Raising of Incense & Divine Liturgy: Charlton

Raising of Incense 2.00 p.m.
Divine Liturgy 2.30 p.m.