Posted on: Wednesday, 21st August, 2013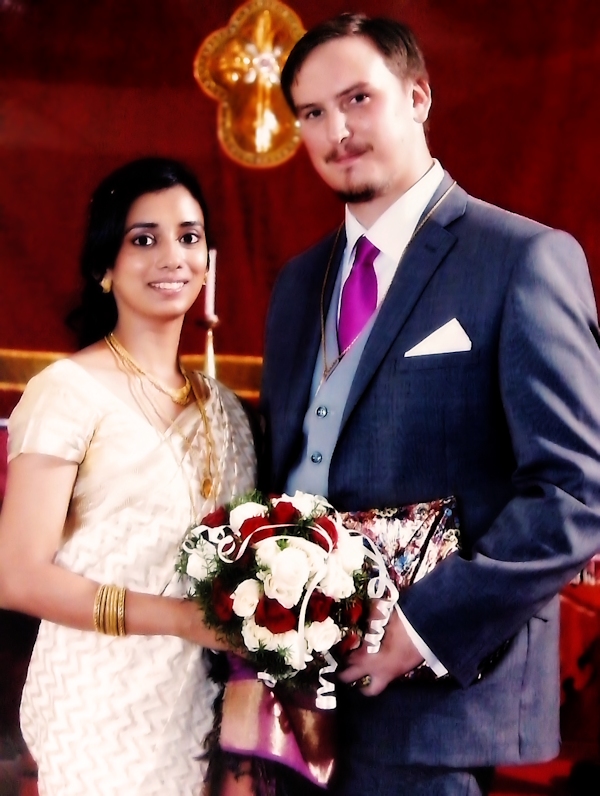 On 19 August Subdeacon Daniel Malyon and Janice Oommen were joined together in Holy Matrimony in Kerala. The service was performed by His Grace Gabriel Mar Gregorios, Bishop of Thiruvananthapuram (Trivandrum) in his Domestic Chapel at Aramana,  assisted by three of his priests and was conducted in both Malayalam and English in the presence of some 240 guests. On 16 August Daniel had an audience with His Holiness Baselios Mar Thoma Paulose II, Catholicos of the East, who gave them his blessing.
The Betrothal of Daniel and Janice had been performed on 16 December 2012 by Father Simon Smyth at Christ the Saviour Church in Bournemouth, where Daniel and Janice had first met.
In his letter of greeting to Mar Gregorios, Abba Seraphim  had written, "The forthcoming wedding is a source of much pleasure to the clergy and faithful of the British Orthodox Church, not only because we have come to know and love Janice during her stay in the UK; but also because it symbolises the deep affection band respect with which the British Orthodox regard the venerable Orthodox Church of India, which has proved such a vibrant witness to our common faith, both here and in its homeland in Kerala."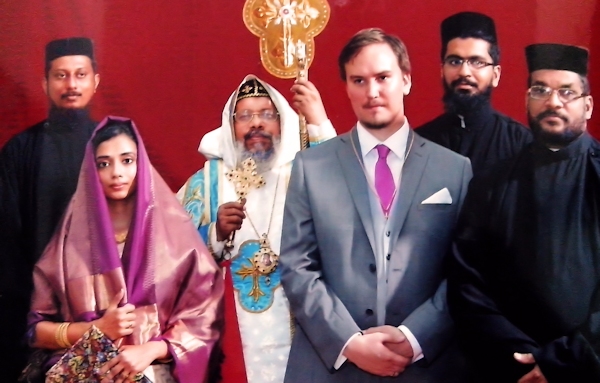 Posted on: Sunday, 31st October, 2010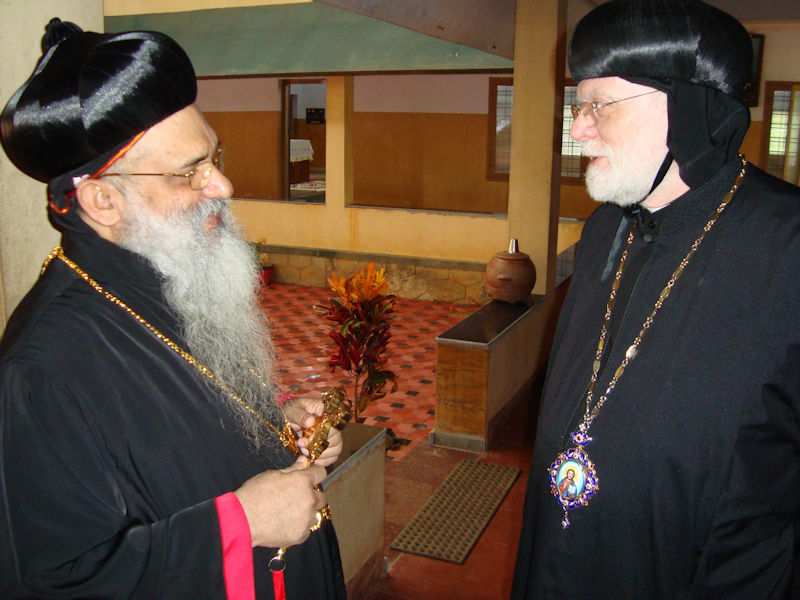 His Holiness Moran Baselios Mar Thoma Didimos I, Catholicos of the East & Malankara Metropolitan, announced his abdication at the meeting of the Holy Episcopal Synod of the  Malankara Orthodox Syrian Church, held at Devalokam on 29 November. The Catholicos Designate, His Beatitude Paulose Mar Milithios will be enthroned at Parumala Seminary on 1 November 2011.
Abba Seraphim responded to the news by sending his congratulations to the Catholicos Designate with "warm fraternal greetings and assurance of prayers" and spoke of the great importance of the advancement and ecumenical witness of the Malankara Church for the Oriental Orthodox tradition, not only for its sister Orthodox churches but also for all Christians. During his visit to Kerala in January, Abba Seraphim and his party were warmly received by Paulose Mar Milithios at Kunnamkulam. The new Catholicos was consecrated a bishop at the age of thirty-eight and elected Catholicos-Designate in 2006. At the relatively youthful age of sixty-four, he will bring energy and dynamism to a church which has already possesses vibrancy and vision.  The former Catholicos, who abdicated on his eighty-ninth birthday, showed his deep love for the church by laying aside his high office to enable his successor to take up his responsibilities in time for the Centenary of the re-establishment of the Catholicate, which will be celebrated in 2012.
Posted on: Wednesday, 25th August, 2010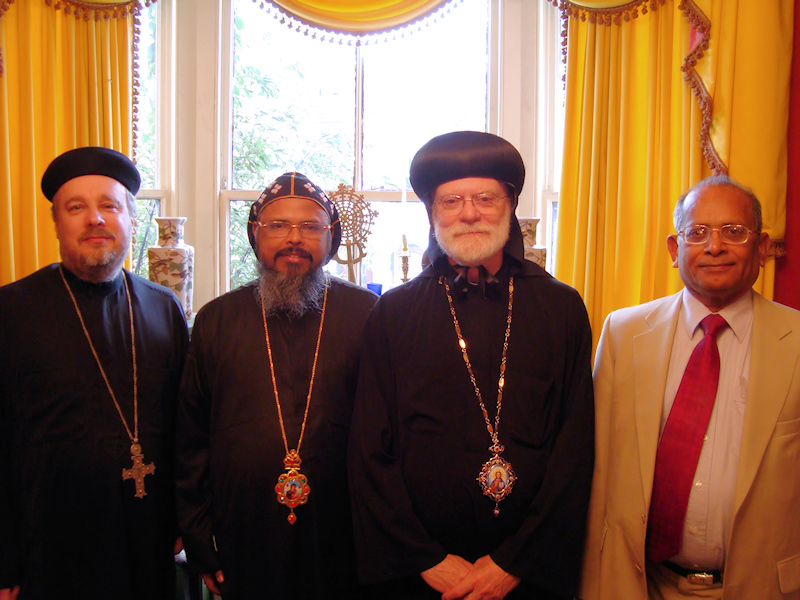 His Grace Dr. Mathews Mar Thimothios, Bishop of the Malankara Orthodox diocese of the UK, Europe and Africa paid a fraternal visit to the British Orthodox Church Secretariat at Charlton on 25 August, where he was wamly welcomed by Abba Seraphim.
His Grace Mar Thimothios is in the United Kingdom for a two month stay after having travelled extensively in Africa and Europe on pastoral visits to his  diocese, which must be one of the largest in the world. He and Abba Seraphim last met during the latter's pilgrimage to Kerala in January this year. He was accompanied by Dr. George Kutty, Secretary of St. Gregorios Orthodox Church in Brockley, South-east London, who both lunched with Abba Seraphim and Father Peter Farrington, Secretary of the Council of Oriental Orthodox Churches in the UK. During the visit the two bishops were able to discuss various pastoral issues as well as aspects of the history and traditions of the Malankara Church. Abba Seraphim  presented Mar Thimothios with a copy of his A Pilgrimage to Malabar.
Upcoming events
1 February 2015

Raising of Incense & Divine Liturgy: Doncaster

Raising of Incense – 9:45am
Divine Liturgy – 10:30am

Morning Prayer: Babingley

10.30am Morning Prayer

7 February 2015

Raising of Incense & Divine Liturgy: Shadwell

9.30 am Raising of Incense
10.00 am Liturgy of St. James
11.45 am Refreshments

8 February 2015

Raising of Incense & Divine Liturgy: Doncaster

Raising of Incense – 9:45am
Divine Liturgy – 10:30am

Morning Prayer: Babingley

10.30am Morning Prayer