Posted on: Monday, 7th January, 2013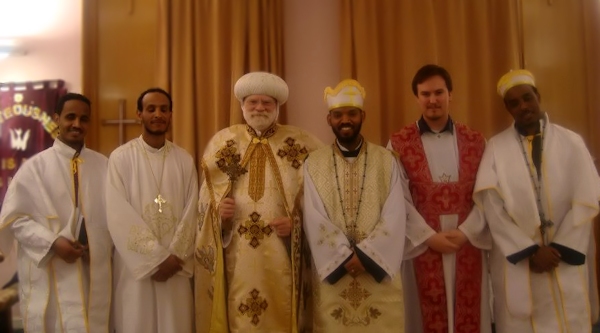 Although the Oriental Orthodox churches in the United Kingdom share a common faith, they do not share a common calendar, so the Nativity Feast was celebrated on 25 December for the British, Indian  and Syrian Orthodox, on 6 January for the Armenian Orthodox and 0n 7 January for the Coptic, Eritrean and Ethiopian Orthodox.
On 6 January Abba Seraphim presided at the Blessing of the Waters and Divine Liturgy at St. Mary & St. Felix Church at Babingley, Norfolk, where he preached on the meaning of the Holy Theophany, one of the seven great feasts of the Church. Having blessed all those present with the newly sanctified water, they afterwards took away bottles of the holy water for use in their homes. That same evening, Abba Seraphim presided at the Nativity Vigil of the canonical Eritrean Orthodox Church (recognising Patriarch Antonios) in London meeting in Archway, Highgate, where he was warmly welcomed by Father Shenouda Haile and his congregation. Also assisting in the sanctuary was Subdeacon Daniel Malyon from the British Orthodox Church. At the conclusion of the Divine Liturgy clergy and people sat together to enjoy a festive meal and Abba Seraphim blessed two birthday cakes as well as the traditional  enjera,  hambasha and wat.
Posted on: Sunday, 23rd December, 2012
On Saturday, 22nd December, Father Peter Farrington attended the Evening Prayers and Carol Service of the Indian Orthodox Church of St Gregorios, Brockley, London. He had been invited to give a homily to the congregation by Father Thomas John, and was very pleased indeed to be able to spend an evening in the company of fellow Orthodox Christians.
The evening began with the regular prayers of the Indian Orthodox tradition, offered in English, at which Father Peter assisted Father Thomas John. Then a programme of English carols, and songs in Malayalam had been organised, with a Nativity Play performed by the younger members of the congregation.
The range of talent in the congregation was most impressive and it seemed that there were three or four different choirs of great ability, which together with the enthusiastic performances of the children of the congregation made for a most delightful evening. At one point a choir of deacons sang some of the traditional Malayalam hymns of the Church and were joined by Father Thomas John and Father Mathew Abraham.
Father Peter spoke on the theme of Christ becoming man as the Prince of Peace, and particularly reflected on the prophecy of Isaiah and the angelic proclamation to the shepherds.
At the end of the evening Father Christmas distributed gifts to the excited children, and Father Peter was then fortunate to be able to share in some of the excellent and authentic Indian food which the hospitable community provided. This was a most enjoyable evening, and the opportunity to share in fellowship with the Indian Orthodox clergy and faithful was a most blessed beginning to the Nativity season.
Upcoming events
25 January 2015

Raising of Incense & Divine Liturgy: Doncaster

Raising of Incense – 9:45am
Divine Liturgy – 10:30am

Raising of Incense & Divine Liturgy: Babingley

10.30 a.m. Morning Incense
11.30 a.m. Divine Liturgy

1 February 2015

Raising of Incense & Divine Liturgy: Doncaster

Raising of Incense – 9:45am
Divine Liturgy – 10:30am

Morning Prayer: Babingley

10.30am Morning Prayer

7 February 2015

Raising of Incense & Divine Liturgy: Shadwell

9.30 am Raising of Incense
10.00 am Liturgy of St. James
11.45 am Refreshments