Posted on: Wednesday, 18th June, 2014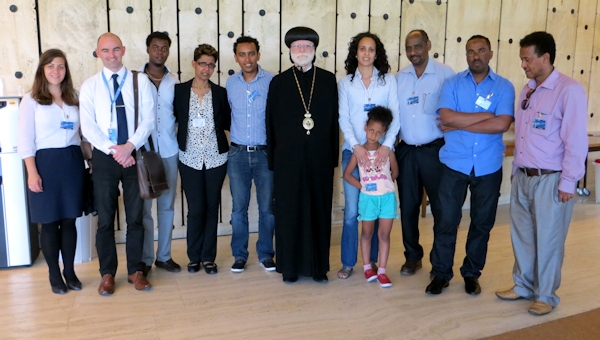 On 16 & 17 June, Abba Seraphim attended the 26th Session of the United Nations Human Rights Council at the Palais des Nations in Geneva. This is organised under the auspices of the Office of the High Commissioner for Human Rights. On 17 June he was one of a panel of witnesses who spoke at an NGO meeting on "Human Rights in Eritrea: The Impact of Gross Human Rights Violations on Vulnerable Groups within Eritrean Society." Abba Seraphim specifically addressed the topic of Religious Persecution in Eritrea. This was sponsored jointly by Amnesty International, Christian Solidarity Worldwide (CSW), Human Rights Watch, the East & All of Africa Human Rights Defenders Project, Human Rights Concern Eritrea, the International Fellowship of Reconciliation (IFOR) and Civicus (World Alliance for Citizen Participation) and moderated by Matthew Jones of CSW.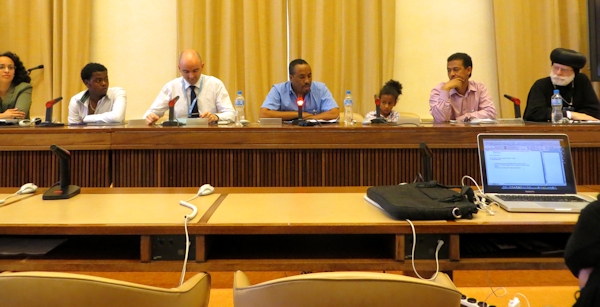 In addition to representatives of various governments and others involved in human rights, there was also present Ms. Sheila B. Keetharuth, the first Special Rapporteur on the situation of Human Rights in Eritrea, who was appointed in October 2012 and is currently presenting her second damning report.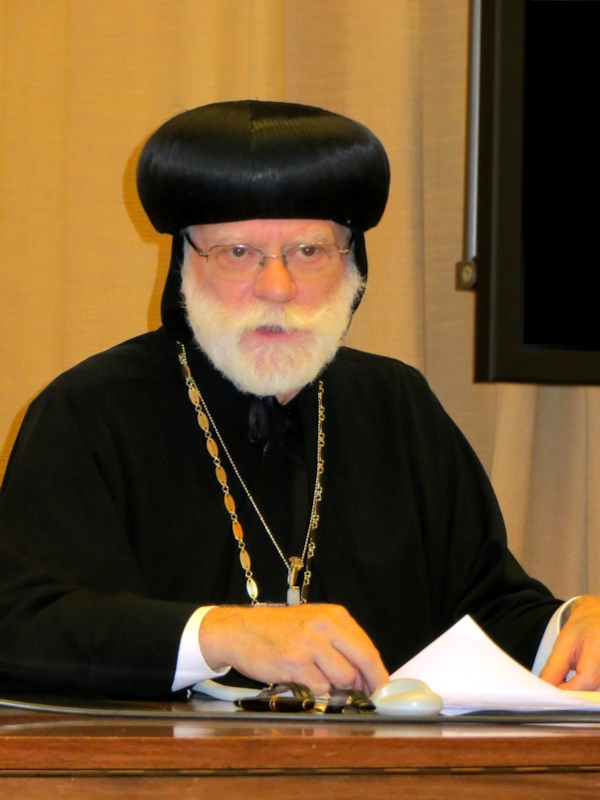 In his address Abba Seraphim recounted his close involvement with the Eritrean Church in the diaspora over two decades and the steady increase in government interference in the affairs of the Orthodox Church, culminating in the uncanonical deposition of Patriarch Antonios in 2007. He traced the efforts of the Asmara government to divide and control the church communities in the diaspora and spoke of the principled support given by the late Pope Shenouda and the courage of Bishop Makarios and the priests who remained loyal to their Patriarch. Referring to the recent pastoral letter, "Where is your Brother" issued by the four Catholic bishops of Eritrea, Abba Seraphim said, "One cannot but admire the integrity of the Catholic bishops, who at great personal risk have spoken honestly about the situation in their country. Any hope that the Orthodox Church would respond in a comparable way was lost when Patriarch Antonios was silenced and the Holy Synod became a subservient mouthpiece of government policy. As the most high-profile victim of state oppression, Patriarch Antonios's continued imprisonment and enforced silence are in fact eloquent testimony against tyranny and injustice. Yet for all his symbolic importance this mild old-man, in indifferent health, has been held unjustly in detention now for more than seven years – as have so many others – and the responsibility for this wilful oppression and other atrocities can be clearly attributed to the Eritrean government. If civilised people fail to condemn such actions and to work for humanitarian relief of its victims, they too share in the complicity of the oppressors. "
Posted on: Monday, 12th November, 2012
On 10 November at the Copthorne Tara Hotel in Kensington, Abba Seraphim gave an address at the Annual Dinner of the Coptic Medical Society. His subject was "Campaigning for the Human Rights of the Copts" in which he spoke of his part in supporting both Copts and converts to Christianity, especially in relation to their asylum claims. He spoke warmly of the support given from organisations such as the Barnabas Fund and United Copts of Great Britain and the Asylum Advocacy Group, of which he was one among several members. He recounted how his  concern for Human Rights also extended to the Eritrean Orthodox community and the campaign to support the canonical Patriarch of the Eritrean Orthodox Church, Abune Antonios.
As inspiration for this work he took the examples of  Abraham offering hospitality to the three angels on the plains of Mamre (Genesis XVIII), and the reminder given by St. Paul, "Be not forgetful to entertain strangers: for thereby some have entertained angels unawares" (Hebrews XIII: 2). Hospitality to strangers is a recurring theme in the scriptures and is given particular emphasis by our Lord when speaking about the Last Judgement, "I was a stranger and ye took me in …" Nor should we forget that our Creator, Saviour and Redeemer was born in a manger because there was no room for him in the inn.
St. Paul also encourages us "to stand fast therefore in the liberty wherewith Christ hath made us free." (Galatians V: 1) The apostle, of course, was not speaking of civil liberties but of the contrast between the slavery of the Mosaic Law and the liberty of life in Christ, with free will as a gift from God to man. It is therefore the foundation of all human rights. If we rely on governments to grant us human rights then logically they can deny them to us when they chose. Created in the image of God,St. John says, "Behold, what manner of love the Father hath bestowed upon us, that we should be called the sons of God .. and it doth not yet appear what we shall be: but we know that, when he shall appear, we shall be like him." (1 John III: 1-2). It is precisely because of that divinely-given vocation that a human being's freedom is so precious and must be upheld.
Posted on: Sunday, 12th August, 2012
The 2012 Annual Report of the U.S. Commission on International Religious Freedom,  covering the period 1 April 2011 to 290 February 2012, has just been published. The full text can be accessed online at http://www.uscirf.gov/images/Annual%20Report%20of%20USCIRF%202012(2).pdf
Of particular interest are the reports dealing with Egypt and Eritrea.  Whilst the period under review covered the Egyptian Revolution and overthrow of President Mubarak, there were no significance developments in Eritrea. Yet, both countries raise significant concerns. For Egypt the report found:
"Over the past year, the Egyptian transitional government continued to engage in and tolerate systematic, ongoing, and egregious violations of freedom of thought, conscience and religion or belief. Serious problems of discrimination, intolerance, and other human rights violations against members of religious minorities, as well as disfavored Muslims, remain widespread in Egypt. Violence targeting Coptic Orthodox Christians increased significantly during the reporting period. The transitional government has failed to protect religious minorities from violent attacks at a time when minority communities have been increasingly vulnerable. This high level of violence and the failure to convict those responsible continued to foster a climate of impunity, making further violence more likely. During the reporting period, military and security forces used excessive force and live ammunition targeting Coptic Christian demonstrators and places of worship resulting in dozens of deaths and hundreds of injuries. The government also continued to prosecute, convict, and impose prison terms on Egyptian citizens charged with blasphemy. Implementation of previous court rulings – related to granting official identity documents to Baha'is and changing religious affiliation on identity documents for converts to Christianity – has seen some progress but continues to lag, particularly for Baha'is. In addition, the government has not responded adequately to combat widespread and virulent anti-Semitism in the government controlled media."
In Eritrea, the report found:
"Systematic, ongoing, and egregious religious freedom violations continue in Eritrea. These violations include: torture or other ill-treatment of thousands of religious prisoners; arbitrary arrests and detentions without charges of members of unregistered religious groups;  a prolonged ban on public religious activities; revocation of citizenship rights of Jehovah's Witnesses; interference in the internal affairs of registered religious groups; and inordinate delays in responding to registration applications from religious groups."
Abba Seraphim welcomed the report and said it was of particular help in supporting those seeking asylum, whose personal  stories of intimidation and persecution were the specific outcomes of failures by the states in question. Whilst his particular concern was directed towards Orthodox Christians; he highlighted that religious persecution was an evil into which all societies could fall and those who love truth and justice must defend the rights and freedom of all, even those holding un-Orthodox beliefs. "We cannot demand religious freedom as an inalienable human right if we seek to limit those rights for groups whose beliefs we reject. Sadly, there are instances in countries where Orthodoxy is the dominant faith, of severe restrictions, if not direct persecution. If we remain passive in the face of such limitations of other's freedom, we are not upholding a universal human right but merely seeking to defend our own interests."
Upcoming events
26 October 2014

Morning Incense & Divine Liturgy: Bournemouth

Morning Incense 09.30, Divine Liturgy 10.15

Raising of Incense & Divine Liturgy: Doncaster

Raising of Incense – 9:45am
Divine Liturgy – 10:30am

Morning Prayer: Babingley

10.30am Morning Prayer

Raising of Incense & Divine Liturgy: Charlton

Raising of Incense 2.00 p.m.
Divine Liturgy 2.30 p.m.