Posted on: Thursday, 24th October, 2013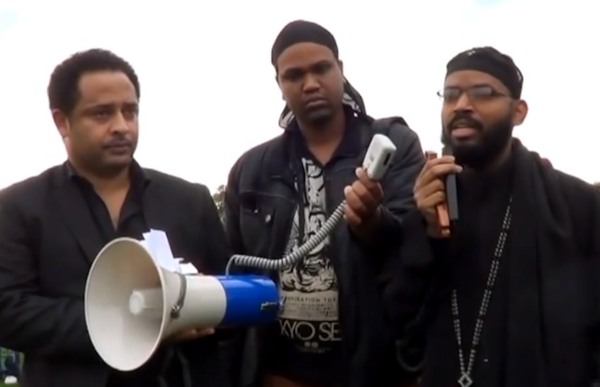 The tragedy which occurred off the island of Lampedusa, in which hundreds of Eritrea and Somalian refugees were killed in a shipwreck, took place on 3 October, while Abbas Seraphim was on pilgrimage in Turkey and without proper access to current news. This meant that he did not learn the full scale of the tragedy until after his return to the United Kingdom.
On 6 October a candlelit vigil was held at Speakers' Corner at London's Hyde Park, at which Elsa Chyrum, an Eritrea human rights' activist spoke movingly of the plight of those driven out of their country by the current regime. Also present was Father Shenouda Haile, the London priest of the free Eritrean Orthodox Church under His Grace Bishop Makarios, whose simple but heartfelt speech also moved many people. One of those present later wrote on Facebook, "What impressed me is his analysis of the underlying reasons why Eritreans at home and in Diaspora found themselves in such helpless situations. It can be summarised as fear, greed, selfishness "a culture of I don't care about others" and indifference to the injustice that is driving people to flee Eritrea …. He pleaded to change our behaviours to care for each other, to be tolerant  and help those who are in dire needs such as those languishing in refugees' camps in Sudan and Ethiopia. He pleaded with us to turn ourselves to God to help us to awaken our authentic self and stands up to injustices with unity and love for each other. He also prayed to God so that he whispers to the ears of the [current Eritrean ruling] authorities to come to their senses and stop oppressing the Eritrean people. His advice was worth listening to, it was words of wisdom." Another commentator spoke of his "courage, clarity and words of wisdom" and expressed the hope that "his words will reverberate in the ears of the other religious leaders and their followers who have chosen to ignore the plight of our youth – their very flock."  
A video of his message (in Tigrinyan) can be viewed at:
http://assenna.com/message-by-aba-shenoda-during-london-candlelight-vigil-in-memory-of-the-eritrean-victims-perished-off-lampedusa-coast-p2/
Upcoming events
19 April 2014

Joyous Saturday: Bournemouth

Saturday Worship 10.00
Paschal Vigil Liturgy 22.00

Eve of the Feast of Holy Pascha: Babingley

Eve of the Feast of Holy Pascha (Orthodox Easter)
4.00 -6.00 p.m A priest will be available for confessions.
7.00 p.m. Divine Liturgy for Holy Pascha

20 April 2014

Raising of Incense & Divine Liturgy: Doncaster

Raising of Incense – 9:45am
Divine Liturgy – 10:30am

Holy Pascha: Bournemouth

Morning Prayer with Holy Communion 10.00
Followed by Memorial Prayers, commencing at Church & continuing in
Wimborne Road cemetery

No service: Babingley

10.30 a.m. No service because of the celebration on Pascha Eve.