Posted on: Monday, 12th December, 2011
On 11 December, Abba Seraphim and the congregation at St. Thomas' Parish at Charlton, offered their condolences to Deacon Theodore on the death of his mother, Lydia de Quincey, who died at her home in London at the age of 105 years and 5 months. At the conclusion of the Divine Liturgy, memorial prayers were said for her repose. Her funeral, which will take place at Deerton Woodland Burial Ground, Teynham, Kent, on 13 December, will be officiated by Father Peter Farrington and Deacon Theodore and attended by family and close friends.
Posted on: Sunday, 30th May, 2010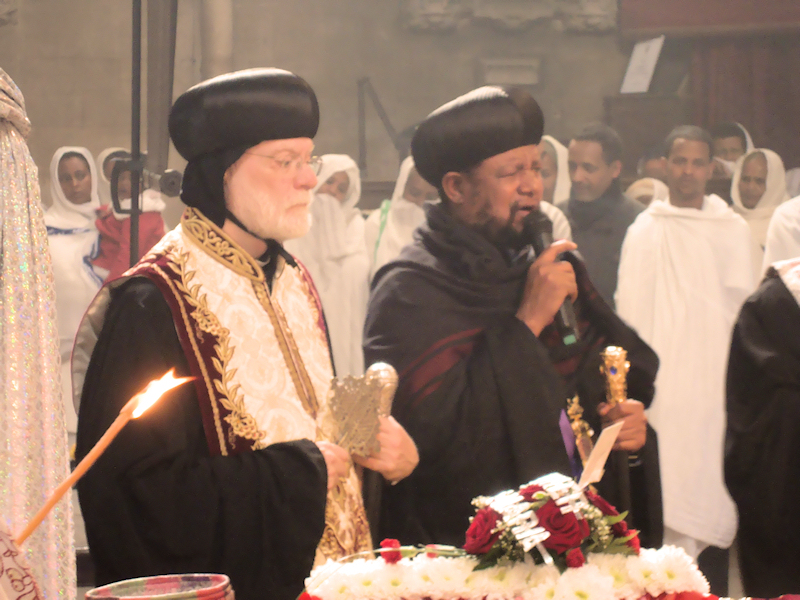 On Sunday morning, 30 May, Abba Seraphim attended the funeral, following the Divine Liturgy, of the late Father Hailemariam F. Mariam, priest of the Debre Madhanit Kidane Mehret Tewahdo Eritrean Orthodox congregation in Shepherd's Bush, London. The service was held at St. John the Baptist Church, Holland Road, London W14 and presided over by His Eminence Archbishop Antonios of the Ethiopian Orthodox Tewahdo Church (shown with Abba Seraphim above).
Father Hailemariam was professed as a monk of the Waldiba monastery when he was twenty-five and came to London in January 1992 at the suggestion of H.H. Pope Shenouda III to minister to the increasing number of Eritrean refugees. He was a humble and devout priest and when the Eritrean government exiled Patriarch Antonios, Father Hailemariam was horrified by such a sacrilegious act. He visited Abba Seraphim at the Church Secretariat in Charlton in 2007 to thank him for his support for the Patriarch and to affirm his own loyalty. Father Hailemariam died on 25 May 2010 aged 75 after a long battle with cancer. He was a greatly loved pastor and the church was packed for the funeral as well as having a large number of both Eritrean and Ethiopian priests and deacons  assisting in the funeral rites. Abba Seraphim paid respect to his loyalty and integrity, "He had deep affection for both Pope Shenouda and Abune Antonios because he loved truth and justice. He is a symbol of the deep spirituality of both the Ethiopian and Eritrean Churches and those who were touched by his ministry should follow his example of fidelity to their last breath."
Upcoming events
1 November 2014

Morning Incense & Divine Liturgy: Portsmouth

Morning Incense & Divine Liturgy 10am

2 November 2014

Raising of Incense & Divine Liturgy: Doncaster

Raising of Incense – 9:45am
Divine Liturgy – 10:30am

Morning Prayer: Bournemouth

Morning Prayer 10.00

Raising of Incense & Divine Liturgy: Babingley

10.30 a.m. Morning Incense
11.30 a.m. Divine Liturgy