Posted on: Saturday, 19th February, 2011
The Armenian Church of St. Sarkis in Kensington, London, celebrated the eve of its patronal festival on 19 February with an Ecumenical Service for Peace. Officiating was the Right Rev'd Dr. Vahan Hovhanessian, Primate of the Armenian Church of Great Britain , assisted by Fr. Snork Bagdassarian. The Mayor and Mayoress of the Royal Borough of Kensington & Chelsea were present, as were a number of ecumenical visitors, including H.E. Archbishop Gregorios of Thyateira (Oecumenical Patriarchate), Abba Seraphim (British Orthodox Church within the Coptic Orthodox Patriarchate & the Council of Oriental Orthodox Churches), Archpriest Vadim Zakrevsky (representing Archbishop Elisey of Sourozh, Moscow Patriarchate). A canon of the diocese of St. David's (Church in Wales) read the Old Testament lection and Abba Seraphim read the epistle, before Fr. Snork intoned the Gospel. Fr. Vahan spoke briefly about St. Sarkis and his significance today. Towards the end of the service Dr. Hratch Tchilingirian, Hon. President of the St. Sarkis Church Trust made a presentation and spoke in honour of Mr. John Kurkjian and Deacon Stepan Ovanessoff, two long-serving former trustees, who had both recently retired after more than forty years of devoted service to the Trust, the Church and their associated Armenian charities.
Following the service a reception took place for the whole congregation in the Church hall.
Posted on: Wednesday, 29th September, 2010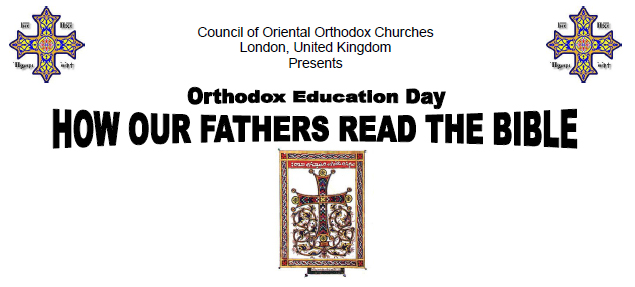 Join us for a day of exploring the Bible and reflecting upon it as the source of our faith and inspiration. The faithful of the Armenian, Coptic, Eritrean, Ethiopian, Malankara Indian and Syrian Orthodox Churches and the affiliated churches are cordially invited to attend this daylong educational seminar and great opportunity for fellowship.
Location: Nevart Gulbenkian Hall
St. Sarkis Armenian Orthodox Church
Kensington, London
Date: Saturday, 9 October, 2010
Time: 10:00am-3:00pm
According to the following schedule:
10:00 AM: Matins in the Armenian Church
10:15 AM: Registration, Tea and coffee in the Church Hall
10:30 AM: Welcome and announcements
10:40 AM: Message by His Grace Bp. Angaelos, Coptic Orthodox Church
10:45 AM: Lecture 1– His Grace Abba Seraphim: "The Septuagint in the Oriental Orthodox Traditions"
11:15 AM: Lecture 2 – V. Revd Fr. Vahan Hovhanessian: "The Bible as the source of spirituality in the writings of the Armenian Church Fathers."
11:45 PM: Q&A Re: lectures 1 & 2
12:00 Noon: Lunch (buffet)
1:30 PM: Lecture 3 – Revd Fr. Peter Farrington: "The Bible as the source of Orthodox Christology."
2:00 PM: Q&A Re: lecture 3
2:10 PM: General Discussion
2:25 PM: Announcements
2:30 PM: Final blessing
Registration for attendees will be £5.00 to defray the cost of the lunch and materials
For further information or to sign up in advance please e-mail: fatherpeter@britishorthodox.org
Upcoming events
26 October 2014

Morning Incense & Divine Liturgy: Bournemouth

Morning Incense 09.30, Divine Liturgy 10.15

Raising of Incense & Divine Liturgy: Doncaster

Raising of Incense – 9:45am
Divine Liturgy – 10:30am

Morning Prayer: Babingley

10.30am Morning Prayer

Raising of Incense & Divine Liturgy: Charlton

Raising of Incense 2.00 p.m.
Divine Liturgy 2.30 p.m.