Posted on: Thursday, 13th June, 2013
On 10 June the Most Rev'd Justin Welby, Archbishop of Canterbury, invited the episcopal members of the Council of Oriental Orthodox Churches to join him for lunch at Lambeth Palace. The bishops were warmly welcomed and Archbishop Justin assured of his commitment to the ongoing ecumenical dialogue, especially welcoming the resumption of the Anglican-Oriental Orthodox International Dialogue, which would be hosted in October by the Church of England. Over lunch a number of topics of common interest were discusse,d with especial concern expressed for events in the Middle East, and the Archbishop spoke of the need for continuing efforts and prayer for the release of the two kidnapped Orthodox Archbishops of Aleppo.  The company was joined by the Bishops of Europe (The Right Rev'd Geoffrey Rowell) and Southwark (The Right Rev'd Christopher Chessum).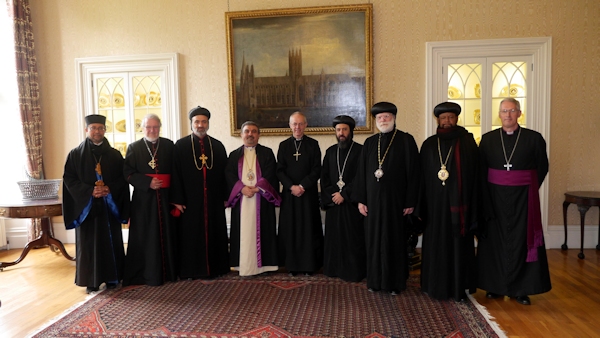 (Left to right): Father Melake Sion Habte Mariam, Bishop Geoffrey, Mar Athanasios Touma, Bishop Vahan Hovhanessian (President – Council of Oriental Orthodox Churches in UK), Archbishop Justin. Bishop Angaelos, Abba Seraphim, Archbishop Antoinios, Bishop Christopher. Photograph "©  Lambeth Palace"
Upcoming events
26 October 2014

Morning Incense & Divine Liturgy: Bournemouth

Morning Incense 09.30, Divine Liturgy 10.15

Raising of Incense & Divine Liturgy: Doncaster

Raising of Incense – 9:45am
Divine Liturgy – 10:30am

Morning Prayer: Babingley

10.30am Morning Prayer

Raising of Incense & Divine Liturgy: Charlton

Raising of Incense 2.00 p.m.
Divine Liturgy 2.30 p.m.