Posted on: Monday, 20th May, 2013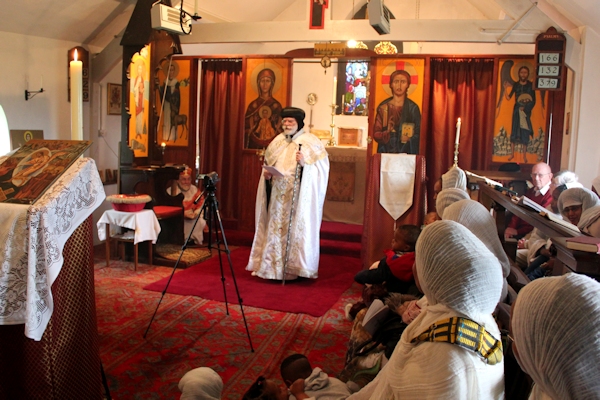 Although the Church in Cusworth Village, near Doncaster, Yorkshire, was opened in 1965, it wasn't until 1988 that it became Orthodox. It was consecrated by Abba Seraphim on 30 April 1988 and celebrated its Silver Jubilee as an Orthodox Church over the weekend 18-19 May.
The celebration began on Saturday morning with the arrival of Abba Seraphim and the Raising of Morning Incense, during which he spoke about the significance of the Jubilee and the fact that it was not simply looking back, but also looking forward to the future. In addition to Father David Seeds, the parish priest, and Archdeacon Alexander Astill, they were joined by Father Simon Smyth and representatives of the BOC South Coast congregations, Deacon Christopher Barnes representing the Babingley Church, as well as Fathers Habtom Ftuwi, the Eritrean Orthodox priest in Manchester; Fr. Yonas Tesheme, the Eritrean Orthodox priest in Sheffield, along with Eritrean Orthodox faithful; as well as our good friend, Archimandrite Deiniol of the Wales Orthodox Mission and friends from other parts of the country.  Among the many messages of greetings received and read out were those from His Grace Bishop Makarios, overseer of the Eritrean Church in the diaspora, the Catholic Bishop of Hallam and the Anglican Vicar of Doncaster.
After a buffet lunch, traditional Eritrean hymns were sung in Tigrinyan and English in the churchyard and Abba Seraphim gave a talk on "The State of Christians in Ancient Bible Lands".  The day concluded with the Raising of Evening Incense.
On Sunday, 19 May, Father David Seeds celebrated the special Thanksgiving Liturgy for the Jubilee and Father Simon Smyth preached the homily.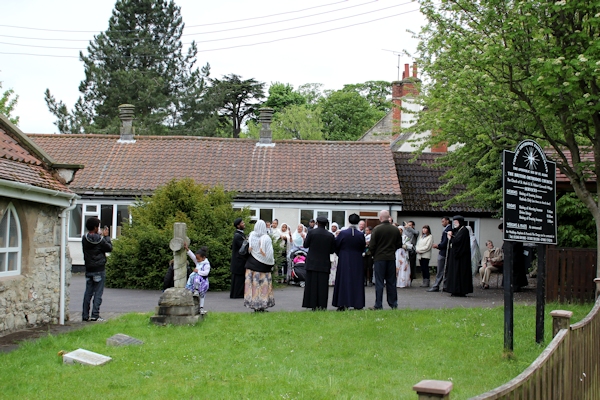 Posted on: Saturday, 7th January, 2012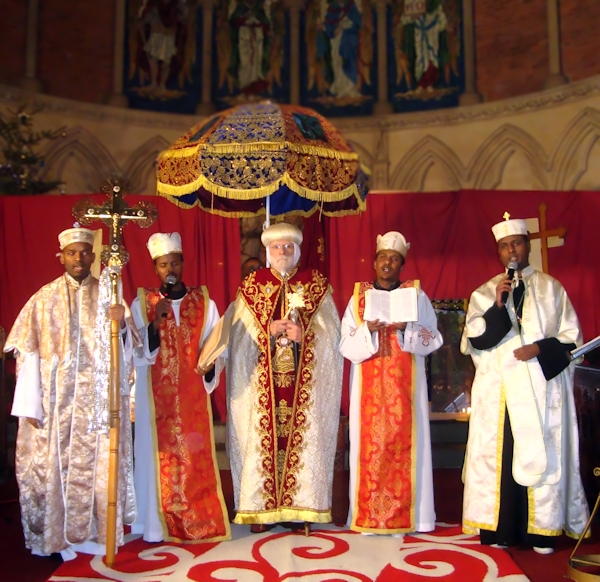 Abba Seraphim joined the clergy and faithful of the Manchester Medhane Alem congregation for the vigil celebration of the Nativity Feast according to the Julian Calendar on Friday, 6 January at St. John the Evangelist Church in Waterloo Road, Cheetham Hill. Concelebrating with him were Father Habtom Ftuwi and Father Yonas Teshema of Sheffield. The latter had been ordained priest on 4 December in Switzerland by His Grace Bishop Makarios. Assisting them were Deacons Tekle-Haile and Johannes Gebrehiwet. Both priests belong to the newly established European diocese of the Eritrean Orthodox Church faithful to Abune Antonios, the canonical Patriarch of the Eritrean Church.
In a brief homily Abba Seraphim said it was a great joy to return to Cheetham Hill after six years and to see how the small group he had first met then had grown into a significant congregation and also to celebrate the Nativity Feast with them now that they finally had their own priest. At the conclusion of the Liturgy, the choir led traditional Ethiopian dancing and the congregation sat down to a festive meal together.
Upcoming events
25 January 2015

Raising of Incense & Divine Liturgy: Doncaster

Raising of Incense – 9:45am
Divine Liturgy – 10:30am

Raising of Incense & Divine Liturgy: Babingley

10.30 a.m. Morning Incense
11.30 a.m. Divine Liturgy

1 February 2015

Raising of Incense & Divine Liturgy: Doncaster

Raising of Incense – 9:45am
Divine Liturgy – 10:30am

Morning Prayer: Babingley

10.30am Morning Prayer

7 February 2015

Raising of Incense & Divine Liturgy: Shadwell

9.30 am Raising of Incense
10.00 am Liturgy of St. James
11.45 am Refreshments