Posted on: Thursday, 30th August, 2012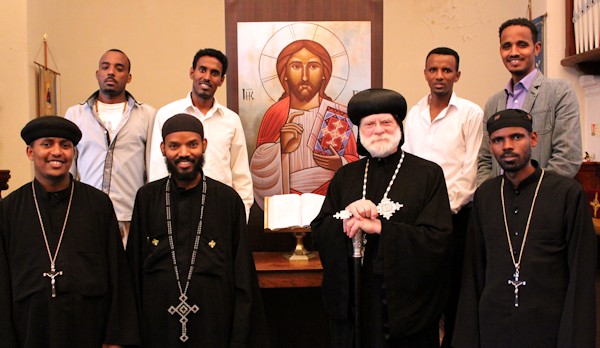 On 27 August, 2012 the Committee of the Eritrean Orthodox UK subdiocese of Europe met together with Abba Seraphim in Charlton to confer on their mission and progress. Prayers were said for the entire European diocese and especially for His Grace Bishop Makarios, whose ministry in caring for the worldwide Eritrean diaspora has already borne much fruit. Abba Seraphim especially welcomed the latest member of the priesthood, Father Mulebrhan of Birmingham, who was ordained last month by His Grace Archbishop Antonios of the Ethiopian Orthodox Tewehedo Diocese of North West Europe.
Upcoming events
26 October 2014

Morning Incense & Divine Liturgy: Bournemouth

Morning Incense 09.30, Divine Liturgy 10.15

Raising of Incense & Divine Liturgy: Doncaster

Raising of Incense – 9:45am
Divine Liturgy – 10:30am

Morning Prayer: Babingley

10.30am Morning Prayer

Raising of Incense & Divine Liturgy: Charlton

Raising of Incense 2.00 p.m.
Divine Liturgy 2.30 p.m.