Posted on: Saturday, 8th September, 2012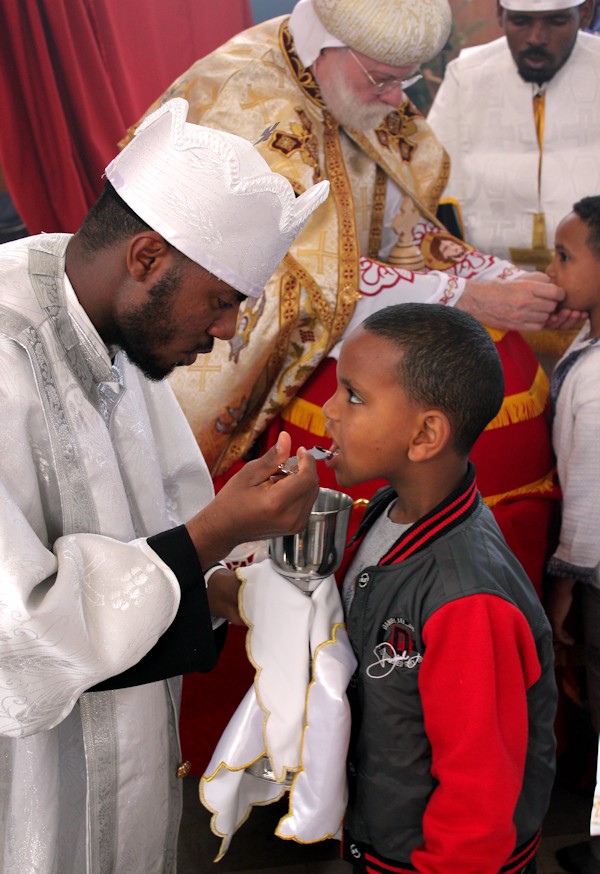 On 8 September Abba Seraphim celebrated the Divine Liturgy at St. George's Church, Bridge Street, Newtown, Birmingham, at the invitation of Father Mulebrhan, the newly ordained priest for the local Eritrean Orthodox community within the Diocese of Europe, under His Grace Bishop Makarios. Assisting him were Father Mulebrhan and Father Yonas Tesheme from Sheffield as well as a  number of deacons.  Abba Seraphim preached on the Gospel of the day (Matthew XI: 1-20) to a large and devout congregation. Following the service and traditional religious songs and dances, Abba Seraphim spoke about his long association with the Eritrean Orthodox Church in the UK and answered questions from the congregation about the situation of the Eritrean diaspora following the uncanonical removal of His Holiness Abune Antonios, the Eritrean Patriarch, in 2006. This congregation remains loyal to the Patriarch, whom it continues to pray for in the diptychs. Thanks were also expressed to Abba Seraphim for his unwavering support for the loyalist Eritrean clergy and faithful.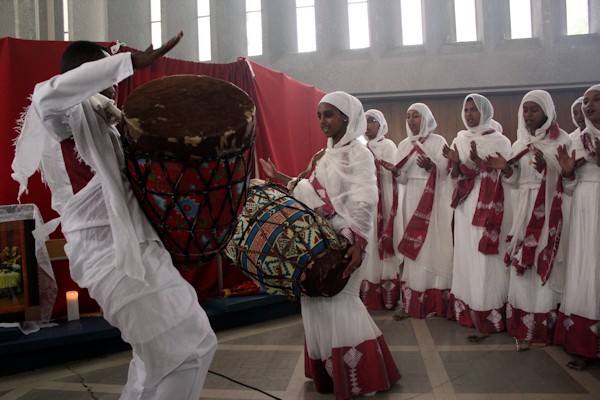 Posted on: Saturday, 31st March, 2012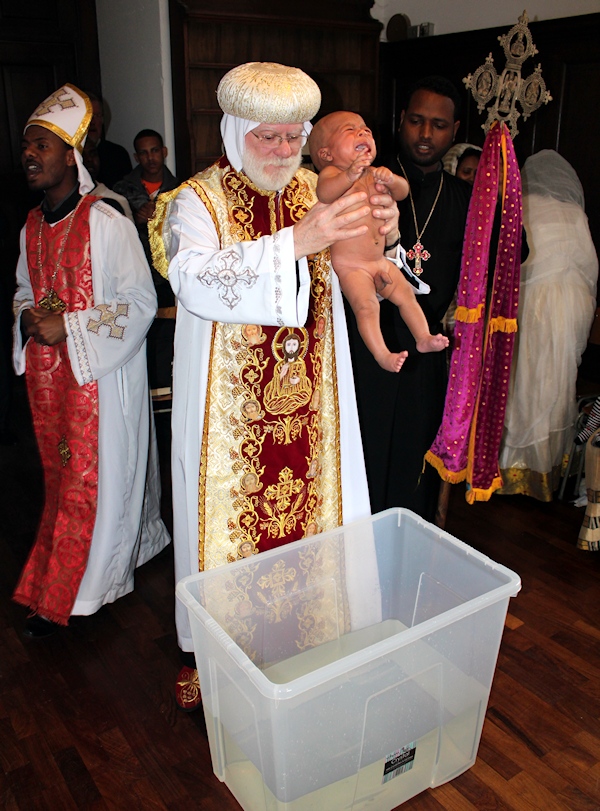 The first Liturgy to be celebrated for the new British Orthodox London Mission of SS. George & Paul the Hermit was preceded by a baptism.
On 31 March at St. George-in-the-East, Shadwell, Abba Seraphim baptised, Athanasios, the infant son of Father Yonas Tesheme, one of the priests of  the Eritrean Orthodox Diocese of Europe.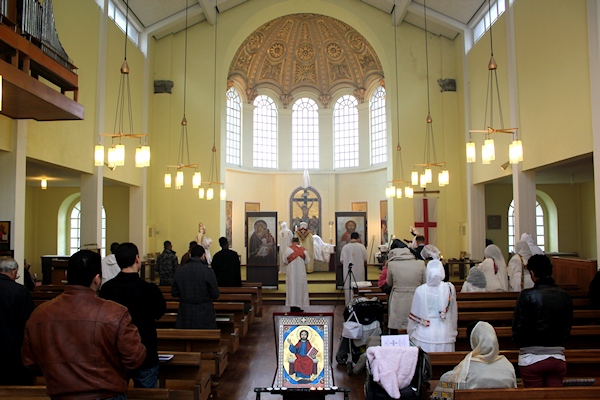 During the Liturgy Abba Seraphim was assisted in the sanctuary by Fathers Simon Smyth, Peter Farrington, Seraphim Mina and Yonas Tesheme with Subdeacon Michael Kennedy and Reader Daniel Malyon. Abba Seraphim preached on a text from the Gospel of the Day, "What do you want me to do for you?" (Mark X: 46-52). Canon Michael Ainsworth, Rector of St. George's, joined the congregation and Abba Seraphim publicly expressed his thanks to him and St. George's Church Council for their hospitality.  The congregation was a happy mix of British, Coptic & Eritrean Orthodox as well as visitors. Afterwards there was a lively time of fellowship with tea, coffee, biscuits and Ambasha.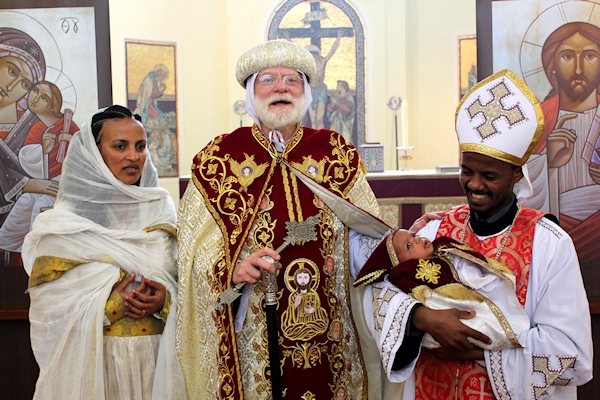 The next Saturday Liturgy will be on 5 May because of the Western Easter and Holy Pascha falling in April. At 7.30 p.m. on 12 April there will be the Ninth Hour Prayers of Holy & Great Thursday followed by a talk on prayer by Father Peter Farrington.
Upcoming events
1 February 2015

Raising of Incense & Divine Liturgy: Doncaster

Raising of Incense – 9:45am
Divine Liturgy – 10:30am

Morning Prayer: Babingley

10.30am Morning Prayer

7 February 2015

Raising of Incense & Divine Liturgy: Shadwell

9.30 am Raising of Incense
10.00 am Liturgy of St. James
11.45 am Refreshments

8 February 2015

Raising of Incense & Divine Liturgy: Doncaster

Raising of Incense – 9:45am
Divine Liturgy – 10:30am

Morning Prayer: Babingley

10.30am Morning Prayer