Posted on: Thursday, 24th October, 2013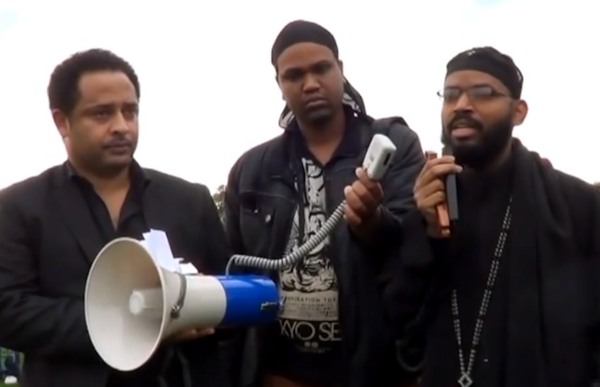 The tragedy which occurred off the island of Lampedusa, in which hundreds of Eritrea and Somalian refugees were killed in a shipwreck, took place on 3 October, while Abbas Seraphim was on pilgrimage in Turkey and without proper access to current news. This meant that he did not learn the full scale of the tragedy until after his return to the United Kingdom.
On 6 October a candlelit vigil was held at Speakers' Corner at London's Hyde Park, at which Elsa Chyrum, an Eritrea human rights' activist spoke movingly of the plight of those driven out of their country by the current regime. Also present was Father Shenouda Haile, the London priest of the free Eritrean Orthodox Church under His Grace Bishop Makarios, whose simple but heartfelt speech also moved many people. One of those present later wrote on Facebook, "What impressed me is his analysis of the underlying reasons why Eritreans at home and in Diaspora found themselves in such helpless situations. It can be summarised as fear, greed, selfishness "a culture of I don't care about others" and indifference to the injustice that is driving people to flee Eritrea …. He pleaded to change our behaviours to care for each other, to be tolerant  and help those who are in dire needs such as those languishing in refugees' camps in Sudan and Ethiopia. He pleaded with us to turn ourselves to God to help us to awaken our authentic self and stands up to injustices with unity and love for each other. He also prayed to God so that he whispers to the ears of the [current Eritrean ruling] authorities to come to their senses and stop oppressing the Eritrean people. His advice was worth listening to, it was words of wisdom." Another commentator spoke of his "courage, clarity and words of wisdom" and expressed the hope that "his words will reverberate in the ears of the other religious leaders and their followers who have chosen to ignore the plight of our youth – their very flock."  
A video of his message (in Tigrinyan) can be viewed at:
http://assenna.com/message-by-aba-shenoda-during-london-candlelight-vigil-in-memory-of-the-eritrean-victims-perished-off-lampedusa-coast-p2/
Posted on: Friday, 18th May, 2012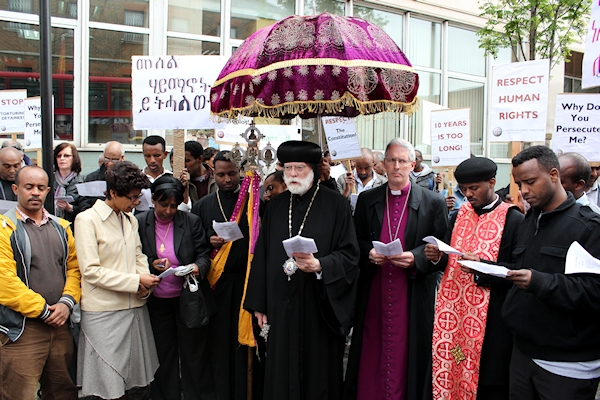 On 17 May, what has sadly become the annual Protest Vigil at the Eritrean Embassy in Islington, London , appropriately took as its motto, "Ten Years is too long." As on previous occasions the protesters took up their position on the pavement opposite the embassy. They represented a wide rank of Christian denominations as well as of several human rights groups (Christian Solidarity Worldwide, Release International, Release Eritrea, Church on Chains, Human Rights Concern Eritrea) who came together to pray for the persecuted Christians of Eritrea and their government. A large number of the banners portrayed His Holiness Abune Antonios, the imprisoned Patriarch of Eritrea. Abba Seraphim was joined by the Bishop of Southwark (The Right Rev'd Christopher Chessum), Father Yonas Tesheme (Sheffield) and Deacon Joannes Gebrehiwet (Manchester) with a number of other deacons representing the Eritrean Orthodox Diocese of Europe. Speakers and Prayers were led by Abba Seraphim, Andy Dipper (Release International), Dr. Berhane Ashmelesh (Release Eritrea), David Turner (Church in Chains), Elsa Chyrum (Human Rights Concern Eritrea), Selam Kidane (Release Eritrea), Dr. Khataza Gondwe (CSW). At the end of the vigil a  letter, signed on behalf of the whole group by Abba Seraphim and Bishop Christopher, was delivered to the Ambassador. The two bishops and Dr. Berhane were kept waiting at the door and when the Metropolitan Police tried to find an Embassy official to whom they could deliver it, they were at first ignored and then rudely shouted at and told to go away. Eventually the police delivered the letter on their behalf.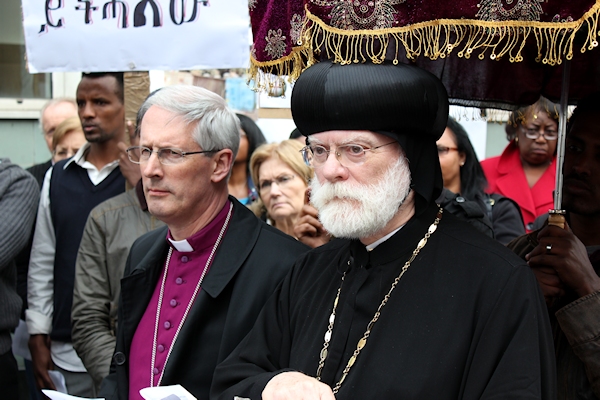 Posted on: Friday, 27th May, 2011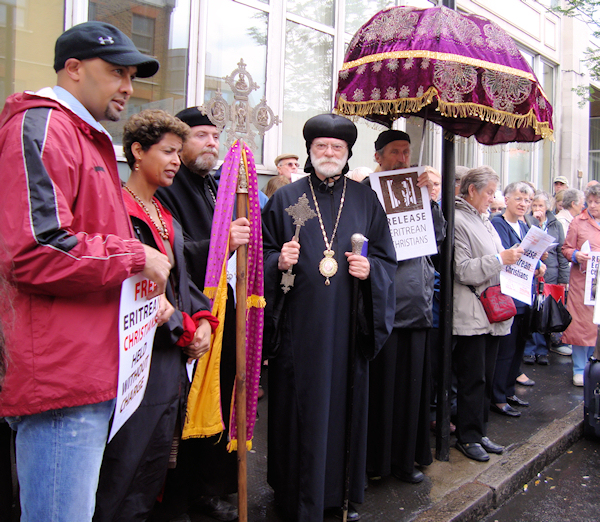 The British Orthodox Church was among a number of groups which stood in solidarity with imprisoned Eritreans at a Prayer Vigil outside the Eritrean Embassy in London on 26 May. Abba Seraphim, supported by Father Simon Smyth and Deacon Theodore de Quincey, joined representatives from Human Rights Concern – Eritrea, Church in Chains, Release Eritrea, the Evangelical Alliance, Release, Open Doors and Christian Solidarity Worldwide for prayer, scripture readings and spiritual songs. Abba Seraphim opened the proceedings with the Prayer of Thanksgiving and later spoke about the unjust imprisonment of Abune Antonios, the canonical Patriarch of the Eritrean Orthodox Church. Despite the torrential showers (the first for many weeks) all those present stood their ground and remained constant in their vigil. At the end of the proceedings, Abba Seraphim crossed the road to the Embassy and handed in a letter on behalf of all those present.
H.E. Mr. Tesfamicael Gerahtu
Ambassador to the United Kingdom and Ireland
Embassy of the State of Eritrea
96 White Lion Street
London N1 9PF
ENGLAND
26 May 2011

Your Excellency,

We have gathered today, representing thousands of Christians in Britain and Ireland, to mark the ninth anniversary of the forced closure of all churches in Eritrea, apart from those belonging to the Orthodox, Roman Catholic and Lutheran traditions.

Standing in solidarity with fellow Christians in Eritrea, we once again call for the granting of full religious freedom, and for the unconditional release of all prisoners of conscience in Eritrea.

We are dismayed at the continuing imprisonment without charge or trial of tens of thousands of Eritrean citizens, including several thousand Christians, detained solely on account of their faith. We are also deeply troubled at the increasing harassment of authorised churches, as illustrated by the illegal dismissal and indefinite detention of Abune Antonios, the canonically-ordained Orthodox patriarch, and the imprisonment, dismissal and forcible conscription of scores of Orthodox clergyman.

Credible reports continue to emerge from Eritrea of Christians being incarcerated in inhumane conditions, physically and mentally abused, and deprived of access to adequate food, potable water and medication. We are aware that over a dozen have died following mistreatment and/or denial of medical attention, and are particularly concerned at the continuing practice of requiring prisoners to sign statements renouncing their faith as a prerequisite to obtaining their freedom.

We assure you, once again, that these Christians pose no threat to the government in the peaceful practice of their faith, and can affirm that the teachings and principles of their faith encourage good citizenship and loyalty to one's country. We are confident that Christians in Eritrea are committed to strengthening the nation, and to contributing positively towards its development.

We urge you to convey to your government our appeal for swift and positive action to ensure the release of all prisoners of conscience, regardless of their creed, and to facilitate every human right outlined in Eritrea's commendable national constitution, including the right to religious freedom.

Please be assured of our continued prayers for the well-being and prosperity of your people and nation. We remain committed to the people of Eritrea, and seek to support the nation's progresses towards a just and equitable future.
Among the speakers at the Vigil was Elsa Chyrum, who spoke movingly of the plight of Eritrean refugees:
"Eritrea has just celebrated its 20th independence anniversary.
Let me start with the latest events regarding Eritrea and Eritreans that may highlight the irony of the independence of Eritrea. The regime, in its usual fanfare, has prepared Grand Festivals to celebrate the 20th year of the nation's independence. This totalitarian regime dares to call these 20 years "20 Years of Dignity". But the indignity of it all is to be seen in the latest tragic events that have affected Eritreans everywhere.
First, you must have heard of the tragedy that occurred lately in the Mediterranean Sea, as thousands of African refugees tried to escape the turmoil of the Libyan uprising. The plight of black Africans was compounded by the unfounded rumour that they are serving as mercenaries in Gadaffi's army. Many Eritrean refuge es had no other option but to escape this double jeopardy. As a result, sadly, the greatest number of those who perished in the Mediterranean Sea happen to be Eritreans – so far, hundreds of them.
The other tragedy is the ongoing problem in the Sinai desert: human trafficking. In this peninsula, Bedouin human traffickers, in close collaboration with Eritrean criminal elements, are openly conducting a ransom-for-hostage enterprise. Here, there are about 400 Eritrean refugees still held in captivity, waiting for ransom money to arrive from family members and close relatives in the West. For each captive, the traffickers ask more than US $10,000. If ransom money is not paid, the hostages are subjected to constant rape, torture, involuntary removal of organs, and murder. This living hell has become a business. The ransom amounts that are paid encourage the smugglers to raise their demands. The higher the sum, the harder it is for the family abroad to raise the money. This results in an even longer period of imprisonment and torture for the refugees many of whom die before or even after the ransom has been paid. So far, the Egyptian government is unwilling to do anything about it – even a personal plea from the Pope had no effect at all.
Eritrean asylum seekers have been criminalized for trying to escape from a living hell in their own country and enter Egypt illegally. They are imprisoned incommunicado, physically tortured and psychologically abused. They have been herded like animals into what are little more than cages. Small rooms house forty or fifty asylum seekers night and day at high, unbearable temperatures with no ventilation or any other basic hygiene, leading to skin rashes and more serious ailments none of which are treated, for adults and children alike.
Some of the Eritreans who have tried to cross to Israel have been shot dead, or wounded and consequently imprisoned in Egypt.
Little enough to celebrate so far, but the tragedy doesn't end there:
On 22nd May 2011, at around 3:30 a.m, four Eritrean refugees were burnt to death and one was critically scorched at the Tunisian refugee camp near the Libyan border. The victims had recently fled from Libya and were waiting to be resettled to a safe country via UNHCR. Their tents were deliberately set on fire. Two Sudanese refugees have been arrested in connection with the crime, and they are remanded in custody. There has been a clash between the local Tunisian community and certain groups of the refugee communities in the Sousha camp which has led to more violence and destruction. The refugees in the camp are very anxious and tension is very high. Unless urgent action is taken by The Tunisian government and the UNHCR, the situation could escalate into furt her tragedy resulting in further loss of life.
Due to forced conscription and endless military service in Eritrea, tens of thousands are fleeing to Ethiopia and Sudan and much farther to Uganda, Kenya, South Africa, Libya, Tunisia, Egypt, Israel, Australia, Europe, the US and other countries. Yet the plight of these Eritreans is largely misunderstood. They go through a lot of hardship and pain in search of a safe haven and freedom by escaping from one country only to find themselves virtual or actual prisoners in another.
Thousands of Eritreans whose asylum claims have been refused become illegally resident in Europe, USA, Australia, etc., spend long periods in detention awaiting deportation or are left to live on the streets in destitution. Legislation bars these individuals from access to basic public services – shelter, food, etc and they are prevented from working. Most of these destitute asylum seekers rely on support from families, religious organisations or well-wishers.
We are here this afternoon to demonstrate our awareness of their troubles, to show our solidarity with those of our people who have suffered, and are suffering, at the hands of the Eritrean government and its supporters, and to signal to the Eritrean government and those Eritreans in diaspora who continue to finance its evildoing, that the truth cannot be hidden by phoney celebrations praising a country which remains a prison for so many of its citizens. We are here now, and we will be here again, and we will not go away even if it takes another twenty years to bring true freedom to our people, to stop the suffering of Eritrean refugees."
Upcoming events
1 February 2015

Raising of Incense & Divine Liturgy: Doncaster

Raising of Incense – 9:45am
Divine Liturgy – 10:30am

Morning Prayer: Babingley

10.30am Morning Prayer

7 February 2015

Raising of Incense & Divine Liturgy: Shadwell

9.30 am Raising of Incense
10.00 am Liturgy of St. James
11.45 am Refreshments

8 February 2015

Raising of Incense & Divine Liturgy: Doncaster

Raising of Incense – 9:45am
Divine Liturgy – 10:30am

Morning Prayer: Babingley

10.30am Morning Prayer