Posted on: Sunday, 5th February, 2012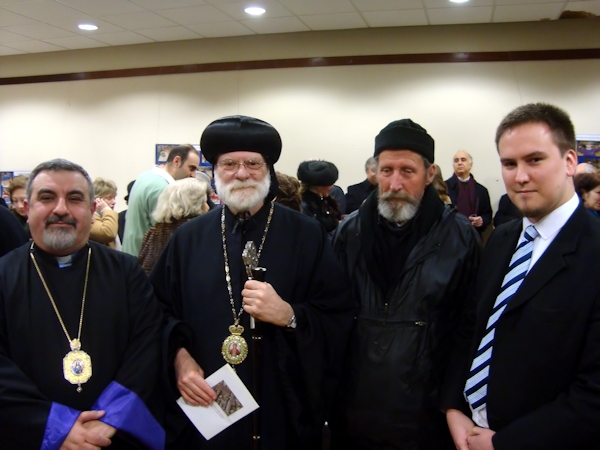 On 4 February the Armenian Parish of St. Sarkis in Kensington celebrated its Patronal Festival with an Ecumenical Service for Peace. Among the dignitaries attending were Her Excellency Mrs. Karine Kazinian, who took up her position as Armenian Ambassador to the Court of St. James last September but has quickly become a popular figure with the Armenian community here and Her Worship the Mayor of the Royal Borough of Kensington & Chelsea (Councillor Julie Mills). Among the clergy attending were Abba Seraphim, His Grace Bishop Angaelos and His Eminence Archbishop Elisey of Sourozh (Moscow Patriarchate) as well as priests from the Catholic Church, the Church of England and the Church in Wales.
After welcoming the ecumenical guests, His Grace Bishop Vahan spoke about the life of St. Sarkis and his example of service and the pursuit of  truth and peace. It has become a tradition at this annual celebration to honour the service of one of the long-serving members of the Armenian community and this year Mr. Armenag Topalian, who has served in various positions for some four decades and recently retired from his term as a Trustee of the Church (2004-2012) received a public citation of thanks.
Also attending from the British Orthodox Church were Deacon Theodore de Quincey and Reader Daniel Malyon (pictured with Bishop Vahan and Abba Seraphim).
The occasion also marks the eightieth anniversary of  the church's consecration (11 January 1923).
Posted on: Monday, 12th December, 2011
On 11 December, Abba Seraphim and the congregation at St. Thomas' Parish at Charlton, offered their condolences to Deacon Theodore on the death of his mother, Lydia de Quincey, who died at her home in London at the age of 105 years and 5 months. At the conclusion of the Divine Liturgy, memorial prayers were said for her repose. Her funeral, which will take place at Deerton Woodland Burial Ground, Teynham, Kent, on 13 December, will be officiated by Father Peter Farrington and Deacon Theodore and attended by family and close friends.
Posted on: Saturday, 21st August, 2010
On 21 August, accompanied by Deacon Theodore de Quincey, Abba Seraphim attended a Thanksgiving Service for the life and ministry of the late Archpriest Michael Harper (1931-2010), formerly Dean of the Antiochian Orthodox Deanery of the United Kingdom & Ireland. The service, which was held at St. George's Orthodox Cathedral at Regent's Park, London, was conducted by Archpriest Gregory Hallam, the present Dean,  and Father Alexander Tefft.
After a Molieban of Thanksgiving, Father Jonathan Hemmings gave a meditative address which was followed by six short addresses and a eulogy by an ecumenical gathering of those who had collaborated closely with Fr. Michael at different stages of his ministry. The choir was led by Father Michael's widow, Presbytera Jeanne, and a concluding appreciative statement made by Father Samir Gholam, the priest of the Cathedral's parish. Light refreshments and fellowship followed in the Cathedral's hall. Abba Seraphim had been unable to attend Fr. Michael's funeral in January as he was in Kerala, although both Fr. Simon Smyth and Fr. Peter Farrington attended in his stead.
Upcoming events
7 February 2015

Raising of Incense & Divine Liturgy: Shadwell

9.30 am Raising of Incense
10.00 am Liturgy of St. James
11.45 am Refreshments

8 February 2015

Raising of Incense & Divine Liturgy: Doncaster

Raising of Incense – 9:45am
Divine Liturgy – 10:30am

Morning Prayer: Babingley

10.30am Morning Prayer

12 February 2015

Evening Prayer & Discussion: Shadwell

7.30pm Evening Prayer
7.45pm Talk and discussion
9.00pm Refreshments

15 February 2015

Raising of Incense & Divine Liturgy: Doncaster

Raising of Incense – 9:45am
Divine Liturgy – 10:30am