Posted on: Sunday, 11th August, 2013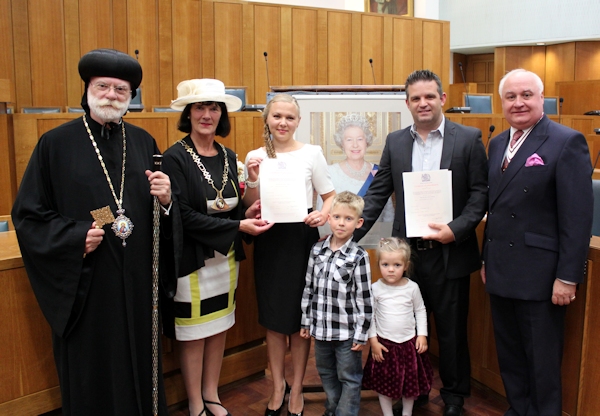 On 7 August Gabriel and Maria, members of the British Orthodox congregation of St. Felix at Babingley, became United Kingdom citizens. The ceremony, which took place in the Council Chamber of County Hall in Norwich, was presided over by Mrs. Hilary Cox, Chairman of Norfolk County Council 2013-14 supported by the Deputy Lord Lieutenant.
Gabriel was born in Lisbon in Portugal and Maria was born in Novgorod in Russia, but their two children, Daniel & Stephanie were both born in Norfolk. Abba Seraphim and Trevor Maskery both attended the Citizenship Ceremony in support of the family. 
Upcoming events
26 October 2014

Morning Incense & Divine Liturgy: Bournemouth

Morning Incense 09.30, Divine Liturgy 10.15

Raising of Incense & Divine Liturgy: Doncaster

Raising of Incense – 9:45am
Divine Liturgy – 10:30am

Morning Prayer: Babingley

10.30am Morning Prayer

Raising of Incense & Divine Liturgy: Charlton

Raising of Incense 2.00 p.m.
Divine Liturgy 2.30 p.m.