Posted on: Sunday, 15th July, 2012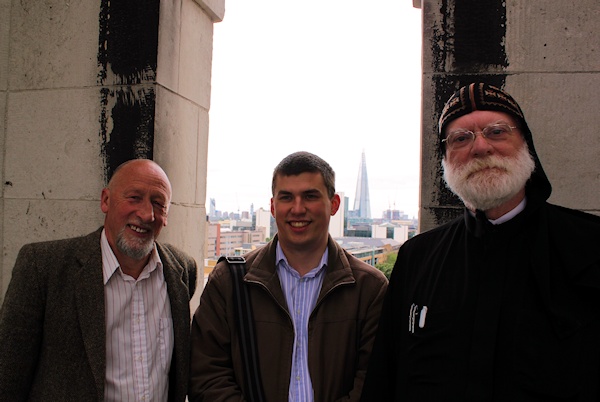 On 15 July, Abba Seraphim, accompanied by Subdeacon Wulfric (Paul) Ashdown and Trevor Maskery, attended the morning Eucharist at St. George-in-the-East, Shadwell, to celebrate the anniversary of the church's dedication in 1729. It also provided a suitable opportunity for members of the local congregation to meet representatives of the British Orthodox Church, who have been worshipping at their church for the past few months.
Apart from a formal welcome from Canon Michael Ainsworth, the Rector, they were warmly greeted by all present and afterwards participated in a festive barbecue in the Rectory Garden, where they were later joined by the Archdeacon of Hackney (The Venerable Rachel Treweek) who expressed her delight that the Orthodox London Mission was worshipping at St. George's Church and the Rev'd Janina Ainsworth, (also the Church of England's Chief Education Officer), who had officiated at the morning service. After many months of uncertain weather and heavy rain, the weather remained dry and, as it was St. Swithun's day, the hope was expressed that if it held off  the old legend of 40 days of dry weather might ensue. It also being Trevor Maskery's birthday, Father Michael very kindly had the church tower opened for him so that his wish to climb it might be granted. In this he was joined by Abba Seraphim and Subdeacon Wulfric.
Posted on: Saturday, 31st March, 2012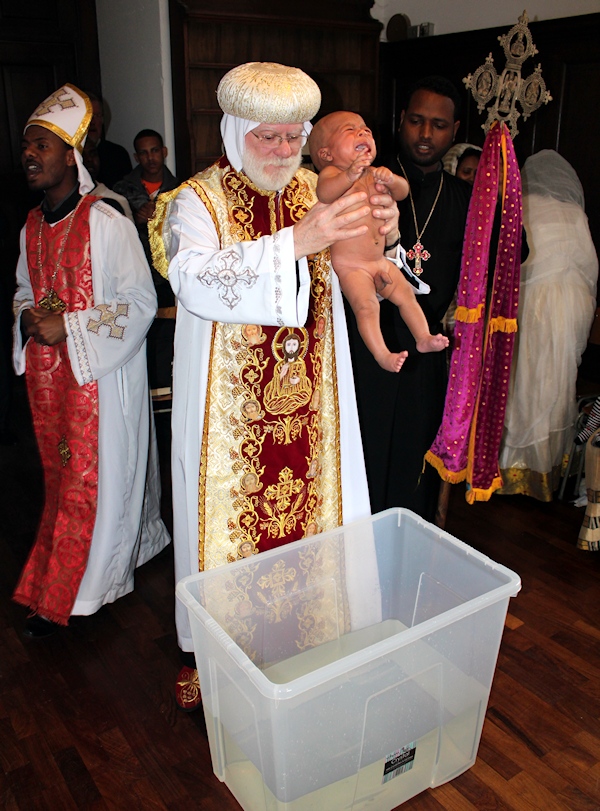 The first Liturgy to be celebrated for the new British Orthodox London Mission of SS. George & Paul the Hermit was preceded by a baptism.
On 31 March at St. George-in-the-East, Shadwell, Abba Seraphim baptised, Athanasios, the infant son of Father Yonas Tesheme, one of the priests of  the Eritrean Orthodox Diocese of Europe.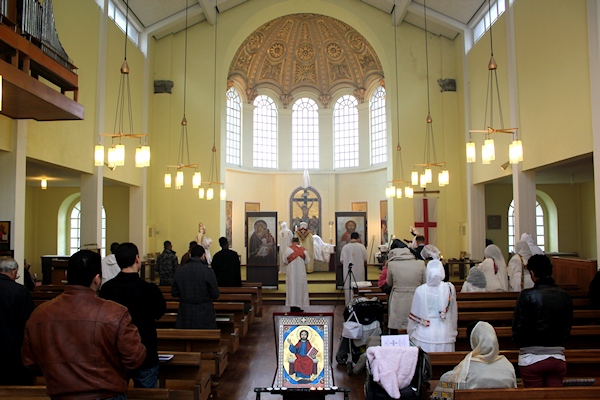 During the Liturgy Abba Seraphim was assisted in the sanctuary by Fathers Simon Smyth, Peter Farrington, Seraphim Mina and Yonas Tesheme with Subdeacon Michael Kennedy and Reader Daniel Malyon. Abba Seraphim preached on a text from the Gospel of the Day, "What do you want me to do for you?" (Mark X: 46-52). Canon Michael Ainsworth, Rector of St. George's, joined the congregation and Abba Seraphim publicly expressed his thanks to him and St. George's Church Council for their hospitality.  The congregation was a happy mix of British, Coptic & Eritrean Orthodox as well as visitors. Afterwards there was a lively time of fellowship with tea, coffee, biscuits and Ambasha.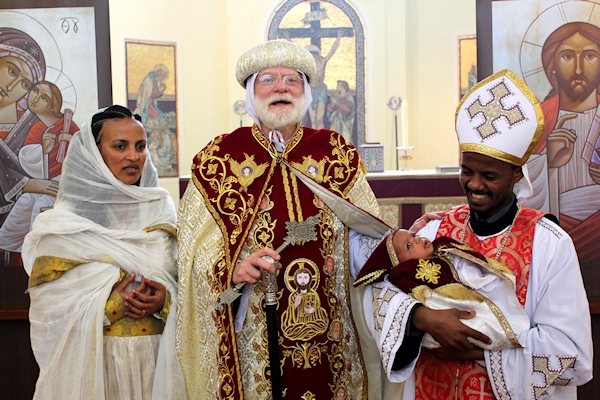 The next Saturday Liturgy will be on 5 May because of the Western Easter and Holy Pascha falling in April. At 7.30 p.m. on 12 April there will be the Ninth Hour Prayers of Holy & Great Thursday followed by a talk on prayer by Father Peter Farrington.