Posted on: Wednesday, 18th December, 2013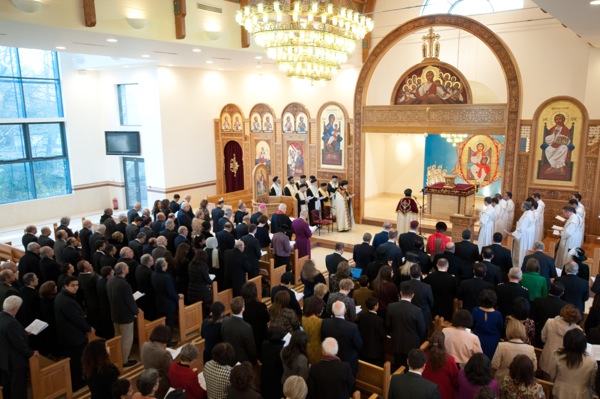 On 17 December HRH The Prince of Wales demonstrated his concern for the Christian communities of the Middle East through a series of engagements and impressive, heart-felt speeches. Having just returned from the funeral of Nelson Mandela in South Africa, the Prince began his day with a morning visit to the Coptic Orthodox Church Centre at Stevenage, where he was greeted by HG Bishop Angaelos and civic dignitaries. He was accompanied by HRH Prince Ghazi bin Mohammed of Jordan, who is religious affairs adviser to HM King Abdullah II of Jordan and a notable advocate of interfaith harmony. This visit began with a short service of prayer, presided over by Bishop Angaelos and Metropolitan Seraphim, after which the Princes were conducted around a display showing the many activities of the Church Centre and met with members of the local congregation and other ecumenical visitors, who had attended the service. Prince Charles was presented with a fine ikon of St. George, with another identical pone for TRH The Duke and Duchess of Cambridge and the infant Prince George of Cambridge. Prince Ghazi was also presented with an ikon of St. Mary the Virgin. The Princes then adjourned for a brief round table meeting to discuss some of the general concerns about the current situation in the Middle East. Following this the Princes took tea at the Manor House before flying by helicopter to West London.
Here they were received by HE Archbishop Athanasios and HG Bishop Vahan, both natives of Iraq, at the Syriac Orthodox Cathedral in Acton, where a short service was held and hymns sung in Aramaic. They were able to talk to many of the congregation and hear informed accounts of their suffering.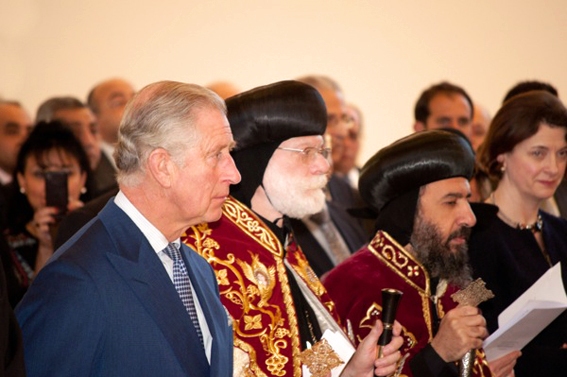 In the late afternoon Prince Charles held an Advent Reception at Clarence House, with particular emphasis on the plight of Christians in the Middle East. Among those attending were Archbishop Gregorios and Metropolitan Kallistos of the Ecumenical Patriarchate; the Archbishop of Canterbury, with the Bishops of London, Southwark, St. Albans, Liverpool Reading and Bishop Geoffrey Rowell; the Apostolic Delegate and the Archbishop of Westminster; Bishop Vahan Hovhannesian (Armenian Orthodox), Archbishop Athanasius (Syriac Orthodox), Bishop Angaelos (Coptic Orthodox), Abba Seraphim (British Orthodox), the Archdeacon of the Church of the East, as well as many clergy of other churches.
At the conclusion of the reception HRH Prince Ghali made and eloquent and eirenic speech followed by HRH Prince Charles, who remarked, that he had, "for some time now been deeply troubled by the growing difficulties faced by Christian communities in various parts of the Middle East. It seems to me that we cannot ignore the fact that Christians in the Middle East are, increasingly, being deliberately targeted by fundamentalist Islamist militants. Christianity was, literally, born in the Middle East and we must not forget our Middle Eastern brothers and sisters in Christ. Their church communities link us straight back to the early Church, as I was reminded by hearing Aramaic, Our Lord's own language, spoken and sung a few hours ago."
He highlighted his work over the past two decades for better understanding between Muslims and Christians and spoke of his fear that the dwindling Christian population might be lost altogether, and the serious  grounds for us all to be concerned, "My prayer this afternoon is for all beleaguered communities and I believe that Western Christians ought to pray earnestly for fellow-believers in the Middle East. I am reminded that to-day in the Eastern Christian calendar it is the festival of Daniel and the three boys in the fiery furnace, Shadrach, Meshach, and Abednego. They symbolize all those who are persecuted for their faith. But the important point is: they survived!"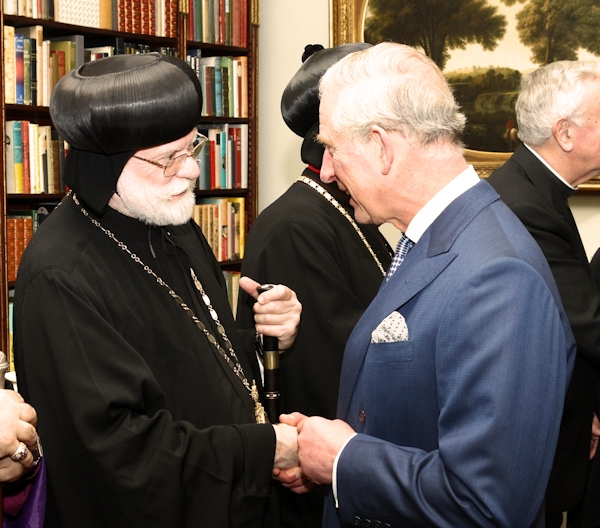 Posted on: Tuesday, 17th July, 2012
On 17 July Abba Seraphim received a message of fraternal greetings from George Alexander, the Secretary & spokesperson of  'Orthodoxy Cognate Page' Media Network, formerly known as 'Orthodoxy Beyond Limits'  (http://www.theorthodoxchurch.info) which is celebrating four years of inter-Orthodox news reporting. OCP is a Society for the Promotion of Orthodox Christian Unity and Faith  and its readership has already exceeded a million and is growing. Its vision is one of Pan Orthodox Unity and the conciliarity of all Orthodox Churches. In thanking Abba Seraphim for his blessings, prayers and patronage, OCP also sent greetings to all faithful members of the British Orthodox Church.
In his reply, Abba Seraphim spoke of the significant ministry offered by fair and balanced reporting of church news and its considerable value in maintaining strong links between sister Orthodox churches and promoting wider Orthodox Unity. He wished OCP continuing growth with an expanding ministry, drawing support from Orthodox Christians of all traditions and cultures, whilst invoking God's blessing on all those who undertook this invaluable ministry.
Upcoming events
13 March 2014

Evening Prayer & Discussion: Shadwell

7.30pm Evening Prayer
7.45pm Talk and discussion
9.00pm Refreshments

16 March 2014

Raising of Incense & Divine Liturgy: Doncaster

Raising of Incense – 9:45am
Divine Liturgy – 10:30am

Raising of Incense & Divine Liturgy: Babingley

10.30 a.m. Morning Incense
11.30 a.m. Divine Liturgy

23 March 2014

Raising of Incense & Divine Liturgy: Doncaster

Raising of Incense – 9:45am
Divine Liturgy – 10:30am

Morning Prayer: Babingley

10.30am Morning Prayer