Posted on: Thursday, 25th April, 2013
A Message by Bishop Vahan Hovhanessian, Primate of the Diocese of the Armenian Orthodox Church in the United Kingdom and the Republic of Ireland and President of the "Council of Oriental Orthodox Churches in the United Kingdom and Ireland" on the Recent Kidnapping of the Syrian Orthodox Metropolitan of Aleppo
and the Greek Orthodox Metropolitan of Aleppo and Iskanadrun
It is with deep sadness and much pain that we received the news of the kidnapping of our two brothers in Christ, the Syrian Orthodox Metropolitan of Aleppo, Mar Gregorios Y. Ibrahim, and the Greek Orthodox Metropolitan of Aleppo and Iskandarun, Bishop Boulos Yazigi. The two prominent clergymen were kidnapped on Monday,22 April, 2013 on their way back from the Turkish borders. Since then conflicting reports have circulated about their possible release, but the diocesan offices have confirmed as of today that the Syrian Bishops' remain missing and their whereabouts unclear.
Both clergy are very well known, respected and eminent Christian leaders. Archbishop Boulos is the brother of the newly installed Patriarch of Antioch while Mar Gregorios is a worldwide known proponent of Ecumenism and Interreligious dialogue.
Such acts of terrorism further destroy the fabric of the community in the Middle East which for centuries has been used to having the adherers of the three monotheistic religions living harmoniously and peacefully with each other.
We call on our brothers and sisters of all peace-promoting religions to denounce this act of terrorism and pray for the safety of the kidnapped Bishops. We ask the leaders of the democratic countries around the world to condemn this act of terrorism and pursue the perpetrators, securing the harmless homecoming of these two clergymen.
The Council of Oriental Orthodox Churches (COOC) in Great Britain and Ireland prays with its sister Syrian Orthodox Church today beseeching our Lord to be with Archbishop Boulos and Mar Gregorios, protecting them from evil and harm and securing their safe return home.
"Remember them that are in bonds, as bound with them; [and] them which suffer adversity, as being yourselves also in the body" (Hebrew 13:3)
+Bishop Vahan Hovhanessian
Kensington, London
25 April 2013
Posted on: Thursday, 22nd November, 2012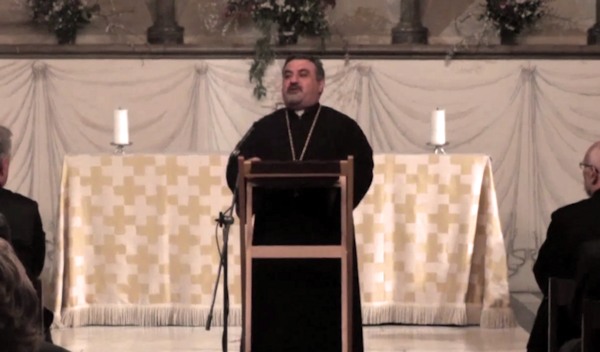 On 22 November Abba Seraphim, Father Peter Farrington and Reader Trevor Maskery attended the annual Constantinople Lecture held at Lambeth Palace.  This year's lecture was delivered by His Grace Bishop Vahan Hovhanessian, Primate of the Armenian Church in the UK & Ireland,  on the subject, "The New Testament Apocrypha and The Armenian Church Canon of the Bible." The lecture, which was organised by the Anglican & Eastern Churches Association  in conjunction with the Nikaean Club, was preceded by Choral Evensong in the Archbishop's Chapel for St. Cecilia's Day.  Following the lecture all those present sat down for supper in the Palace's Guard Room .
The full text of Bishop Vahan's talk is published in the current issue of the Anglican & Eastern Churches Association journal, Koinonia, New Series No. 60 (All Saintstide 2012)
Posted on: Wednesday, 18th July, 2012
At its meeting on 17 July at the Armenian Church Hall in Iverna Gardens, the Council of Oriental Orthodox Churches in the UK & Ireland held its trienniel elections. Having served two terms as President, His Grace Bishop Angaelos (Coptic Orthodox Church) retired from the Presidency and His Grace Bishop Vahan Hovhanessian (Armenian Orthodox Church) was unanimously elected his successor.  Abba Seraphim paid tribute to Bishop Angaelos' commitment to the Council and the spirit of fraternal co-operation which he had encouraged between the sister churches. Bishop Angaelos was then elected as Chairman of the Council in succession to His Grace Mathews Mar Thimothios, who was not standing for a second term because of his frequent absences abroad. Father Peter Farrington was re-elected for a second term as Secretary and Father George Joy (Indian Orthodox Church) was elected successor to Father Snork Bagdassarion as Treasurer.  
Upcoming events
26 October 2014

Morning Incense & Divine Liturgy: Bournemouth

Morning Incense 09.30, Divine Liturgy 10.15

Raising of Incense & Divine Liturgy: Doncaster

Raising of Incense – 9:45am
Divine Liturgy – 10:30am

Morning Prayer: Babingley

10.30am Morning Prayer

Raising of Incense & Divine Liturgy: Charlton

Raising of Incense 2.00 p.m.
Divine Liturgy 2.30 p.m.