Posted on: Sunday, 31st March, 2013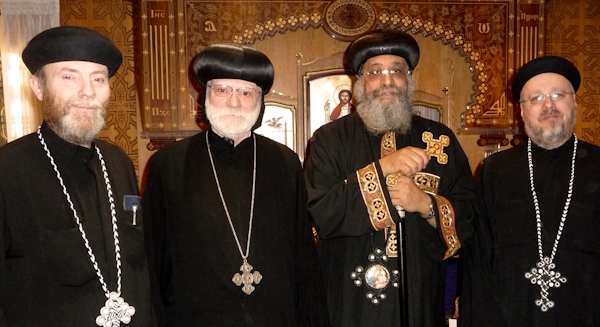 Accompanied by Fathers Simon Smyth and Peter Farrington, Abba Seraphim flew out of London on 25 March and arrived in Cairo in the early hours of 26 March, where he was greeted by Shenouda Mamdouh,  Egyptian Secretary to the British Orthodox Church, and taken to St. Mark's Centre in Nasr City, where they were to stay during this visit. On their flight they had the pleasure of travelling with Father John Sarkis, priest of St. Mary & St. Samuel the Confessor Church in Toronto.
The next morning they were joined by Tina Hammond, a member of the BOC Chatham congregation, her husband Youhanna Said Hakim, and Father Arsanios Amba Boula, who joined Abba Seraphim's party. Together they drove to Old Cairo where they visit St. George's Convent and were received by Mother Kyria and visited the shrines and churches of the monastery, before travelling on to St. Theodore's (Amir Tadros) Convent in Hârat ar-Rûm, where they were warmly received by the Abbess, Mother Adrosios, and the nuns. After leaving the Convent they visited some craftmen in Khan El Khalili. From here they drove to the Old Patriarchate in Ezbekia, where His Grace Bishop Raphael, the newly appointed General Secretary of the Holy Synod, has established his office. Since Pope Shenouda removed the Patriarchate to Abbesseya, the Old Patriarchate has rather fallen into neglect, so it was good to see this historic building restored.  Bishop Raphael received all of Abba Seraphim's party and they discussed a number of common issues and concerns. At the conclusion of the meeting, Bishop Raphael conducted them on a visit to the private rooms and cell of the late Pope Kyrillos VI, which are shortly to be renovated.
On 27 March, Abba Seraphim met with Fr. Seraphim El Souriani, one of the papal secretaries, at the Patriarchate at Abbesseya and, afterwards, His Holiness Pope Tawadros received Abba Seraphim, Fathers Simon and Peter and Shenouda Mamdouh at the Patriarchate, where they reported on the work and ministry of the British Orthodox Church.  Following their audience with the Pope, they visited the Coptic Cultural Centre and were received by His Grace Bishop Ermia, who conducted them round the new exhibition of ancient Coptic manuscripts, and afterwards they visited the Library and viewed the collections of the late Bishop Gregorios and Pope Shenouda.
On 28 March Abba Seraphim and his party drove to the Wadi El-Natrun. They first visited St. Bishoy's Monastery, where they were received by their old friend, Father Arsanios El Anba Bishoy. After praying at the main shrines, they went to pray at the tomb of the late Pope Shenouda. From here they drove the short distance to the Syrian monastery to pray at the church and where they had lunch, before driving out on the Alexandria Road to visit the Anafora Retreat Centre, which has been established by His Grace Bishop Thomas of El Kousseya.   Abba Seraphim had visited here in 2002 and 2005 and the progress in the facilities available was impressive. From the moment they arrived everyone experienced the tranquility of this spiritual haven.  Bishop Thomas kindly conducted the party around the many facilities and they met and spoke with both staff and visitors present.
On 29 March Abba Seraphim and his companions visited a number of vestment makers, bookshops and craftsmen, before returning to St. Mark's Centre, where they received a number of friends and visitors. They left a warm, sunny Cairo on the morning of 30 March and returned to a cold London with flurries of snow.
Posted on: Thursday, 22nd November, 2012
At a meeting of the Holy Synod in Cairo on 22 November, the Holy Synod elected a new General Secretary to replace the outgoing secretary, His Eminence Metropolitan Bishoy. Their choice fell on Bishop Raphael, who had been one of the three candidates whose names had been submitted for the Sacred Lot and who has served as General Bishop for Central Cairo. He will be supported by three assistant secretaries, Bishop Thomas of El Qussiya, Bishop Youssef of Florida & the South of USA and Bishop Apollo of South Sinai, the last being nominated by His Holiness Pope Tawadros.
Abba Seraphim, who returned to London after the papal enthronement, had sent his apologies for not attending the Synod, but stated that he believed the bishops had reflected the wider opinion of the Coptic community and that the choice had fallen on able and talented men.
Posted on: Monday, 29th October, 2012
29 October. Throughout the day the Coptic electors have been casting their votes for the five candidates for the papal throne and this evening it was announced that the three who have emerged as the front runners are Bishop Raphael (1980 votes), Bishop Tawadros (1623 votes) and Father Raphael Ava Mina (1530 votes). These will be the three names which will be placed on the altar at St. Mark's Cathedral in Abbeseya and from which the next Pope & Patriarch will be chosen by the Sacred Lot on Sunday, 4 November.
Of some 2412 eligible voters, 2177 voted, a turn-out of some 90%. Members of the Holy Synod who were eligible to vote but chose not to, were Metropolitan Mikhail of Assuit, Bishop Serapion of Los Angeles, Bishop Paphnutius of Samalout and Bishop Boula of Africa. Three other bishops, who, as they are not Egyptian citizens, were not eligible to vote: Metropolitan Seraphim of Glastonbury, Bishop Athanasius of France and Bishop Elia of Khartoum. 
Among those voting were five Archbishops  delegated by the Ethiopian Orthodox Tewehedo Church, which included Archbishop Antonios, who normally resides in London. Under the terms of the Protocol with the Eritrean Orthodox Church there are two official observers who are His Grace Bishop Makarios (New Jersey) and Father Teklemariam of Frankfurt, who is the episcopal administrator of the European diocese, who are both loyal to the imprisoned Patriarch, Abune Antonios. The Coptic Orthodox Church declined to accept any representatives from the government controlled Synod in Asmara.
Upcoming events
26 October 2014

Morning Incense & Divine Liturgy: Bournemouth

Morning Incense 09.30, Divine Liturgy 10.15

Raising of Incense & Divine Liturgy: Doncaster

Raising of Incense – 9:45am
Divine Liturgy – 10:30am

Morning Prayer: Babingley

10.30am Morning Prayer

Raising of Incense & Divine Liturgy: Charlton

Raising of Incense 2.00 p.m.
Divine Liturgy 2.30 p.m.