Posted on: Sunday, 5th February, 2012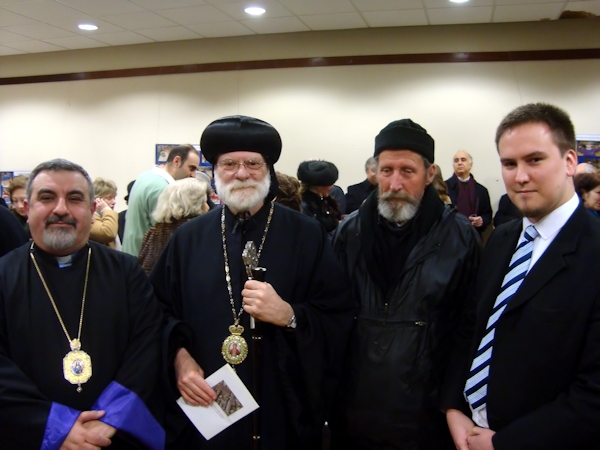 On 4 February the Armenian Parish of St. Sarkis in Kensington celebrated its Patronal Festival with an Ecumenical Service for Peace. Among the dignitaries attending were Her Excellency Mrs. Karine Kazinian, who took up her position as Armenian Ambassador to the Court of St. James last September but has quickly become a popular figure with the Armenian community here and Her Worship the Mayor of the Royal Borough of Kensington & Chelsea (Councillor Julie Mills). Among the clergy attending were Abba Seraphim, His Grace Bishop Angaelos and His Eminence Archbishop Elisey of Sourozh (Moscow Patriarchate) as well as priests from the Catholic Church, the Church of England and the Church in Wales.
After welcoming the ecumenical guests, His Grace Bishop Vahan spoke about the life of St. Sarkis and his example of service and the pursuit of  truth and peace. It has become a tradition at this annual celebration to honour the service of one of the long-serving members of the Armenian community and this year Mr. Armenag Topalian, who has served in various positions for some four decades and recently retired from his term as a Trustee of the Church (2004-2012) received a public citation of thanks.
Also attending from the British Orthodox Church were Deacon Theodore de Quincey and Reader Daniel Malyon (pictured with Bishop Vahan and Abba Seraphim).
The occasion also marks the eightieth anniversary of  the church's consecration (11 January 1923).
Posted on: Wednesday, 29th September, 2010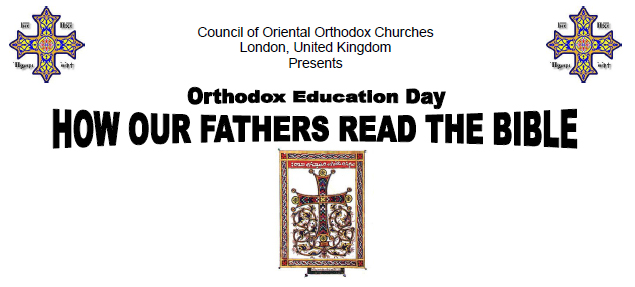 Join us for a day of exploring the Bible and reflecting upon it as the source of our faith and inspiration. The faithful of the Armenian, Coptic, Eritrean, Ethiopian, Malankara Indian and Syrian Orthodox Churches and the affiliated churches are cordially invited to attend this daylong educational seminar and great opportunity for fellowship.
Location: Nevart Gulbenkian Hall
St. Sarkis Armenian Orthodox Church
Kensington, London
Date: Saturday, 9 October, 2010
Time: 10:00am-3:00pm
According to the following schedule:
10:00 AM: Matins in the Armenian Church
10:15 AM: Registration, Tea and coffee in the Church Hall
10:30 AM: Welcome and announcements
10:40 AM: Message by His Grace Bp. Angaelos, Coptic Orthodox Church
10:45 AM: Lecture 1– His Grace Abba Seraphim: "The Septuagint in the Oriental Orthodox Traditions"
11:15 AM: Lecture 2 – V. Revd Fr. Vahan Hovhanessian: "The Bible as the source of spirituality in the writings of the Armenian Church Fathers."
11:45 PM: Q&A Re: lectures 1 & 2
12:00 Noon: Lunch (buffet)
1:30 PM: Lecture 3 – Revd Fr. Peter Farrington: "The Bible as the source of Orthodox Christology."
2:00 PM: Q&A Re: lecture 3
2:10 PM: General Discussion
2:25 PM: Announcements
2:30 PM: Final blessing
Registration for attendees will be £5.00 to defray the cost of the lunch and materials
For further information or to sign up in advance please e-mail: fatherpeter@britishorthodox.org
Upcoming events
26 October 2014

Morning Incense & Divine Liturgy: Bournemouth

Morning Incense 09.30, Divine Liturgy 10.15

Raising of Incense & Divine Liturgy: Doncaster

Raising of Incense – 9:45am
Divine Liturgy – 10:30am

Morning Prayer: Babingley

10.30am Morning Prayer

Raising of Incense & Divine Liturgy: Charlton

Raising of Incense 2.00 p.m.
Divine Liturgy 2.30 p.m.