Posted on: Wednesday, 17th July, 2013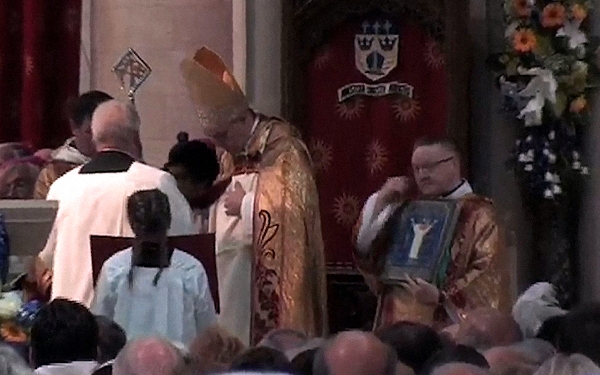 On 16 July 2013 Abba Seraphim was among the ecumenical guests invited to attend the Mass & Installation of the Right Rev'd Alan Hopes as fourth Catholic Bishop of East Anglia. The service took place as the Cathedral of St. John the Baptist in Norwich and the installation was performed by The Most Rev'd Vincent Nichols, Archbishop of Westminster, as Metropolitan of the Province of Westminster.  Large numbers of Catholic bishops attended as well as Anglicans. After an interregnum of two years, since the death of Bishop Michael Evans, the local clergy and faithful were filled with joy at this new appointment. Bishop; Alan had previously served as an Auxiliary Bishop of the Archdiocese of Westminster with the titular see of Chester-le-Street. Among other Orthodox clergy attending were His Eminence Archbishop Gregorios of Thyateira; Archpriest Raphael Armour, Dean of East England for the Russian Orthodox diocese of Sourozh; and Abuna Shishoy El Antony, Coptic Orthodox priest for St. Athanasius Parish, Easton, Norfolk.
Posted on: Friday, 26th November, 2010
At the invitation of the Archbishop of Westmister (Mgr. Vincent Nicholls) Abba Seraphim, accompanied by Father Seraphim Mina, attended a Mass at Westminster Cathedral on 26 November to commemorate all those who have died or been injured in recent weeks in Iraq, especially in the bombing of Our Lady of Salvation Church in Baghdad on 31 October. White floral crosses with lighted candles and photographs of those killed, displayed  at the entrance to the sanctuary, were a poignant reminder of the victims. The congregation included a large number of  Iraqi and Middle Eastern Christians and prominent among the clergy attending those from the Syriac Orthodox (led by H.E. Archbishop Mar Athanasius Touma), Chaldean, Assyrian and Maronite churches. The intercessions were offered by Iraqi children and before the final blessing messages were read from the Christian community in Iraq, expressing appreciation for the prayerful support being offered by churches in England and Wales, as well as an affirmatiion of support by the Iraqi Christian communities in the United Kingdom.
Upcoming events
1 February 2015

Raising of Incense & Divine Liturgy: Doncaster

Raising of Incense – 9:45am
Divine Liturgy – 10:30am

Morning Prayer: Babingley

10.30am Morning Prayer

7 February 2015

Raising of Incense & Divine Liturgy: Shadwell

9.30 am Raising of Incense
10.00 am Liturgy of St. James
11.45 am Refreshments

8 February 2015

Raising of Incense & Divine Liturgy: Doncaster

Raising of Incense – 9:45am
Divine Liturgy – 10:30am

Morning Prayer: Babingley

10.30am Morning Prayer