Posted on: Monday, 22nd October, 2012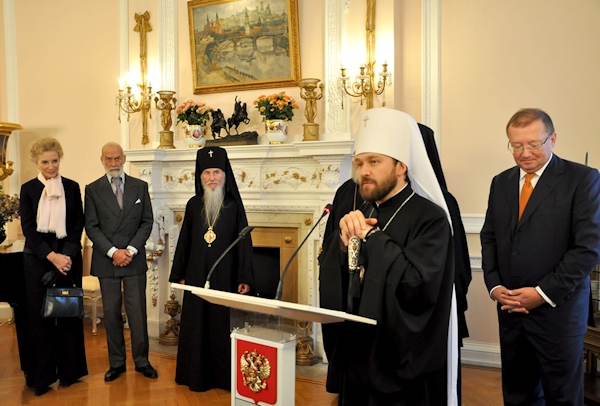 The celebrations of the 50th Anniversary of the Russian Orthodox Diocese of Sourozh was marked with two festive events on 21 October. His Excellency Alexander Yakovenko, Ambassador of the Russian Federation, hosted a Reception at his residence in Kensington Palace Gardens in the afternoon. As this also coincided with the 5th anniversary of the reunification of the Russian Orthodox Church Abroad (ROCOR) and the Moscow Patriarchate, as well as hosting of the Conference of Russian Orthodox Bishops Serving in the Diaspora, a large number of Russian Hierarchs were present. Heading these were Metropolitan Hilarion of Volokolamsk, Chairman for External Church Relations, and Metropolitan Hilarion of Eastern America & New York, Primate of ROCOR.  The gathering was honoured with the presence of Their Royal Highnesses Prince & Princess Michael of Kent as well as ecumenical visitors, including the Apostolic Nuncio (Archbishop Antonio Mennini) and the Archbishop of Westminster. Bishop Athanasius of Tropaion represented the Ecumenical Patriarchate and Abba Seraphim the Oriental Orthodox Churches.
Later in the afternoon, Archbishop Elisey of Sourozh hosted a festive ceremony at Cadogan Hall, Chelsea, where a number of awards were given to clergy and laity in recognition of their service to the diocese followed by a programme of religious, folk and classical music and a preview of Alexey Mikhalev's documentary film: "Sourozh. Blurring out the boundaries".
Posted on: Sunday, 5th August, 2012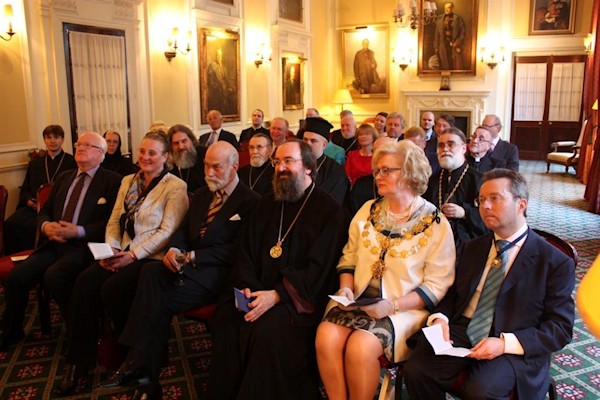 On 1 August Father Peter Farrington represented Abba Seraphim (who was out of the country at the time) at a Festive Reception to mark the fiftieth birthday of His Eminence Archbishop Elisey of Sourozh, the diocesan of the Russian Orthodox Church in Great Britain. This was held at The Cavalry & Guards Club in Piccadilly, London, and was hosted by the Trustees of the Diocese of Sourozh.
A Chopin Recital by Nelly Akopian-Tamarina, the distinguished Russian pianist, who studied at the Moscow Conservatoire under the legendary Alexander Boroisovich Goldenweise was followed by a celebratory dinner. Among the distinguished guests were H.R.H. Prince Michael of Kent, Archbishop Innokenty, the previous hierarch responsible for the Russian Orthodox Church in the British Isles, His Eminence Archbishop Gregorios of Thyateira and the Ambassadors of Belorussia and the Ukraine.
Father Peter offered congratulations to Archbishop Elisey on behalf of Abba Seraphim and the British Orthodox Church, and was especially pleased to be able to meet Father John Chapman, the Bishop of London's Chaplain for International Churches, and Father Benedict Ramsden of the Russian Orthodox Church.
Image source: http://www.sourozh.org/photogallery/01082012/
Upcoming events
7 February 2015

Raising of Incense & Divine Liturgy: Shadwell

9.30 am Raising of Incense
10.00 am Liturgy of St. James
11.45 am Refreshments

8 February 2015

Raising of Incense & Divine Liturgy: Doncaster

Raising of Incense – 9:45am
Divine Liturgy – 10:30am

Morning Prayer: Babingley

10.30am Morning Prayer

12 February 2015

Evening Prayer & Discussion: Shadwell

7.30pm Evening Prayer
7.45pm Talk and discussion
9.00pm Refreshments

15 February 2015

Raising of Incense & Divine Liturgy: Doncaster

Raising of Incense – 9:45am
Divine Liturgy – 10:30am