Posted on: Tuesday, 20th March, 2012
Father Simon Smyth of the Bournemouth and South-Coast churches shared this message:
SOUTH COAST CHURCHES MOURN HIS HOLINESS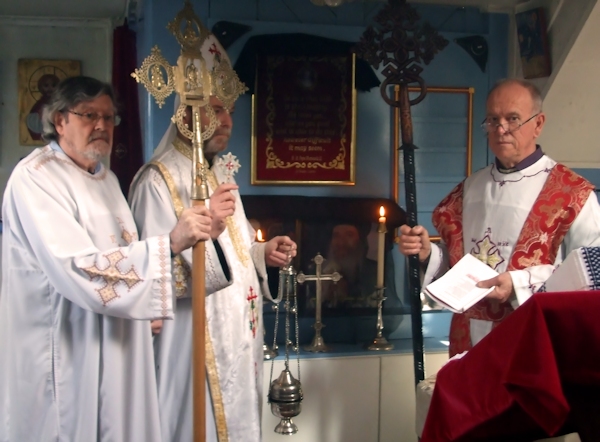 In the Church of Christ the Saviour, Bournemouth, the photographs of our beloved patriarch, His Holiness Pope Shenouda, were veiled in black with lighted candles and a cross placed in front.  The tone of sadness and loss that Father Simon had heard from so many the previous evening as he had 'phoned to tell them the news could not be hidden during the Sunday Divine Liturgy.  At the conclusion of the Liturgy the hymn "For all the saints who from their labours rest" was sung with real meaning and depth of feeling by the congregation.
Father Simon then stood before the veiled photograph and read an extract from His Holiness' book The Release of the Spirit:
"what can we say about the father bishops each of whom will be asked by God about nearly two hundred thousands or more whether priests or lay-men? …pray for them earnestly that God may help them carry out their duties…  Remember how the holy monks used to escape from this position because of its fearful responsibility. And when one of them was taken by force and ordained as bishop he cried out weeping before God and saying, 'O Lord, you know that I left the world and went to the monastery to seek my own salvation.. But now I return to the world though I have not attained salvation yet and is required to save others also…  What about our fathers the Patriarchs, each one of whom God will ask about ten million in Egypt and much more in" the West and around trhe world.  "My brethren, you ought to pray for every Patriarch that he may be able to perform his duties and give a good reply to God when He asks him about his own soul and the souls of the bishops, priests, deacons, monks and laymen… and about keeping the church laws and spreading the Orthodox faith all over the world… do not look to God's ministers and to those who hold any responsibilities just like spectators praising them when they do good and condemning them when they do wrong… You rather pray for them…"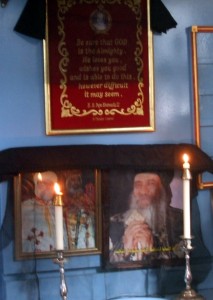 The morning worship ended with the Memorial Service and the singing of "Give rest, O Christ, Thou light of Light Eternal":
"Though o'er the grave, for loved ones, still we sorrow,
Yet we may commune with them while we're waiting,
And, in the joyful hope of that 'tomorrow':
Sing Alleluia !"
The Portsmouth Church of Saint Mary the Mother of God and Saint Moses the Black was represented by Reader James Kelly who spoke briefly and movingly of meeting Pope Shenouda in Egypt in late 2010.  The Southampton Mission of Saint Polycarp was represented by Mary Goodchild.  Both in Southampton and Portsmouth the congregations also veiled photos of Pope Shenouda in black and lit candles before them for their Memorial Services.
Archdeacon Alexandar writes on behalf of the Cusworth, Doncaster Congregation
"His Holiness Pope Shenouda III was remembered in prayers at the Sunday Liturgy of the Church at Cusworth, as were the people of Egypt  and the authorities tasked with governing the Church until a new Pope is elected.   After the Liturgy special memorial prayers were also offered for the repose of our late Pope's soul."
The Babingley, Norfolk congregation had to cancel their Sunday Raising of Incense and Divine Liturgy service, due to Abba Seraphim leaving for Cairo. But they instead held a prayer service for His Holiness lead by Deacon Mark and Deacon Christopher Barnes.
Father Peter Farrington of the Chatham, Maidstone congregation writes
"The congregation of St Alban and St Athanasius Orthodox Chuch in Chatham prayed for the repose of His Holiness during the Liturgy, and then offered prayers for him after the Liturgy in the form of the Panikhida (Memorial prayer service)."
Other messages of support were received from other denominations in the UK
Father Marcus Brisley, Parish of the Annunciation and St. Edmund Campion, Bournemouth writes:
On behalf of myself and my parish I would like to pass on sincere condolences to you and your community at the Church of Christ the Saviour on the death of His Holiness Pope Shenoudah III. A charismatic leader who was used by the Lord to continue the great movement of spiritual renewal within the Coptic Church, he has guided his people in a time of challenge and difficulty. I therefore sense how deeply you and all his spiritual children will feel your loss. May the Lord receive him with mercy and reward him for his labours, comforting Coptic Christians as you mourn and raising up a worthy successor to shepherd you.
With prayers and best wishes in Christ
There were other supporters and well wishers who share their prayers and kind thoughts for H.H. Pope Shenouda III and the families of Egypt.
Upcoming events
19 May 2013

Raising of Incense & Divine Liturgy: Doncaster

Raising of Incense – 9:45am
Divine Liturgy – 10:30am

Raising of Incense & Divine Liturgy: Babingley

10.00 a.m. Morning Incense
11.30 a.m. Divine Liturgy

26 May 2013

Raising of Incense & Divine Liturgy: Doncaster

Raising of Incense – 9:45am
Divine Liturgy – 10:30am

Morning Prayer: Babingley

10.00am Morning Prayer

Raising of Incense & Divine Liturgy: Charlton

Raising of Incense 2.00 p.m.
Divine Liturgy 2.30 p.m.