Posted on: Sunday, 16th May, 2021
At 2:00 pm on Saturday, 29 May 2021, His Beatitude Abba Seraphim, Metropolitan of Glastonbury, has been invited to give a talk on "The Orthodox Church" at St. Mary's Ordinariate Chapel of Our Lady, Barming Road, Wateringbury, Kent ME18  5BD to which persons wishing to learn more about Orthodoxy would be welcome to attend (The Chapel can be reached via the first turning on the left after 'The North Pole' public house (at 434 Red Hill, Wateringbury, Maidstone ME18 5BJ) and then turn on the right into Chapel Cottage)
Posted on: Wednesday, 12th May, 2021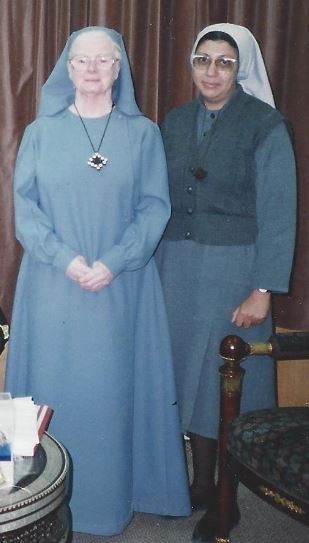 Tasoni Demyana Masoud (later known as Kodsy) died of cancer at Daytona Beach in Florida, USA on 7 May aged 61 years. This was the day before the death of Deaconess Sarah Metcalf. She was born in Cairo, Egypt, on 25 July 1958 where she was raised in a devout family and service to the Lord. Her father was an architect who died early in an accident while building a famous hotel in Cairo. She dedicated her life to God and service from a young age. She started by serving in Archangel Michael Church and St. Mina Church in Shoubra, then travelled to Malawi where she was ordained a Coptic deaconess by the late Bishop Bimen of Malawi (1930-1986) who was consecrated as bishop for Malawi in 1975 after which he installed a monastic order for deaconesses whose main mission was to reform education of children and adolescents. Services were conducted through Youth Summer Camps and Conferences organized by the late Metropolitan Athanasios (1923-2000) of Beni Suef with support from Bishop Moussa of Youth. Demyana was among the first group to join that ministry which left a great impression on her future life and she passed much time and effort in serving the poor and needy, then travelled on to Beni Suef to serve students in the area and spent much time in teaching them English. In September 1981, the new deaconesses lost their Bishop temporarily as he was detained by President Sadat with many other Coptic Bishops at the Prison of Marg. It wasn't long before Sadat got assassinated and Bishop Bimen was released to go back to his diocese, after which In 1986, he developed complications related to diabetes passed away. The deaconesses, not finding much to do under his successor moved to serve in other dioceses. Demyana later continued to serve in England and Switzerland, counselling the youth and families abroad and returned to Cairo in the 1990s and served with Ava Mina, and later as an interpreter for His Holiness Pope Shenouda III for Wednesday lectures. Having been received received by Pope Shenouda he appointed Bishop Joannes to care for her life and ministry. It was a rich time where she served as English Language instructor at BLESS, helped as a nurse in hospitals and acted as caregiver for Miss Effa, one of the first deaconesses consecrated by Pope Shenouda. Her students found in her a spiritual coach and formed a support group that would help in different forms of church services. Among many services, she acted as translator and support to foreign delegations visiting the Coptic Church. In 1996 she first met with Abba Seraphim when he visited Egypt accompanied by his two British Orthodox deaconesses, Elizabeth Beresford and Sarah Metcalf. She moved to Florida in 1996 and stayed serving in St. George Coptic Orthodox Church and the surrounding communities in many services and for many families.  Having offered many years of service to Abba Seraphim when he was visiting Egypt regularly she earned much affection from him and his companions, so as a result of their respect she will be regularly commemorated to rest in peace with our Divine Lord and Saviour. In 1999, Demyana had started developing health complications including diabetes and cancer and left to the US to join her family where she lived in Florida and served at St George Church. On 7-May-21, after a long struggle with Cancer, Demyana departed. Her funeral was held at St George Church (Daytona Beach, Florida) on 11-May-21. She shall be remembered by many people she served across the globe.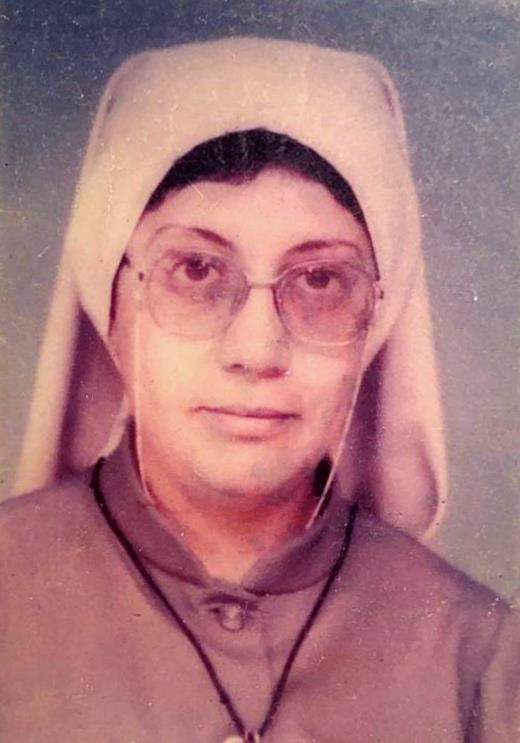 Posted on: Sunday, 9th May, 2021
On 8th May 2021 Deaconess Sarah Metcalf, wife of Mr. Tom Metcalf, one of the senior Deaconesses of the British Orthodox Church at Cusworth, Doncaster, died at the age of 87 years. She was a very faithful and loyal member of the British Orthodox Church and her passing to the Lord will be greatly missed by both the clergy and faithful who will uphold her in their prayers. Gladys Metcalf was born at Skellow near Doncaster, South Yorkshire, on 16 March 1934 and was baptised when a month old at the Wesleyan Chapel at Carcroft.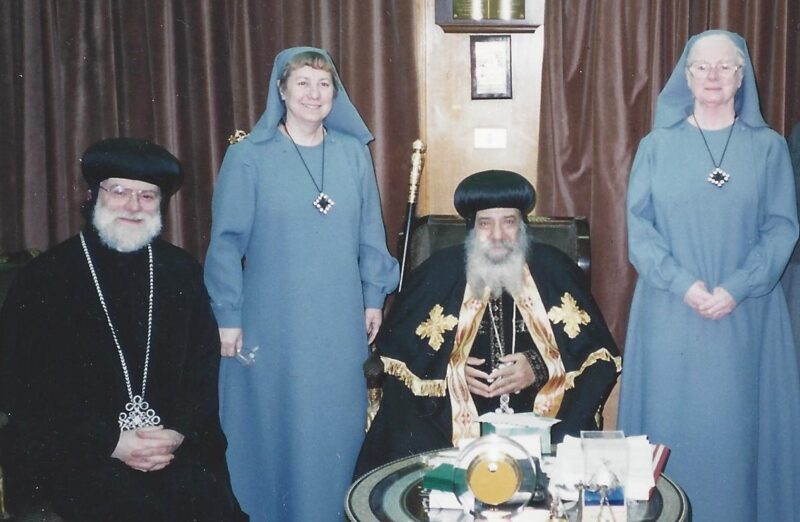 She was received into the Orthodox Church by chrismation on 19 July 1988 and was ordained as 'Deaconess Sarah' by Abba Seraphim on 4 June 1989. In March 1996 she and Deaconess Elizabeth Beresford accompanied Abba Seraphim to Egypt, where they visited many of the holy shrines and churches and were warmly welcomed by the late Pope Shenouda III. She provided three decades of service to the Church at Cusworth and earned much affection and respect for her faith and kindness. In October 2019 she and Deaconess Elizabeth gave their support to the ordination of Deaconess Helena Dale at Cusworth.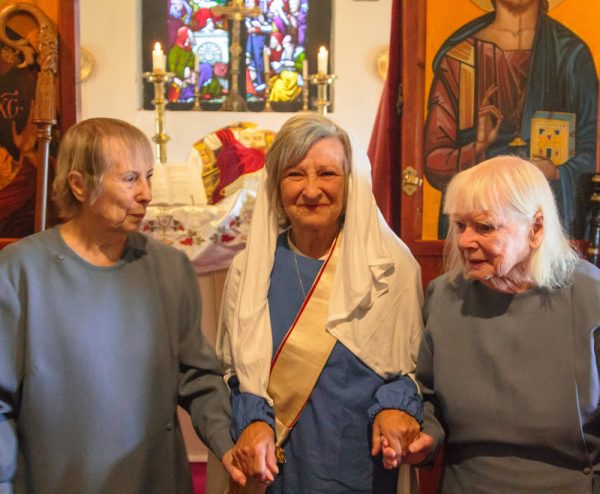 Posted on: Sunday, 25th April, 2021
Yesterday President Joe Biden became the first American President to officially recognise that the Ottoman Empire's massacre of Armenians in 1915 was a genocide, by declaring that "Each year on this day, we remember the lives of those who died in the Ottoman-era Armenian genocide and recommit ourselves to preventing such an atrocity from ever again occurring," although the current Turkish Foreign Minister, Mevlut Cavusoglu stated, "We reject and denounce in the strongest terms the statement of the President of the US regarding the events of 1915 … It is clear that the said statement does not have a scholarly and legal basis, nor is it supported by any evidence."
During the period 1894-1924 the Ottoman Turks specifically slaughtered vast numbers of Christians, among whom several million Greek, Syrian and Armenian Orthodox were also martyred. Abba Seraphim commended President Biden for his statement, which he believes is absolutely accurate and also raises current concerns about the treatment of Armenians in the recent Nagorno-Karabagh War.
In 1915, the year of the Genocide, the Armenian clergy suffered. There is an eyewitness account of part of this pitiless slaughter given by a Venezuelan mercenary serving in the Ottoman army:
"As night was falling we passed the little island of Aghtamar, which seemed to possess no other edifice than an ancient and beautiful convent, where the Catholic Bishop of Van had lived. Its outer facades are adorned with allegorical pictures, which were barely visible from the launch through the gathering dusk. Apart from the corpses of the Bishop and the monks, huddled on the threshold and atrium of the sanctuary, there seemed to be no human beings on the islet except the detachment of gendarmes which had slain the Christians. As they asked us urgently for some munitions, with which to seek out and kill God knows whom, we left them five thousands cartridges and continued the journey to the shore – which was outlined by the glare of burning villages that bathed the sky in scarlet."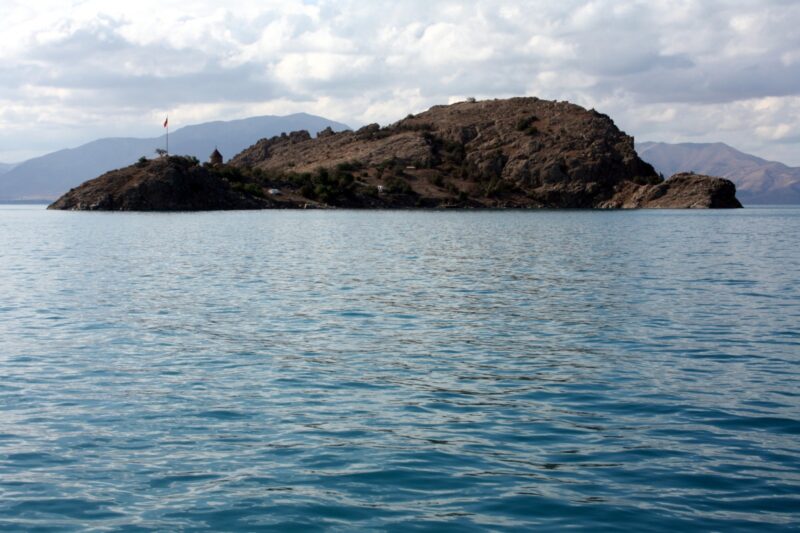 Two names, Bishop Hovsep Khosdeghyan and Vartabed Boghos Garabedian are given as having been martyred on Aghtamar although there were several other clergy killed in Van, which included monks from the Aghtamar brotherhood seeking refuge in the Armenian Quarter of Van which staged a very successful resistance for about a month against the attacks of the Turkish army and civilians, and was finally rescued by Armenian volunteers serving as the vanguard of the Russian army.
Abba Seraphim was a close friend of the late Armenian Patriarch Mesrob II (Mutafyan) of Istanbul (1956-2019) who had inherited the pastoral oversight of the historic island of Aghtamar in Lake Van. In October 2013 Abba Seraphim joined members of the 'Tur Abdin Focus Group' and a number of other pilgrims on a pilgrimage to Eastern Turkey, led by the Anglican Bishop of Southwark (The Right Rev'd Christopher Chessun), when they visited Aghtamar and other historic sites of the Armenian Church, once part of their heartland but abandoned since the Genocide.
Since 1989 Abba Seraphim, who is a great cat-lover, has possessed six 'Van Cats' who have lived at the British Orthodox Church Secretariat at Charlton. They are generally referred to as 'Turkish Vans' but he prefers to call them 'Aquatic Armenians' because they derived from a territory which was an ancient Armenian homeland before it was conquered and annexed by the Ottoman Empire. For this reason all his cats were given Armenian rather than Turkish names: Gregory I & II, Sarkis, Hripsime, Senekerim and Shoushan.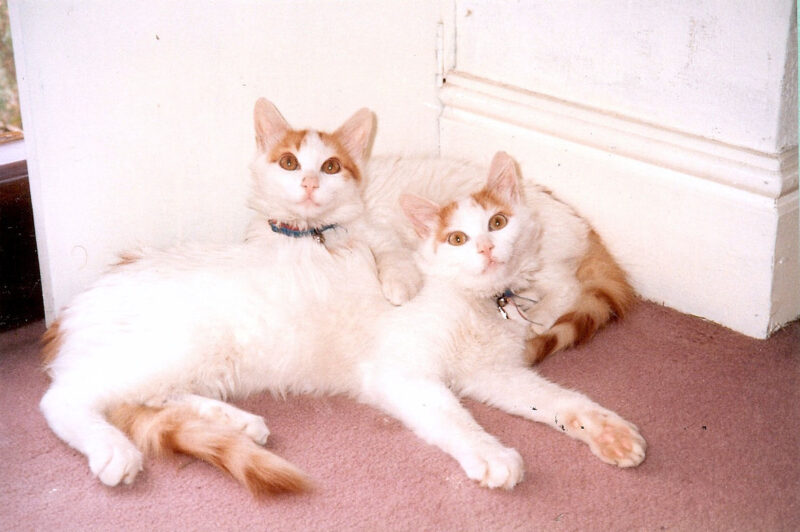 Posted on: Friday, 9th April, 2021
The announcement today of the death of H.R.H. Prince Philip, Duke of Edinburgh and consort to Her Majesty the Queen has been one of great sadness, not only for his lengthy and extensive commitment to public service but also because of the loss to our Sovereign Lady Queen Elizabeth and all the beloved royal family.
The British Orthodox Church has a profound allegiance to the British monarchy and has had great respect for the depth of Christian spirituality manifested by Prince Philip, who was baptized into the Greek Orthodox Church and brought up in a devoutly religious family.
His great-aunt Alexandra Feodorovna, wife of Tsar Nicholas II of Russia, was martyred for her faith as a victim of the godless Bolsheviks, while his mother, Princess Alice of Battenberg, became a nun as a widow after her husband died. Although he became an Anglican upon his marriage to Princess Elizabeth, he was able to enrich his religiosity with his endowment of inherited Orthodox spirituality.
Upon hearing of his passing on the news, Abba Seraphim shed heartfelt tears of regret and has now directed the clergy and faithful of the British Orthodox Church to commemorate Prince Philip in prayer for the traditional forty days of mourning; and as we draw closer to the Feast of the Lord's Resurrection to trust that his soul will be received into heaven to eventually await the promise of the Resurrection of the Departed at the Glorious Second Coming of our Lord & Saviour Jesus Christ. Memory Eternal!