OBITUARIES
The Right Rev'd Michael Charles Evans, 3rd Catholic Bishop of East Anglia, died on 11 July 2011 aged 59 years.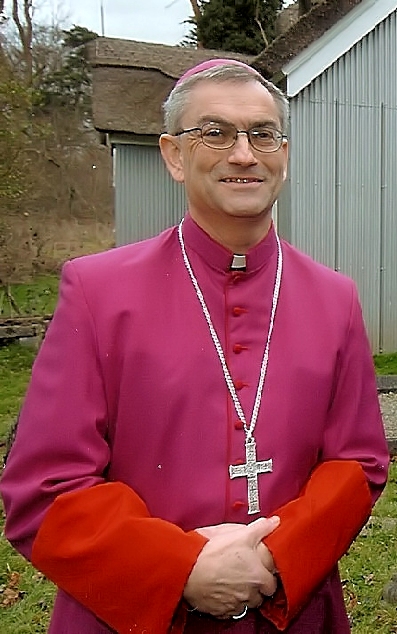 Born in Southwark, south-east London, on 10 August 1951 and brought up in Kent, he went straight from school to St. John's Seminary at Wonersh, Surrey and was ordained priest at Southwark Cathedral on 22 June 1975. He spent some time as an assistant priest, then studied for a Master of Theology degree at Heythrop for four years (1975–1979) before returning to Wonersh, as vice-rector and lecturer in Doctrine. During the next few years he held a number post including chaplain of a convent school and chairman of the Archdiocese of Southwark's Justice and Peace Coordinating Committee. From 1995 until 2003, he served as Parish Priest at St. Augustine's church, Tunbridge Wells. He was consecrated to the episcopate at the hands of Cardinal Murphy-O'Connor at St. John the Baptist's Cathedral, Norwich, on 19 March 2003.
He was a committed ecumenist and early established warm relations with other churches. In 2005 he was the guest speaker at St. Felix, Babingley, for the annual Week of Prayer for Christian Unity service. He also was an active member, with Abba Seraphim, of the Catholic-Oriental Orthodox Regional Forum.
Despite being diagnosed with prostate cancer in 2006 he continued to be active right up to a few days before his death. On hearing of his death Abba Seraphim wrote, "We have been praying for Bishop Michael throughout his illness and found inspiration in the way he calmly faced death, insisting on fulfilling his ministry to the very last. He was an able theologian with a sharp intellect and a loving, pastoral heart. We will miss him and our prayers and sympathy goes out to his flock, who have lost an outstanding bishop and pastor. Memory Eternal !"
His Eminence Metropolitan Domadios of Giza, died 16 September 2011 aged 86 years.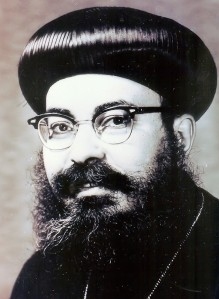 Born Michael Khalil on 9 July 1925 at Maghagha City (Minya Governorate), he completed his high college and spent his early and primary school Maghagha then moved to complete his secondary education school at El-Masai El-Mashkura College in Shebin El-Kom. On 1946, he received his bachelor's degree from the Faculty of Agriculture at Cairo University. He then studied a 2-years Education diploma (1948) to work as teacher of Agriculture in Tanta for two years.
At the age of 15, he joined the church village ministry convoys in Giza. During his university studies, he started teaching Sunday School at St Mark's Church in Giza. Michael Khalil was a disciple of Father Mina the Hermit (the future Pope KyrillosVI).
On 29 April 1951, he was consecrated as a monk monk at the Syrian Monastery with the name "Fr Matthias". As an Agricultural Engineer, he utilized his knowledge to improve the desert soil near the monastery and cultivate a farm. This was one of the earliest attempts to cultivate desert soil. On March 1953, he was ordained priest, then Hegoumen in April 1954 (which is remarkable as he was not yet even to his 30s).
When Fr Mina the Hermit was consecrated as Pope Kyrillos, Fr Matthias joined his secretariat. The former sent him in 1962 to support the growth of St Mina's Monastery at Mariut. At the same time, Pope Kyrillos nominated him for the episcopate, which he refused. However, the Holy Synod selected him to become the Bishop of Giza and Pope Kyrillos consecrated him as Bishop Domadios of Giza on 31 March 1963. He was later promoted to the rank of Metropolitan by Pope Shenouda III on 2 June 1985.
In his later years, Abba Domadios suffered from a stroke which left him partially paralysed and confined to a wheel chair for many years, but in 2009 Pope Shenouda consecrated Bishop Theodosius as a General Bishop to assist him.
Pope Shenouda along with 37 metropolitans and bishops and 3,000 people led the funeral office. The funeral was attended by the Vatican Ambassador to Egypt, the Minister of Interior (General Mansour al-Issawi) and the Governor of Giza.
His Grace Bishop Mattewos, Eritrean Orthodox Bishop of Debarwa, died on 27 November 2011 aged 79 years.
Born in 1932, he became a monk in 1953 at St. Mary's monastery, Debre Qusquam , later serving as Abbot of Debarwa monastery under the name of Abba Abraham. On 30 April 2004 he was one of the four bishops consecrated by Patriarch Antonios. Sadly, in less than a year he betrayed the church by allowing himself to be coersed into signing the uncanonical instrument deposing Patriarch Antonios, for which he was excommunicated. Nevertheless, he continued to serve as a member of the 'Synod' under the anti-Patriarch Dioscoros.
Archimandrite Serge Keleher died in Dublin 11 November 2011.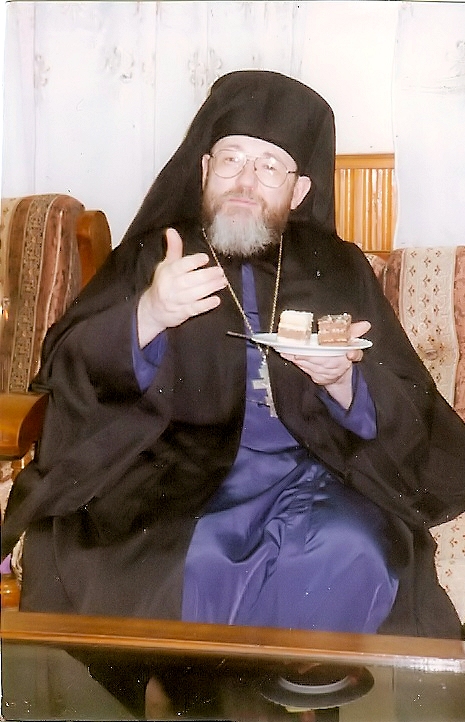 Brian Regis Keleher was born in Manhatten, New York, the son of James Francis Keleher (whose parents derived from Macroom, Co. Cork) and Helen Dorothy Barbara Monaghan (who was born in New York City but whose father had left Kerry because of his involvement with the Fenians). At that time James Keleher was a student at Fordham Law School and during World War II served in the US Army in Europe. In 1949 their marriage ended in divorce and she remarried in 1951.
Father Serge was very much of an international figure, although his sense of his Irish heritage was of profound importance to him. He converted to Orthodoxy in 1961 when he joined the Moscow Patriarchate in his late teens. He was ordained a priest in 1967 but in 1973 had been received by the Greek Melkite Archbishop Joseph Raya. He explained that his Russian bishop was extremely nice about it, not deposing him, 'so I am an Orthodox priest in good standing to this day'. He then served in Canada having been incardinated into the Eparchy of Toronto under Bishop Isidore. In the Eparchy of Toronto (UGC), Fr. Serge after serving in Thunder Bay served as Chaplain on a daily basis for the Missionary Sisters of Christian Charity, along with various other pastoral assignments: Slovak Greek Catholics in Welland, UGC in Paris, Hungarian Greek Catholics in Delhi, personal secretary to His Grace Bishop Isidore, and founding pastor of St. Seraphim GC Mission (English language, Vulgate usage) Toronto. Bishop Isidore raised him to the rank of archpriest. Father Serge transferred to the Stamford Eparchy, placing himself under the omophor of Bishop Basil (Losten) who was accepting of his curious dual commitment to the Russians and Ukrainians. Bishop Basil elevated him to the dignity of a mitred archimandrite at the request of Patriarch Lyubomir (Husar) of Kiev for his work in re-establishing the Lvov Theological Academy (now the Ukrainian Catholic University). With a dual passport (US and Irish), he could travel easily to Soviet Ukraine and took supplies of medicine, etc. there with the financial support of Bishop Basil Losten of Stamford.
Talented linguist, liturgical scholar, bon vivant: ideas and words bubbled from him and his friendships spanned a whole spectrum of churchmanship. In Oxford, he worked as a researcher for Keston College, a research organisation in England that supported persecuted Christians in Communist lands. This was prior to Perestroika. While at Keston College Fr Serge published his book about the persecuted Greek Catholic Church in the Ukraine.
He was a man of ideas and energy, capable of inspiring and energising others. He was instrumental is revitalising the almost moribund Society of St John Chrysostom in England and extending it to the USA, linked with the founding in 1993/1994 of the Eastern Churches Journal, with himself as editor, which he regarded as the spiritual successor of Eastern Churches Quarterly and Eastern Churches Review. An imaginative scheme to reopen the decayed Greek Catholic Church in Istanbul saw him lead volunteers in a clean-up operation and to celebrate its first Paschal Eucharist for many years, but his efforts were frustrated by his own hierarchy's lack of vision combined with reservations that this might prove harmful to ecumenical dialogue.
After many years of globe-trotting the Lord found him a ministry in the place where his heart most belonged. In the mid-1990s he began serving occasional liturgies for the Byzantine Catholics in Dublin but by 1998 these had increased to weekly. His charm and pastoral care for his gathered flock caused them to flourish. The Divine Liturgy was celebrated in St. Kevin's Oratory in the Pro Cathedral, later moving to the disused Chapel of St. Alphonsus in Drumcondra and now based in the public Chapel of Holy Cross College, Clonliffe.
Father Serge first met Abba Seraphim in 1994 and from then established a firm friendship with the British Orthodox Church, often staying at Cusworth Glebe or the Secretariat at Charlton. In 1996 he accompanied Abba Seraphim to Cairo and was received by Pope Shenouda. During visits to Sydney for 'Orientale Lumen' conferences he stayed with Father Gregory Tillett. Hearing of Father Serge's failing health, Abba Seraphim and Father Gregory made a special visit to Dublin on 21 June 2011 to see Father Serge and dine with him.
Although increasingly frail and suffering from serious mobility problems, one of his last duties, joyfully performed, was to attend the installation of Bishop Hlib (Lonchyna) as Apostolic Exarch of the Ukrainian Catholics in Great Britain on 2 August 2011 for which he travelled to London.
Father Serge: Memory Eternal !
1 of 1