Posted on: Thursday, 12th September, 2013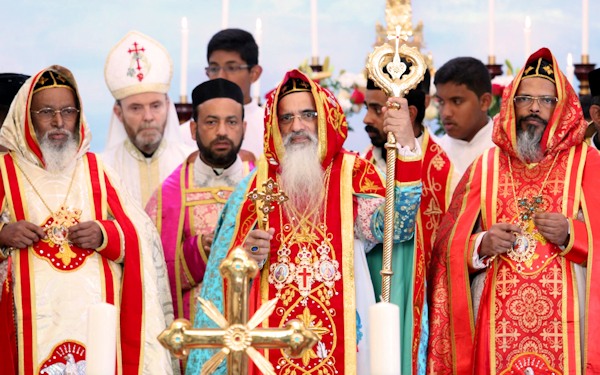 Accompanied by his wife Tasoni Sheila, Father Simon Smyth represented Abba Seraphim at the consecration of the new Indian Orthodox Church of Saint Mary in Pilning, Bristol, on Saturday 7 September. The building in Bank Road, Pilning, BS35 4JG  was formerly St. Peter's Primary School. The consecration and first liturgy was celebrated by His Holiness Baselius Mar Thoma Paulose II, Catholicos of the East, supported by the diocesan bishop, His Grace Metropolitan Doctor Mathew Mar Thimothius and His Grace Metropolitan Thomas Mar Athanasius, Bishop of Chengannur, together with seven Indian Orthodox priests and an enthusiastic congregation of several hundred.  The whole day typified Oriental Orthodoxy at its best, filled with love, warmth and joy.

Although the Indian Orthodox Church in the United Kingdom & Ireland has twenty-three congregations, this is their third freehold church building. The Bristol parish was founded in October 2002 with only 25 families, but began growing rapidly, so that it was constituted a parish in August 2003 and now has 95 families.  Plans to erect a traditional Malankara Church facade received support from the local council as likely to enhance the building's appearance but is being opposed by the County Council as the building falls within the Green belt. Your prayers are invited for a successful outcome to the church's appeal. Donations to the building fund can be made via the parish website: http://www.stmarysindianorthodoxchurchbristol.com/new-church-project/  

Posted on: Thursday, 8th November, 2012

On 8 November, Father Simon Smyth, accompanied by his wife Sheila returned once again to Moorlands Bible College to lecture on iconography.  A double session had been booked by Alistair McKitterick, Tutor and Lecturer in Biblical and Theological Studies, thus allowing plenty of time following the lecture for questions and discussion.  Why we kiss icons and what it means to kiss them; the distinction between worship of God and veneration of icons manifesting Christ our God; Christology; the goodness of creation and matter; prayer and spirituality were among a host of related topics considered. A number of these were helpfully and insightfully fielded by Sheila Smyth, displaying a female touch, and providing a useful contrast to Father Simon's sometimes academic responses.  Further questions and discussions continued over an excellent dinner.