Posted on: Monday, 12th November, 2012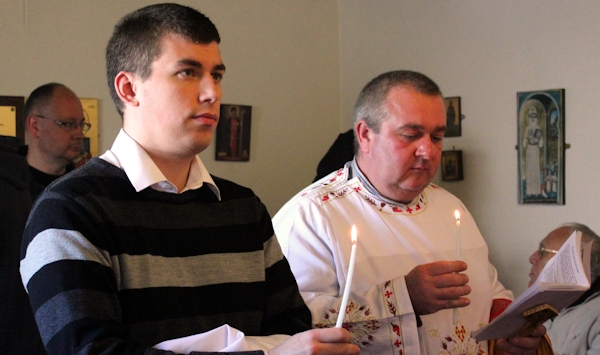 On 11 November, during the celebration of the Divine Liturgy, Abba Seraphim ordained his PA,  Trevor Maskery, as a Reader and elevated Roman Benchak, a reader at the Chatham Church to the Order of Subdeacon.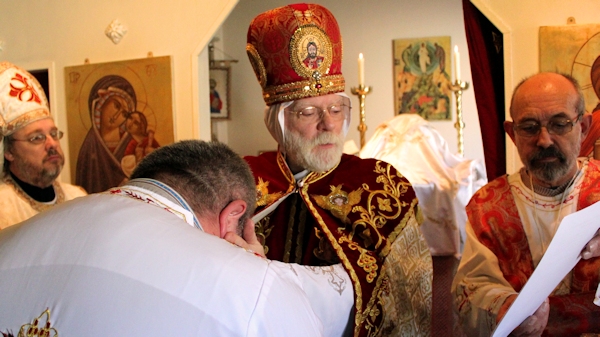 Preaching on the day's Gospel (Luke XIV: 25-35), Abba Seraphim spoke of the conditions of discipleship, "The two short parables of the man building a tower and the king preparing for war teach that to be a disciple of Jesus requires invincible fortitude and unwavering zeal or as C.H. Dodd more succinctly puts it, "to take great risks with open eyes." Followers are reminded in stern terms of the cost which they must be prepared to pay. The need for sure foundations and sufficient means with which to complete the task are explicitly stated. If the farmer is unable to complete his building project he will be subject to ridicule, if the king has underestimated the strength of his enemy, he will be forced to submit to his terms. The message is clear for us all, know what you are taking on for a task half done would be better never to have been started."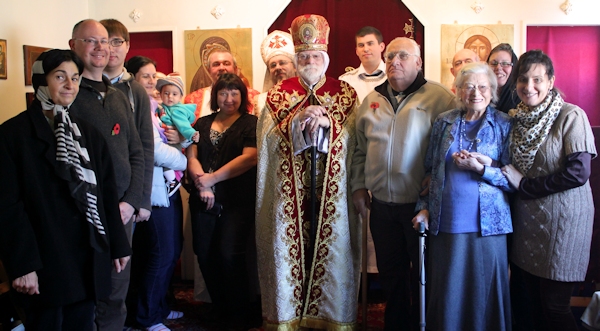 The small church, which was packed, also welcomed Abba Seraphim's Egyptian secretary, Shenouda Mamdouh and his wife, Mary,  who are visiting London at the present and everyone joined together in a buffet lunch and fellowship following the service.
Posted on: Sunday, 8th January, 2012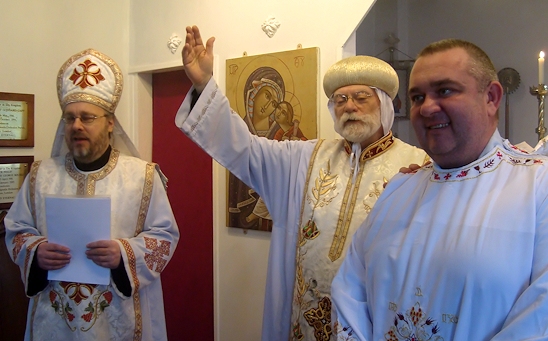 On 8 January Abba Seraphim ordained Roman Ivanovich Benchak to serve as a Reader at St. Athanasios & St. Alban Parish at Chatham. Roman is a Russian who has been worshipping for some time with the British Orthodox and during his homily Abba Seraphim commented that although the Russian Orthodox Church was a relative 'newcomer' to Orthodoxy it had made an amazing contribution to the world, with its profound spirituality and great catalogue of saints and martyrs, especially those who had struggled to keep the Orthodox faith alive during a difficult history, from the Tartar Yoke to more recently, the darkness of atheistic communism. What a rich schoolmaster it had proved to bring Roman to Christ. In entering into service in the British Orthodox Church within the Coptic Patriarchate, Roman becomes the 'firstfruits' of the full reunion we all long to see between the two families of Orthodoxy and a witness to our common faith and adherence to the same Apostolic Tradition.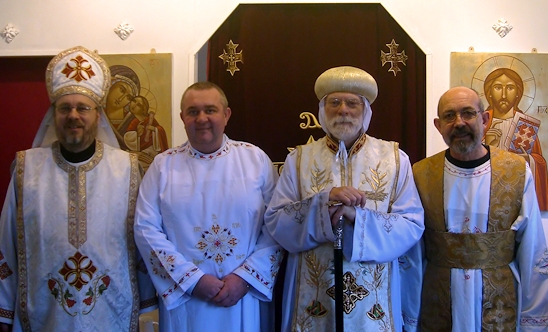 Abba Seraphim noted that today in Stevenage His Grace Bishop Angaelos was holding a special Memorial Service for all the Coptic Christians who have lost their lives – indeed become martyrs – in the recent troubles which preceded and took place during the Revolution: from, El Kosheh, Nag Hammadi, Al-Qidiseen in Alexandria to Maspero. Although unable to be there personally, he had directed all British Orthodox congregations to make similar commemorations and to join in prayer and in spirit with that service. Thankfully this Nativity Feast has passed off in Egypt peacefully but these are still uncertain times. He noted that His Holiness Pope Shenouda had invited representatives of all political parties to join the Christmas celebration; which was right as Christians can show no hate, even for those who have treated them cruelly, especially as the Eucharist is about union with God and the spirit of forgiveness and new life in Christ; so all must be welcome. Yet we do not forget those whose lives have been sacrificed and whose blood is a witness of injustice. At this time we also called for prayer for the Christians of Syria, who are suffering because of the unrest there.
Upcoming events
1 February 2015

Raising of Incense & Divine Liturgy: Doncaster

Raising of Incense – 9:45am
Divine Liturgy – 10:30am

Morning Prayer: Babingley

10.30am Morning Prayer

7 February 2015

Raising of Incense & Divine Liturgy: Shadwell

9.30 am Raising of Incense
10.00 am Liturgy of St. James
11.45 am Refreshments

8 February 2015

Raising of Incense & Divine Liturgy: Doncaster

Raising of Incense – 9:45am
Divine Liturgy – 10:30am

Morning Prayer: Babingley

10.30am Morning Prayer