Posted on: Sunday, 5th February, 2012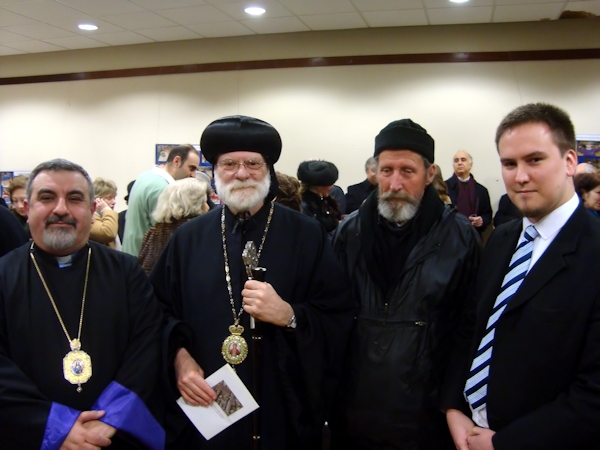 On 4 February the Armenian Parish of St. Sarkis in Kensington celebrated its Patronal Festival with an Ecumenical Service for Peace. Among the dignitaries attending were Her Excellency Mrs. Karine Kazinian, who took up her position as Armenian Ambassador to the Court of St. James last September but has quickly become a popular figure with the Armenian community here and Her Worship the Mayor of the Royal Borough of Kensington & Chelsea (Councillor Julie Mills). Among the clergy attending were Abba Seraphim, His Grace Bishop Angaelos and His Eminence Archbishop Elisey of Sourozh (Moscow Patriarchate) as well as priests from the Catholic Church, the Church of England and the Church in Wales.
After welcoming the ecumenical guests, His Grace Bishop Vahan spoke about the life of St. Sarkis and his example of service and the pursuit of  truth and peace. It has become a tradition at this annual celebration to honour the service of one of the long-serving members of the Armenian community and this year Mr. Armenag Topalian, who has served in various positions for some four decades and recently retired from his term as a Trustee of the Church (2004-2012) received a public citation of thanks.
Also attending from the British Orthodox Church were Deacon Theodore de Quincey and Reader Daniel Malyon (pictured with Bishop Vahan and Abba Seraphim).
The occasion also marks the eightieth anniversary of  the church's consecration (11 January 1923).
Posted on: Sunday, 22nd January, 2012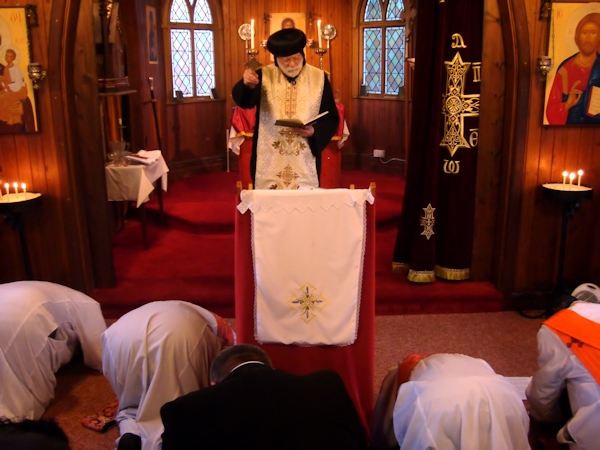 During the Week of Prayer for Christian Unity the British Orthodox Parish of St. Mary & St. Felix at Babingley has traditionally invited a guest speaker to give an address and this year, during the service of the Raising of Evening Incense, Dr. Michael Kennedy spoke on "Change for the Better: Ecumenism and the Orthodox Concept of Salvation." In introducing him Abba Seraphim noted that he not only served as a Subdeacon at the BOC Chatham Church and had a distinguished secular career as a university lecturer, but was still an active artist and artists were capable of viewing the world in a way which gave prominence to spirituality.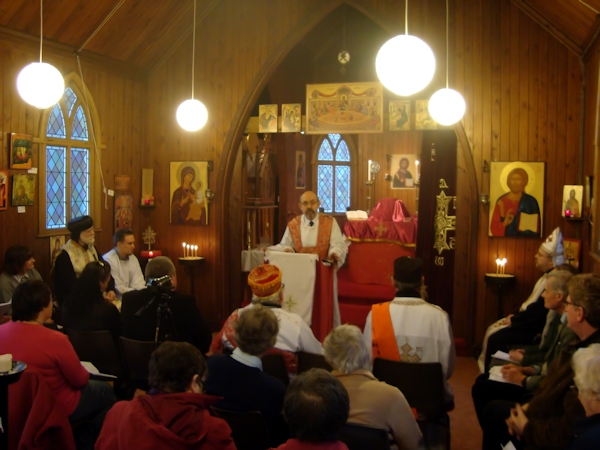 In his address Dr. Kennedy noted that when one thinks of the Orthodox Churches perhaps the last thing that comes to mind is the word 'change'. Orthodoxy seems to be the epitome of that which is changeless and to the visitor Orthodox worship probably appears timeless. The Orthodox Liturgy may feel timeless in the sense that it generally continues far longer than most Western church services, but there is also a sense of timelessness in that the ancient liturgical forms are preserved and cherished. A visit to an Orthodox monastery, for example to one of the Coptic monasteries in the Egyptian desert, prompts feelings of going back in time, of nothing really changing, of a deeper more ancient life of prayer and worship. "For many people this perceived timelessness is no doubt attractive. There is security in the unchanging, a sense of knowing where we are, of knowing that 'God is in his heaven and all is right with the world'. But it doesn't take much exposure to the Christian faith to realise that this security is an illusion, a comforting one but an illusion nonetheless. Like education, Christianity is all about change."
He then quoted from patristic and modern sources, especially H.H. Pope Shenouda, to explain the process by which salvation is achieved, "The Orthodox understanding of salvation asks us not to see it as a simple one-off event, something that has already happened in the past but rather to see it is an on-going process. Furthermore we must get involved ourselves. However contemplative we are by nature or inclination we must collaborate with God. The principal means of doing this is through the church into which we must be baptised and we must build on this sacrament, this means of grace, day by day. So we must be changed and we change ourselves, little by little, through prayer, through study, through sacraments, especially the sacrament of repentance, and through good works. All of these are important and I suggest that we miss the point if we believe that our salvation is already accomplished and we need do nothing further. Salvation understood as a union with God is the goal of Orthodox Christian faith, the end to which our life of prayer and worship aspires."
Regrettably, attendance by the Babingley clergy was restricted by illness. Deacon Mark Saunders was unable to attend as his wife, Sybil, had only just been discharged from hospital having been suffering from pneumonia and Subdeacon Roger-Kenneth Player had only been discharged from Papworth hospital the previous day following heart surgery. Abba Seraphim had visited him at home and prayed for him earlier in the day. However, the service was well attended and Abba Seraphim was assisted by Father Peter Farrington, Deacon Christopher Barnes, Deacon Theodore de Quincey and Readers Daniel Malyon and Roman Benchak.
Upcoming events
1 February 2015

Raising of Incense & Divine Liturgy: Doncaster

Raising of Incense – 9:45am
Divine Liturgy – 10:30am

Morning Prayer: Babingley

10.30am Morning Prayer

7 February 2015

Raising of Incense & Divine Liturgy: Shadwell

9.30 am Raising of Incense
10.00 am Liturgy of St. James
11.45 am Refreshments

8 February 2015

Raising of Incense & Divine Liturgy: Doncaster

Raising of Incense – 9:45am
Divine Liturgy – 10:30am

Morning Prayer: Babingley

10.30am Morning Prayer