Posted on: Monday, 16th July, 2012
Abba Seraphim was  once again  a guest at the annual garden party held at Morden College, Blackheath, on 16 July. This gathering of friends of the residents and those closely associated with the work of the College usually serves as an Open Day for the College's beautiful gardens and historic building, but the intermittent rain which has characterised this summer meant that people stayed in the large marquee, where they were entertained to a lavish tea and music played by the band, resplendent in scarlet uniforms at which the Lord Mayor of London was an honoured guest.  It is always a convivial gathering and characterised by the warm welcome accorded to visitors as well as the care and respect shown to the residents. Father Michael Robson was on good form and Abba Seraphim sat on the Chaplain's table along with a number of other clergy friends of the College.
Posted on: Thursday, 8th March, 2012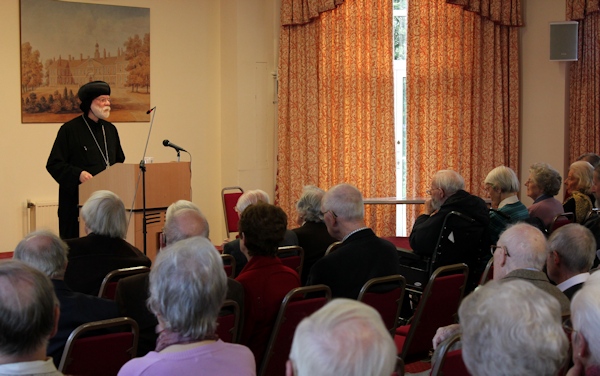 As one of their Lenten speakers, the chaplaincy of Morden College, Blackheath, invited Abba Seraphim to reflect on the current situation 0f Christians in the Middle East. Addressing a large audience on 8 March, Abba Seraphim outlined the problems of Christians in Iraq, Syria and Egypt since the Millennium and took the decline in the historic Christian communities in Iraq as a warning to the Christian world of how fragile they have now become. The problems faced by each country were each quite distinctive and owed much to their respective histories since the break up of the Ottoman Empire and the rise of militant fundamentalists. He emphasised the significance of Egypt, with the largest Christian community in the Middle East and the dynamic life of the Coptic Orthodox Church in the face of continuing sectarian attacks. Following a number of thoughtful questions from the audience, the Rev'd Nick Woodcock, chaplain, invited Abba Seraphim to lead the audience in prayer for the Christians of the Middle East.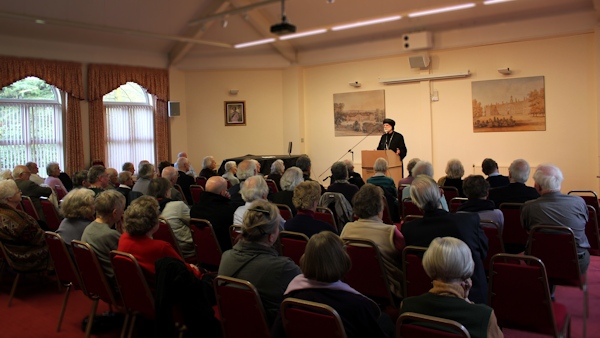 Posted on: Tuesday, 5th April, 2011
Every two months Abba Seraphim celebrates the Divine Liturgy in the late 17th century Chapel of Morden College at Blackheath. This is where Father Michael Robson has lived for a number of years and the use of the chapel was kindly offered to the British Orthodox Church to minister to Fr. Michael. A warm welcome is always accorded to Abba Seraphim and Fr. Peter Farrington by the College Chaplain and his staff and many others residents of the College frequently attend and support the Orthodox celebrations. The Liturgy on 5 April was also attended by The Right Rev'd Patrick Mwachiko, Bishop of Masasi, one of the sixteen dioceses in the Province of Tanzania,who was visiting friends at Morden College. After the Liturgy there was a convivial gathering for coffee for all those present. Bishop Patrick and his wife were returning home that evening and Abba Seraphim wished them God-speed and assured them that he would pray for the ministry in Masasi.
Upcoming events
21 September 2014

Morning Incense & Divine Liturgy: Bournemouth

Morning Incense 09.30, Divine Liturgy 10.15

Raising of Incense & Divine Liturgy: Doncaster

Raising of Incense – 9:45am
Divine Liturgy – 10:30am

Raising of Incense & Divine Liturgy: Babingley

10.30 a.m. Morning Incense
11.30 a.m. Divine Liturgy

28 September 2014

Morning Incense & Divine Liturgy: Bournemouth

Morning Incense 09.30, Divine Liturgy 10.15

Raising of Incense & Divine Liturgy: Doncaster

Raising of Incense – 9:45am
Divine Liturgy – 10:30am