Posted on: Saturday, 22nd May, 2010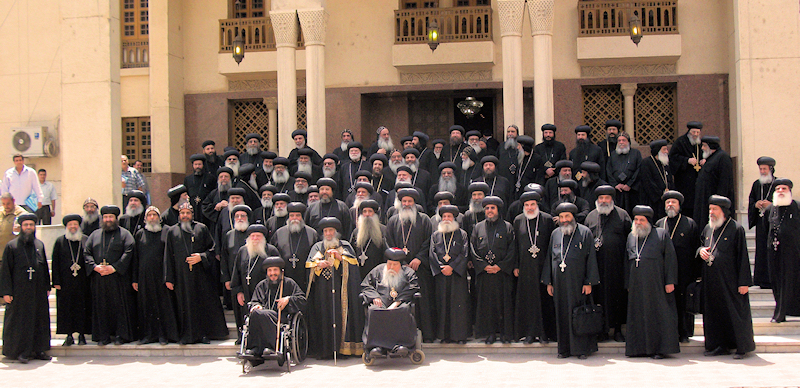 H.Pope Shenouda III presided over the annual meeting of the Holy Synod of the Coptic Orthodox Church on the Eve of Pentecost, Saturday, 22 May 2010 with eighty-seven members personally present.
The Synod meets in the Church of St. Antony on the second floor of the Papal Residence at Anba Rueis in Abbesaya, Cairo. From the United Kingdom the bishops attending were Metropolitan Seraphim, Bishop Antony and Bishop Angaelos. The meeting lasted from 10 a.m. to 2 pm and discussed the reports of the synodal sub committees for pastoral care, monasticism, the church rites, diocesan affairs and ecumenism. At the conclusion H.H. Pope Shenouda posed for a group photograph with the Synod members before entertaining them to lunch at the Patriarchate.
In the later afternoon Abba Seraphim, accompanied by Shenouda Mandouh and his wife, Mary, visited the Convent of Prince Theodore (Amir Tadros) in Haret-ar-Rum, where they were received by the Abbess, Tamev Adrosios, before returning to Heliopoils to dine with Mr. Mamdouh Abdou and his family.
Posted on: Saturday, 15th May, 2010
Despite having to cancel the planned BOC Pilgrimage to Egypt as a result of the BA strike, Abba Seraphim will still attend the annual meeting of the Holy Synod in Cairo. Having re-booked with other airlines he will travel by a tortuous route via Paris (Air France) on the outward journey and Rome (Alitalia) on the return, with journey time being much longer because of the stopovers involved. Abba Seraphim will stay in Cairo just the two nights necessary for him to attend the Holy Synod and the Feast of Pentecost Liturgy at St. Mark's Cathedral.
Upcoming events
26 May 2013

Morning Incense & Divine Liturgy: Bournemouth

Worship commences 09.30

Raising of Incense & Divine Liturgy: Doncaster

Raising of Incense – 9:45am
Divine Liturgy – 10:30am

Morning Prayer: Babingley

10.00am Morning Prayer

Morning Prayer: Chatham

Orthodox Morning Prayer: 10:30 am

Raising of Incense & Divine Liturgy: Charlton

Raising of Incense 2.00 p.m.
Divine Liturgy 2.30 p.m.