Posted on: Sunday, 4th December, 2011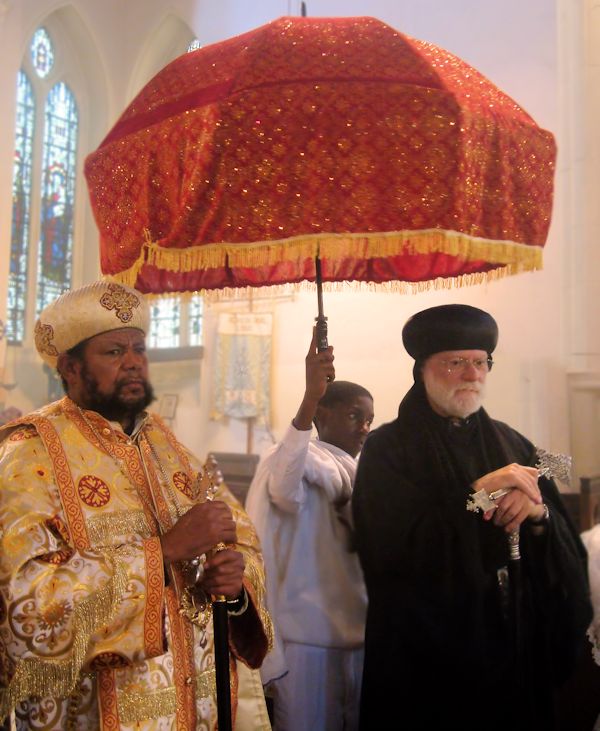 For the second year running, Abba Seraphim was happy to attend the  annual patronal festival of Saint Mary of Zion (Tserha Tsion) Ethiopian Orthodox Tewehedo Church in London on 3 December. The congregation is currently worshipping in St. James the Great Church in Lower Clapton but has recently purchased an adjacent site at 229 Lower Clapton Road, which includes a former cinema, which had lately been used as a night club). Imaginative plans are in hand to convert this building along traditional lines, with the historic Church of St. Mary of Zion at Axum as the inspiration. The project also includes a community hall, school rooms and an episcopal residence.
This parish has a long history of over thirty years and became established under the oversight of the late Archbishop Yohannes (died 1997), who served first as priest-in-charge and later as Bishop of Western Europe with his seat in London. Since 2006 Abuna Antonios has been the resident Ethiopian Archbishop.
In a brief address to the congregation, at the conclusion of the liturgy, Abba Seraphim spoke of his delight to share in their festival and participate in the holy joy of the congregation, and especially at their purchase of the premises after many years of searching. This was a true blessing of God and he congratulated them on their faithfulness.  He not only brought them greetings from their brothers and sisters in the British Orthodox Church, but also as one of the Vice-Presidents of the Council of Oriental Orthodox Churches in the UK.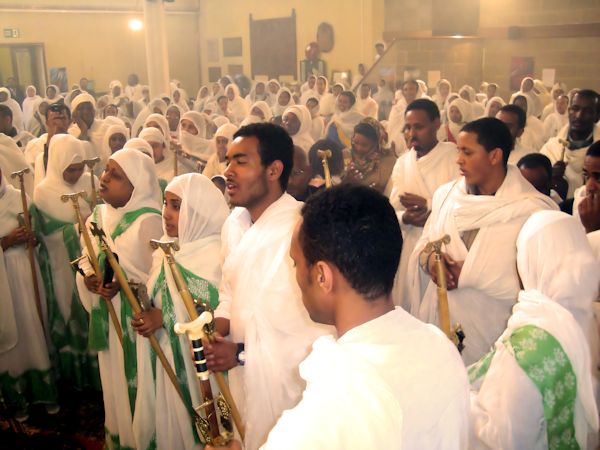 Posted on: Sunday, 28th November, 2010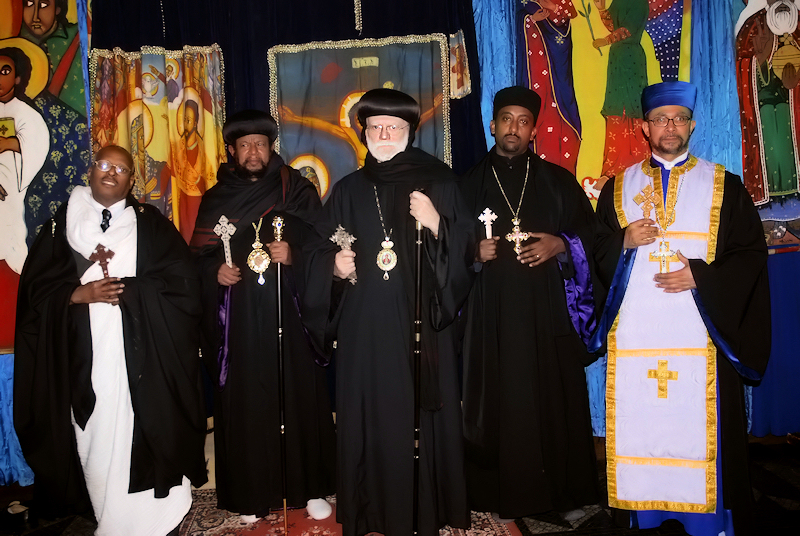 On Saturday, 27 November, Abba Seraphim attended the St. Mary of Zion (Tserha Sion) Festival of the Ethiopian Orthodox Tewahido Church held at St. James the Great Parish Church at Lower Claton, London, E5. The Festival is not only a Marian celebration but also commemorates the taking of the Ark of the Covenant to Ethiopia by the Emperor Menelik I and its placing in St. Mary of Zion Church in Axum, where many Ethiopian Emperors were later crowned. The festivities were presided over by Archbishop Antonios and following the Divine Liturgy there were traditional hymns and dances before the Holy Tabot was processed around the church amid much jubilation.
Following this Abba Seraphim addressed the congregation and offered congratulations on behalf of the British Orthodox Church and the Council of Oriental Orthodox Churches. St. Mary of Zion is the oldest of the Ethiopian Orthodox congregations in the United Kingdom although it has gathered in a number of different places in the three and a half decades since it was founded. Abba Seraphim fondly recalled his visit  to one of the first services held at a Church in Notting Hill in 1976 when the priest was the late Archimandrite Aba Aregawi Welde Gebriel (later consecrated as Archbishop Johannes) and the congregation was still very small. Under its present priest, Malake Sion Habte Marian Field, the congregation is actively fund raising to purchase their own property and Abba Seraphim looked forward to the day, with God's grace, when he would have the privilege of attending the consecration of their own church and recognising the fruits of so many years of faithful service. A festive lunch was held in the church hall aftwerwards, with traditional Ethiopian cuisine, which Abba Seraphim was delighted to share.
Posted on: Sunday, 30th May, 2010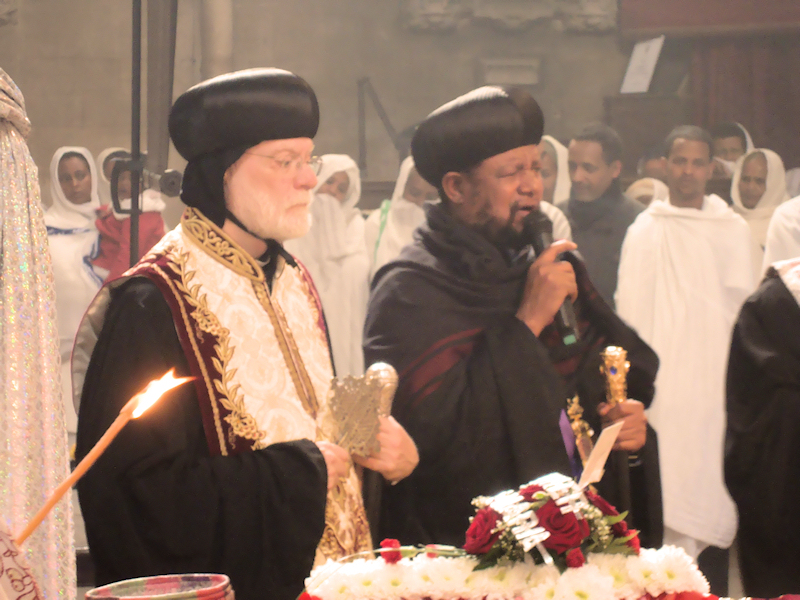 On Sunday morning, 30 May, Abba Seraphim attended the funeral, following the Divine Liturgy, of the late Father Hailemariam F. Mariam, priest of the Debre Madhanit Kidane Mehret Tewahdo Eritrean Orthodox congregation in Shepherd's Bush, London. The service was held at St. John the Baptist Church, Holland Road, London W14 and presided over by His Eminence Archbishop Antonios of the Ethiopian Orthodox Tewahdo Church (shown with Abba Seraphim above).
Father Hailemariam was professed as a monk of the Waldiba monastery when he was twenty-five and came to London in January 1992 at the suggestion of H.H. Pope Shenouda III to minister to the increasing number of Eritrean refugees. He was a humble and devout priest and when the Eritrean government exiled Patriarch Antonios, Father Hailemariam was horrified by such a sacrilegious act. He visited Abba Seraphim at the Church Secretariat in Charlton in 2007 to thank him for his support for the Patriarch and to affirm his own loyalty. Father Hailemariam died on 25 May 2010 aged 75 after a long battle with cancer. He was a greatly loved pastor and the church was packed for the funeral as well as having a large number of both Eritrean and Ethiopian priests and deacons  assisting in the funeral rites. Abba Seraphim paid respect to his loyalty and integrity, "He had deep affection for both Pope Shenouda and Abune Antonios because he loved truth and justice. He is a symbol of the deep spirituality of both the Ethiopian and Eritrean Churches and those who were touched by his ministry should follow his example of fidelity to their last breath."
Upcoming events
26 October 2014

Morning Incense & Divine Liturgy: Bournemouth

Morning Incense 09.30, Divine Liturgy 10.15

Raising of Incense & Divine Liturgy: Doncaster

Raising of Incense – 9:45am
Divine Liturgy – 10:30am

Morning Prayer: Babingley

10.30am Morning Prayer

Raising of Incense & Divine Liturgy: Charlton

Raising of Incense 2.00 p.m.
Divine Liturgy 2.30 p.m.