Posted on: Sunday, 22nd January, 2012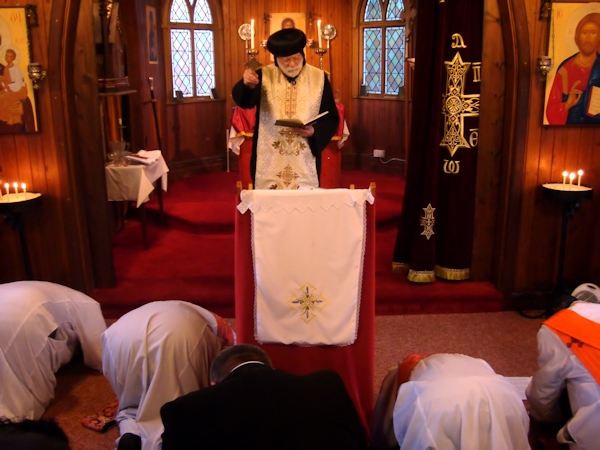 During the Week of Prayer for Christian Unity the British Orthodox Parish of St. Mary & St. Felix at Babingley has traditionally invited a guest speaker to give an address and this year, during the service of the Raising of Evening Incense, Dr. Michael Kennedy spoke on "Change for the Better: Ecumenism and the Orthodox Concept of Salvation." In introducing him Abba Seraphim noted that he not only served as a Subdeacon at the BOC Chatham Church and had a distinguished secular career as a university lecturer, but was still an active artist and artists were capable of viewing the world in a way which gave prominence to spirituality.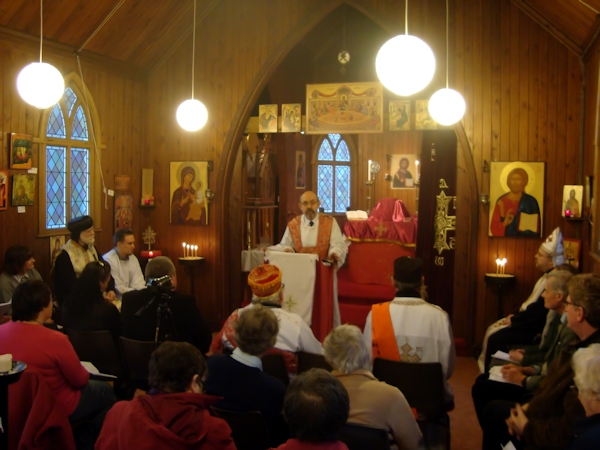 In his address Dr. Kennedy noted that when one thinks of the Orthodox Churches perhaps the last thing that comes to mind is the word 'change'. Orthodoxy seems to be the epitome of that which is changeless and to the visitor Orthodox worship probably appears timeless. The Orthodox Liturgy may feel timeless in the sense that it generally continues far longer than most Western church services, but there is also a sense of timelessness in that the ancient liturgical forms are preserved and cherished. A visit to an Orthodox monastery, for example to one of the Coptic monasteries in the Egyptian desert, prompts feelings of going back in time, of nothing really changing, of a deeper more ancient life of prayer and worship. "For many people this perceived timelessness is no doubt attractive. There is security in the unchanging, a sense of knowing where we are, of knowing that 'God is in his heaven and all is right with the world'. But it doesn't take much exposure to the Christian faith to realise that this security is an illusion, a comforting one but an illusion nonetheless. Like education, Christianity is all about change."
He then quoted from patristic and modern sources, especially H.H. Pope Shenouda, to explain the process by which salvation is achieved, "The Orthodox understanding of salvation asks us not to see it as a simple one-off event, something that has already happened in the past but rather to see it is an on-going process. Furthermore we must get involved ourselves. However contemplative we are by nature or inclination we must collaborate with God. The principal means of doing this is through the church into which we must be baptised and we must build on this sacrament, this means of grace, day by day. So we must be changed and we change ourselves, little by little, through prayer, through study, through sacraments, especially the sacrament of repentance, and through good works. All of these are important and I suggest that we miss the point if we believe that our salvation is already accomplished and we need do nothing further. Salvation understood as a union with God is the goal of Orthodox Christian faith, the end to which our life of prayer and worship aspires."
Regrettably, attendance by the Babingley clergy was restricted by illness. Deacon Mark Saunders was unable to attend as his wife, Sybil, had only just been discharged from hospital having been suffering from pneumonia and Subdeacon Roger-Kenneth Player had only been discharged from Papworth hospital the previous day following heart surgery. Abba Seraphim had visited him at home and prayed for him earlier in the day. However, the service was well attended and Abba Seraphim was assisted by Father Peter Farrington, Deacon Christopher Barnes, Deacon Theodore de Quincey and Readers Daniel Malyon and Roman Benchak.
Posted on: Sunday, 20th November, 2011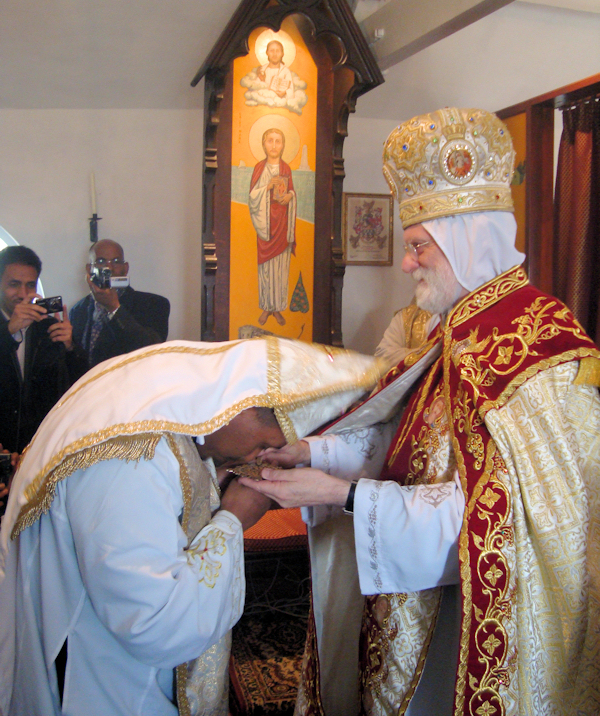 At the request of His Grace Bishop Makarios, Overseer of the North American Archdiocese of the Eritrean Orthodox Church and Bishop of the Eritrean Orthodox Church in diaspora, Abba Seraphim ordained Deacon Habtom Ftuwi, to serve the Medhane Alem Eritrean Orthodox community in Manchester.
Abba Seraphim's contact with the Manchester community goes back to 10 April 2006 when he chaired a meeting at Cheetham Hill to find ways of establishing the incipient community in a regular place of worship. Since then the congregation has grown and maintained regular worship but they have depended on occasional visits (sometimes six monthly) from Eritrean clergy in London for the sacraments.
Following Bishop Makarios' request, Abba Seraphim invited Deacon Habtom and representatives of the Manchester community to meet with him at the British Orthodox Church Secretariat in London and required supporting documentation to ensure the the proposed ordination conformed to canon law.
On 19 November the ordination took place at St. Mark & St. Hubert's Orthodox Church in Cusworth Village, South Yorkshire. During  the Liturgy Abba Seraphim was assisted by Fathers Simon Smyth and David Seeds, Archdeacon Alexander Astill, Deacons Christopher Barnes and Johannes Gebrhiwet. A large contingent of the congregation attended from Manchester, so that the church was full. After the kiss of peace, Archdeacon Alexander read out the letters from Bishop Makarios delegating Deacon Habtom's ordination to Abba Seraphim, before Abba Seraphim asked those present if they wanted Deacon Habtom to be their priest, to which the response was a resounding assent. Finally Deacon Habtom was asked if he accepted this call and his wife, Arsema, whether she agreed to his ordination and would support him in his ministry, to which both assented. Immediately prior to the ordination Deacon Habtom swore the pledge taken by all ordinands to maintain the Orthodox Faith and to serve the people, after which he knelt and bowed to all present.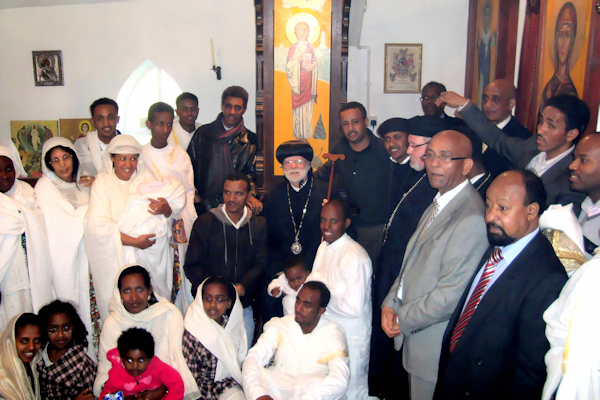 In his homily Abba Seraphim spoke of the Providence of God and our need to bring our wills into conformity with His in the same way that the Mother of God did when confronted by the Archangel. He also spoke of the continuity of priestly ministry throughout the generations and in different places. This very day the funeral was taking place in Dublin of a dear friend, Archimandrite Serge Keleher of the Greek Catholic Church, who died after a long and fruitful priestly ministry. This year also marked the 40th anniversary of Abba Seraphim's own priestly ordination. On the day of his ordination he had come straight from the funeral of another priest, whose ministry had been over 70 years. Such was the Providence of God that as some priests departed to their reward, others answered the call and served in their place. Abba Seraphim highlighted two scriptural texts, our Lord telling the Apostles,   "Ye have not chosen me, but I have chosen you, and ordained you, that ye should go and bring forth fruit"  (John X:16) and St. Paul writing about ministers as servants of Christ and stewards of the mysteries of God, "Moreover it is required in stewards that one be found faithful." He spoke of the prime importance of fidelity to the Faith and to the ministry of service.
At the conclusion of his ordination, Father Habtom was invested with his priestly robes and the congregation enthusiastically acclaimed Axios as well as joyful ululations ! At the end of the Liturgy Abba Seraphim gave the new priest the Holy Breath and the traditional charges to a newly ordained priest were read. Afterwards both British and Eritrean joined together in a traditional Eritrean meal in the Battie-Wrighton Memorial Hall, followed by traditional church dances by the choir. As the weather was unseasonably mild this took place in the courtyard in front of the church. The debteras in their white robes and holding their sistra and prayer sticks swayed rhythmically to these ancient traditional  Christian chants from the Horn of Africa while the haunting sounds and the solemn beating of a drum wafted across the sleepy Yorkshire village.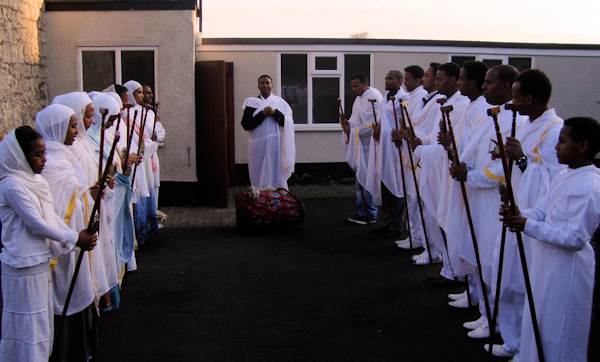 Upcoming events
12 December 2013

Evening Prayer & Discussion: Shadwell

7.30pm Evening Prayer
7.45pm Talk and discussion
9.00pm Refreshments

14 December 2013

Morning Incense & Divine Liturgy: Portsmouth

Morning Incense & Divine Liturgy 10am

15 December 2013

Morning Prayer: Bournemouth

Morning Prayer: 9.30am

Raising of Incense & Divine Liturgy: Doncaster

Raising of Incense – 9:45am
Divine Liturgy – 10:30am

Southampton: Morning Prayer

Morning Prayer (10.00) (Holy Trinity Church)