CLERGY
The British Orthodox Clergy are all non-stipendiary and support themselves by appropriate secular employment. This is quite common among clergy of the Eastern and Oriental Orthodox in the United Kingdom.
Abba Seraphim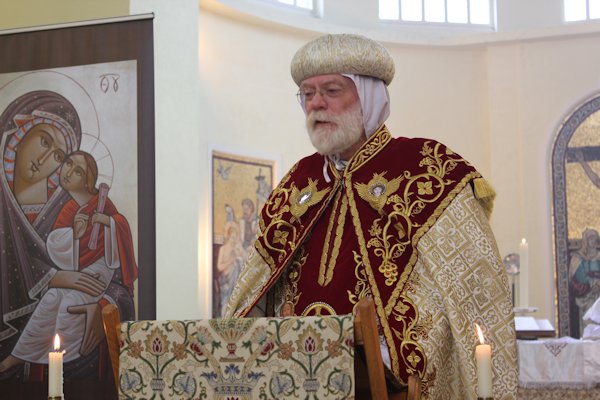 Abba Seraphim was born in London in 1948. His father, a policeman, died when Abba Seraphim was only four and his widowed mother supported the family through clerical work. Both Abba Seraphim and his older brother trained to be schoolmasters and his brother was eventually ordained as a priest in the Church of England. When Abba Seraphim was a schoolboy, he came under the influence of his mother's cousin, Mar Georgius (1905-1979), who was the then Primate of the British Orthodox Church. In 1965 Abba Seraphim became Orthodox and served for many years as Mar Georgius's deacon and secretary. He was ordained a celibate priest in 1971, made his monastic profession in February 1977 and consecrated as assistant bishop to Mar Georgius in July 1977. He became Primate of the Church on Mar Georgius' death in February 1979.
Father Simon Smyth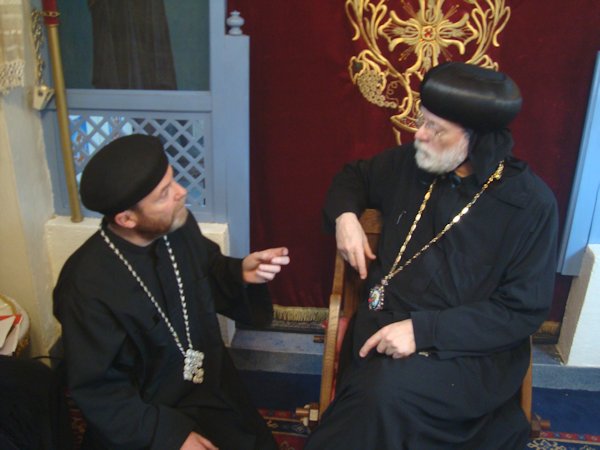 Father Simon was born in Woking, Surrey, in 1954.  Raised in the Church of England, Father Simon had no knowledge at all of Orthodox Christianity until his early thirties.  The more he read about Orthodoxy the more he realised that this was the Church as established by our Lord and through His Apostles.  His experience of the beauty of Orthodox Christian worship as he encountered it in the British Orthodox Church confirmed him in his love for this ancient Christian Faith still available for an Englishman like him without having to learn Arabic or Syrian or Greek or Russian.  In 1994 he was ordained Deacon and in 2000 ordained priest, being raised to Hegoumenos in 2009.  Following a seven-year part-time course, in 2003 he was awarded a B.A. Honours degree in Theology & Ministry by the University of Chichester. He currently serves as Priest for Bournemouth, Portsmouth & Southampton as well as Chairman of the Priests' Council.  He is married to Sheila Smyth and they have four (adult) children.  For many years he was employed as an estimator and surveyor for various building companies.  He is currently employed in a factory, following the tradition of the Desert Fathers for manual work, allowing the heart to concentrate better on prayer.
Father David Seeds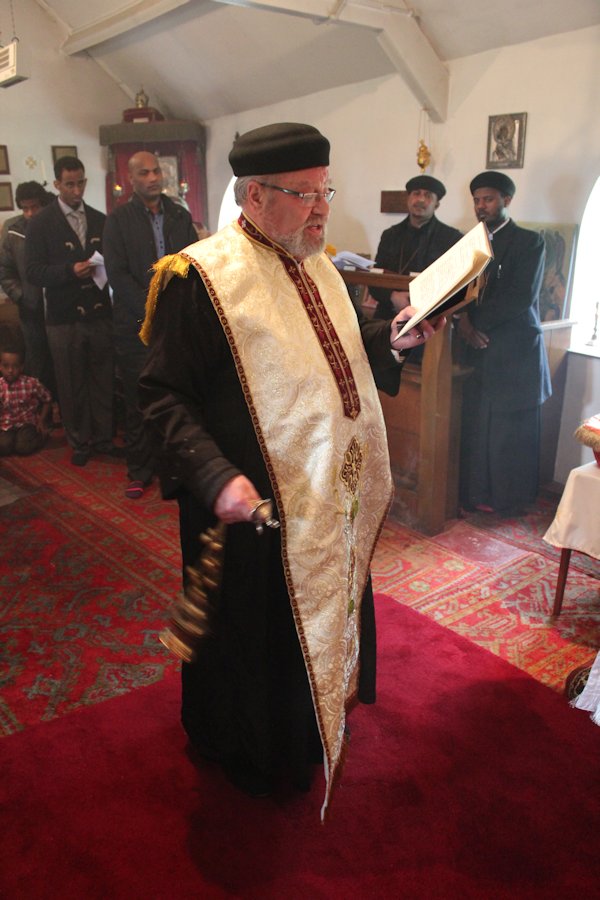 Father David was born in 1939 in Derbyshire. His father died when he was fifteen but he continued his studies and read Chemistry at Manchester University followed by a teacher training year at Birmingham before starting to teach at a grammar School in Nottingham. During this latter time, he was called to the ministry of the Church of England. Having trained at Ripon Hall he read theology at the University of Oxford and was awarded his Master of Arts degree. He was ordained deacon in Advent 1967; and priest at Michaelmas, 1968. He first served as assistant priest in the Parish of St. Cyprian, Frecheville, Sheffield, followed by several other parishes and some teaching posts, becoming Religious Education Advisor to the Bishop of Derby. His last position was as Vicar of St. Martin's, Alfreton, after which he resigned from the Church of England and was received into the British Orthodox Church. He was ordained priest by Abba Seraphim in 1996 and has served as the Parish Priest at the British Orthodox Church at Cusworth since then.
Father Gregory Tillett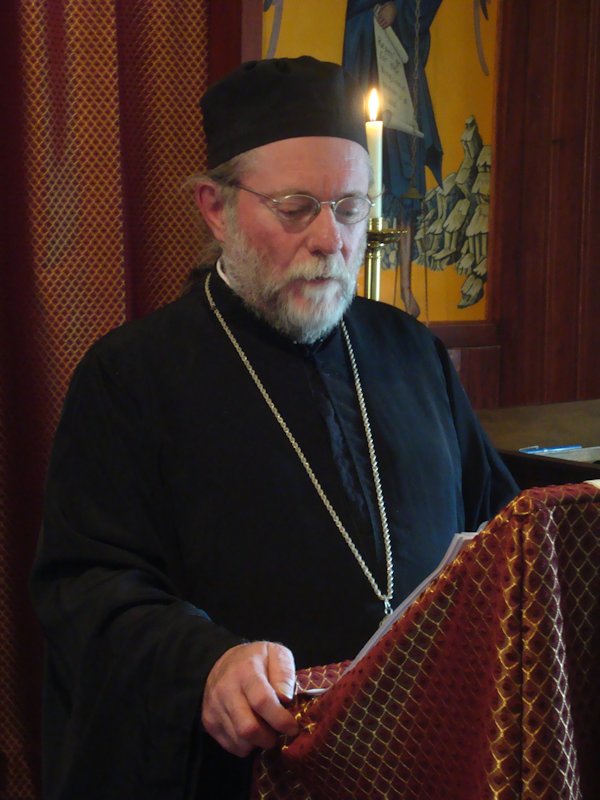 Father Gregory was born in Perth, Australia, in 1950. He graduated with a B.A. in Anthropology from the University of Western Australia (1971), has a graduate diploma in Library Studies and was awarded a Ph.D. in Religious Studies by the University of Sydney (1987). He is a noted academic and authority on Conflict Resolution, currently serving at the University of Western Sydney. He was ordained a celibate priest in 1994 and with the permission of Pope Shenouda served for several years as a General Priest in Australia. For many years he regularly visited the United Kingdom, sometimes for extended periods, and has ministered at a number of churches as well as advising the British Orthodox clergy in academic matters and assisting with clergy training. With the blessing of Abba Seraphim he has now become an urban hermit, with a focus especially on evangelical and scholarly work, particularly in the fields of liturgy and ascetical theology in the traditions of both Oriental and Eastern Orthodoxy, and providing assistance and guidance to students studying in these fields, and to those new to Orthodoxy.
Father Silas Spear
Father Silas was born in Utter Pradesh in Northern India in 1947. He became Orthodox through the ministry of the late Archimandrite Lazarus Moore (1902-1992), himself an early English convert to Orthodoxy, who ministered in India for some twenty years. Father Silas, who later emigrated to Canada, was professed as a monk in 1969 and ordained a priest in 1982. For a number of years he led the Nazareth Brotherhood, ministering to the poor and needy, but later returned to India where he continues that ministry. As a Canadian citizen he continues to make regular visits to Canada, where he has assisted at the Coptic Church in Kitchener, Ontario, and to the United Kingdom to support the British Orthodox Church.
Father Martin Lee
Father Martin was born in 1942 at Ayr in Scotland. He is a linguist and worked with the Ministry of Defence as a translator (specifically Russian and Arabic). He graduated with a B.A. in Theology from Leeds University (1963) and a second B.A. Humanities degree in Classics from the Open University (2008). He worked for a number of years as a schoolmaster, teaching religious education. He is proficient in New Testament Greek, Hebrew and Coptic and has tutored in these. He was ordained priest in 1997 and served the British Orthodox Missions in the West of England (Glastonbury and Sidmouth) until he suffered a stroke in 2005, when he retired from active ministry. In retirement he continues to provide academic support to British Orthodox clergy.
Archdeacon Alexander Astill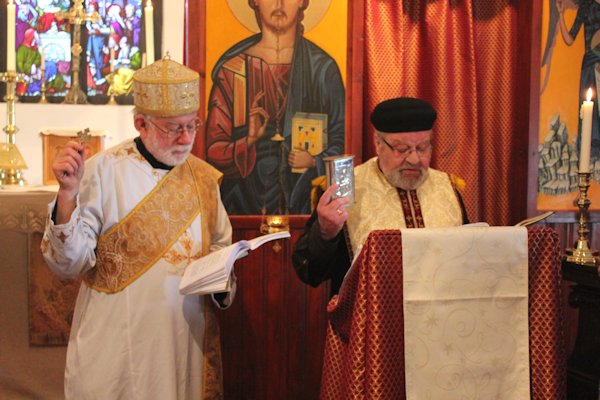 Archdeacon Alexander was born in 1948, the son of a British soldier serving in the Royal Engineers.  From late 1948 to 1952 he lived with his parents in Egypt at Suez and Fayid.  He went to college with Abba Seraphim, and was baptised into the British Orthodox Church in 1967.  He was ordained a full deacon in 1982, originally to serve in the Bournemouth Church, but when he moved to Yorkshire, he was attached to the Cusworth Church. He was ordained as Archdeacon in 1995. Now retired from secular work after a career both in teaching and with HM Government, Archdeacon Alexander holds the degrees of B.Ed (Exeter University) and MBA (Open University).  In addition to serving the Church at Cusworth he is treasurer of  'Open Ears' – an organisation aimed at providing Christian fellowship for the hard of hearing, and assists at the mid-week liturgies of the Coptic Church in Rotherham.
Deacon Mark Saunders
Deacon Mark was born at Cirencester in Gloucestershire in 1925. As a child he was diagnosed as having a weak heart and spent many months in and out of hospitals and nursing homes, which seriously interrupted his education. In spite of this he trained as an engineer but during the Second World War 1939-1945, following a full military medical, he was adjudged fit for service. Although he initially joined the RAF, he was transferred to the infantry and was posted to India, Egypt and Cyprus. He married in 1945 following demobilisation and returned to work as an engineer. For many years he was an active layman in the Anglican Church but left to join the Pilgrimage to Orthodoxy and was received into the British Orthodox Church in 1995, becoming a founder member of the King's Lynn congregation. He was ordained a full deacon in 2000 and in the absence of a parish priest, has served as deacon-in-charge of the congregation since 2007.
Deacon Christopher Barnes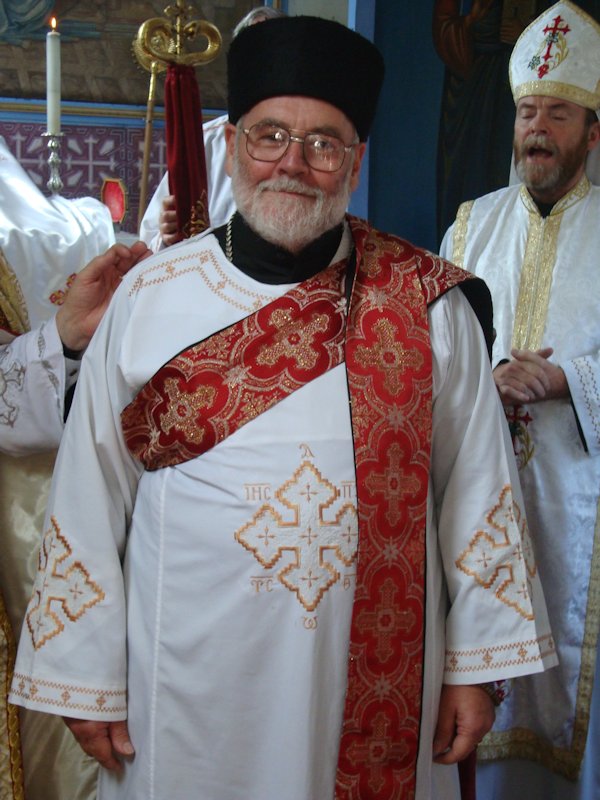 Deacon Christopher was born in 1951 at Wisbech in Lincolnshire. He took a mechanical engineering apprenticeship when he left school. His work took him to Toronto, Canada during 1972-74 but he returned to the UK to work in diesel engine manufacturing. For many years he was a server in the Anglican Church and when his employers changed the pattern of work-shifts, which would have required him to work on Sundays, he took voluntary redundancy and since 1995 has run his own driving school. In 1997 he joined the King's Lynn parish of the British Orthodox Church and was ordained a full deacon in 2011 to assist Deacon Mark.
Deacon John Stuart
Deacon John was born in 1947 at Howden, in the East Riding of Yorkshire. The following year his parents moved to Southern Rhodesia (now Zimbabwe) and later Northern Rhodesia (Zambia) where he went to school and first worked as a TV film cameraman. After doing National Service in Southern Rhodesia and following the death of his father, he returned to England and finished his schooling at Taunton Technical College. He began a degree course in Divinity & Politics at the University of Hull but dropped out to join the army as a commissioned officer, during which time he was deployed in the Gulf, Northern Ireland and Berlin. Returning to civilian life he worked as a cameraman for the Ministry of Defence and the BBC and later as a freelance. His involvement in charities providing aid for Eastern Europe (including driving HGV lorries with aid for orphanages in Rumania and Moldova, brought him into contact with Orthodox Christians and whilst taking a degree in theology at Exeter University he met Father Martin Lee and was received into the British Orthodox Church. He was ordained a full deacon in 2001 to serve the British Orthodox Missions in the West of England; but when these were retrenched following Father Martin's stroke, he received Abba Seraphim's blessing to work as an honorary hospital chaplain, having taken an M.A. in Chaplaincy at Leeds University.
Deacon Daniel Malyon
Deacon Daniel was born in 1986 at Portsmouth, Hampshire. He studied a BA in Religious and Theological Studies in Cardiff before training as a teacher at Trinity St. David University, Wales. His work as a teacher took him to Pakistan where he taught English and physical education before returning to the United Kingdom to teach religious studies, theology and philosophy in London.
Deacon Daniel served at the Portsmouth Parish before moving to serve in London under Metropolitan Seraphim. He begin studying an MTh in Orthodox Theology at Winchester University in 2011, which will be completed in mid 2014. In August 2013 Deacon Daniel's wife, Janice, is a member of the Indian Orthodox Church and they were married in Trivandrum, India. In January 2014 Deacon Daniel was ordained as a deacon for service in the BOC London Mission.
Clergy Formation
Those who feel a call to ordination are required, firstly, to be active participants in the services of the Church and its educational activities. Each such candidate is assigned as a mentor a senior Priest of the Church to offer counsel, guidance and support. Each candidate is given a guided program of reading and study. Those considering seeking ordination to the Priesthood are normally (depending on each person's education background) to complete a qualification in Orthodox theology at University level – for example, the M.Th in Orthodox Studies at the University of Winchester; the Institute for Orthodox Christian Study at Cambridge or the Centre for Eastern & Orthodox Christianity at the School of Oriental and African Studies (SOAS), University of London. Candidates undertaking formal studies in theology are provided with support and guidance from suitably qualified mentors within the Church. In determining who should be ordained, the Metropolitan takes account of the theological studies undertaken by the candidate, his commitment to the service of the Church and the counsel of senior Priests who know the candidate.