Hilda Chrienhilt Blanche KAY (1919-1984)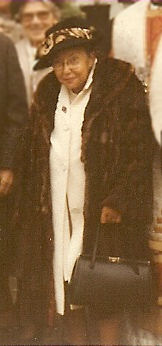 Hilda Kay was born on 6 July 1919 at Port Elizabeth in South Africa. By her own account her mother was the young mistress of an elderly magistrate, though outwardly he conformed to the social and moral standards of the period. When, however, the mistress became pregnant and bore him a son, arrangements were instantly made for his adoption and the avoidance of any scandal. Her second pregnancy provoked a new crisis and the magistrate made plans for a similar disposal of this second, unwanted baby. Having cursed the unborn child and worked himself into a state of extreme agitation, the magistrate died of apoplexy. Hilda Kay was his posthumous progeny.
Educated at Livingstone High School, Cklaremont, Cape Providence and the Wesley Training College at Salt River, she lived with her mother until the outbreak of the Second World War, when she served in the S.A. Air Force. During this period she married Robert William Schmidt but, as with many war-time marriages, it did not work out and the marriage was dissolved in October 1944 on the grounds of his 'malicious desertion'. Hilda, nevertheless considered herself still bound by her marriage vows and would not contemplate a second marriage. In 1947 she was demobilised with the rank of corporal and after several years in various civilian jobs she and her mother moved to England. Hilda trained as a nurse at Poole General Hospital, qualifying as a S.R.N. in 1954. She worked in a number of hospitals in the Bournemouth area, but only part-time as she was obliged to take care of her invalid mother. After the latter's death in 1962, she continued working in private nursing homes and for a time owned and ran one in Southbourne. During the 1970s she had the misfortune to suffer from some financial problems aggravated by theft and mismanagement of her affairs. A back injury, sustained whilst nursing, made it difficult to continue working.
It was with this background of an unhappy and in many ways unfulfilled life, that Hilda was led to attend a mission at the Bournemouth Church in the summer of 1981. The Lord touched her both spiritually and physically during the mission and the years of resentment and hatred for her father were swept away by the gift of tears and she was able to open her heart and pray compassionately for the repose of his soul. Received into the Orthodox Church by Abba Seraphim on 24 February 1982  she quickly established herself as a most faithful participant at the Divine Liturgy. Her faith was not shaken by the diagnosis of advanced cancer that the doctors gave her in 1982 and during her long stays in hospital and a course of chemotherapy her links with the church were maintained and strengthened, in particular through the ministry of Deacon Alexander Astill. By the mercy of God Hilda overcame the immediate danger to her life and was able to spend the time remaining to her in the care of the Macmillan Unit at Christchurch and in the home of Miss Phyllis Forsyth, a devout Christian friend. No visiting clergy ever arrived in Bournemouth without calling on Hilda and the joy and faith she radiated was an inspiration to all who knew her.
She had retuirned to hospital some two weeks before her death, having broken her collar bone, and thereafter her condition deteriorated rapidly. In spite of this she was determined to attend the wedding of her physiotherapist only a few days before her death, for which she was fully prepared and fortified by the rites of the Church. She died at Christchurch on 7 June 1984 aged 64 years. Her ashes rest in the cinerarium of the Bournemouth Church. In her will she left a bequest to the Church at Bournemouth.