Annette Delphine ROSE (1939-2004)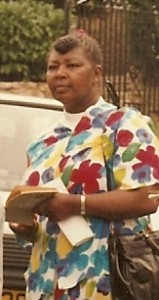 Annette was born in Jamaica on 17 March 1939, one of four children of Joslin and Elfreda Taylor. She left school at fifteen and worked at the University Hospital in Kingston for the next nine years before emigrating to England in 1961.
She was a hard working woman all her life and could turn her hand to many tasks, working variously as a photographic processor; at the  Glass Bulbs works in Harworth; in the textile industry in Shipley; at Burton Grange Nursing Home; as a supervisor at Nuttall's sweet factory in Halifax and as a chef at British Ropes. In 1970 she married William Rose and bore him five children: Errol, Joanne, Fiona, Neil and Nigel.
In 1989 she attended a service at the Orthodox Church in Cusworth Village, which she recognised as having first seen in a dream. At the time she was suffering ill health through the break-up of her marriage and she found support in her troubles from the clergy and members of the congregation. She was received into the Orthodox Church on 20 August 1989 and became a faithful attender at all services until her health problems became more serious. She was a gentle and loving personality, generous with the little that she had and ardent in her religious devotions. During her last months, with frequent stays in hospitals in Doncaster and Sheffield for kidney dialysis, she received regular visits from the Cusworth clergy. She died in Sheffield on 31 January, 2004 aged 64 years.
She was buried in the Orthodox section of Rose Hill Cemetery in Cantley on 12 February.