Father Andrew WINLO (1914-2000)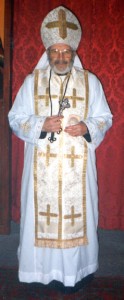 Ronald Winlo was born in London on 5th June 1914, into a family involved since the seventeenth century in ship-building on the Tyne. North Shields even boasted a Winlo Dock! His father, however, was Company Secretary for Trollope & Colls, the building firm, (now part of the Kvaerner Group) and this brought the family south. He was educated at the Limes Preparatory School in South Croydon (1925) before moving to Caterham Public School (1927).
As a sufferer from asthma in his childhood, Ron spent much time resting and this gave him an avid appetite for reading. It was during this time that he acquired a great love for the Acts of the Apostles and which eventually led him to read theology at King's College, London. At the outbreak of war the college was evacuated to Bristol and he was ordained deacon in 1941 and priest on 20th September 1942 in Farnham Parish Church.
He served his first curacy at St. Paul's Church, Egham Hythe (diocese of Guildford), where he met Heather Scott. They married in May 1944 and, scarcely a month later, with an emergency commission as a Chaplain to the Forces, he embarked with the 51st Highland Division for the D-Day landings at Sword Beach. As chaplain to the Black Watch Regiment of the 51st, he was directly involved in the liberation of Caen and of the Sandbostel concentration camp. After the war, as chaplain to the Dorset Regiment, he travelled to India, Japan and Malaya. In the meantime, Heather had joined the WVS and, by strategic selection of overseas opportunities and the workings of Providence, she was eventually able to join her husband in Japan.
Ron left the army in 1947 and became Rector of St. Luke's Church, Que Que in Southern Rhodesia (now Zimbabwe) as well as priest in charge of St. Martin's Mission. For five years this involved him in travelling hundreds of miles into the 'bundu', building schools and establishing churches. He returned to England to serve as Vicar of Paulton in Somerset, during which time he also served as chaplain to the military prison at Shepton Mallet. In 1961 he accepted the pastoral care of a growing community (now an inner city parish) at Bayswater near Perth in Western Australia, during which he put his experience of the construction industry to good use in building and establishing a church in the neighbouring suburb of Morley.
In 1966 Ron and Heather returned to England with their family: Bernard, Leo, Quintin and Keren. He became Vicar of Kirkby Malzeard with Dallowgill in the diocese of Ripon, where he served until his retirement in 1981. During that time (1978) Heather became a Reader. They initially moved to Ripon, where Heather was licensed to Ripon Cathedral and later acted as tutor to the Readers. Although retired, Ron still assisted actively in the Deanery and beyond. Later they moved to nearby Harrogate.
He sustained both a profound life of prayer with a deep pastoral commitment to his flock, whilst also maintaining a lively intellect. In 1974 he obtained an Open University B.A. His love for reading and translating New Testament Greek remained with him all his life. He served as chaplain to the Harrogate branch of the Royal Naval Association and in June 1994 accompanied the members on a D-Day Anniversary tour of Northern France.
During the years following his retirement, Ron began to feel uneasy about some of the trends creeping into Anglican worship, particularly those emanating from the feminist lobby. The 1992 vote of the General Synod in favour of ordaining women to the priesthood was a significant departure from apostolic tradition to make him reconsider his position. Since his days as a student at King's College, when Dr. Oscar Hardman, Professor of Pastoral and Liturgical Studies, had organised a visit to the Russian Cathedral in London, he had always been interested in the Orthodox Church. During his time with the Occupying Forces in Japan he had also visited the Orthodox Cathedral in Tokyo. Now he began to consider this as a likely spiritual home and attended a 'Pilgrimage to Orthodoxy' conference in Doncaster. It was in fact by accident that he and Heather saw the sign to the Orthodox Church at Cusworth whilst driving through Doncaster and, once again through the workings of Providence, they found a service in progress. Ron and Heather were received into the British Orthodox Church at Cusworth on 20thNovember 1994.
More than a decade past his retirement, Ron was not anticipating becoming anything more than an Orthodox layman; but Abba Seraphim, desiring to acknowledge the rich ministry he had exercised for more than half a century, expressed the view that it would be God-dishonouring not to recognise his priestly vocation. Over the next month Ron was ordained through the intermediate orders at Cusworth and on 1st January 1995, under the name of Father Andrew, he was ordained an Orthodox priest.
Although eighty years of age, Father Andrew intended to promote his faith actively and lost no time in circulating two leaflets, "Why I chose the Orthodox Church" and "Why I chose the British Orthodox Church." He found much inspiration in the writings of Pope Shenouda and was immensely proud to be a priest of the Alexandrian patriarchate. Possessed of artistic gifts, he enthusiastically took up ikon painting displaying a talent which was rooted in his life of prayer. Abba Seraphim appointed him as an assistant priest of the Church at Cusworth, where his gentle humility made him much loved and his prayerful ministry was deeply appreciated. He loved to read the Praxis (Acts of the Apostles) and he did so with such feeling that the apostolic age became a present reality. It also gave him great pleasure to baptise and chrismate several members of the newly established King's Lynn Parish at Cusworth in October 1995. Anxious to see the Church grow, he negotiated with the Bishop and Dean of Ripon for the occasional use of St. Mary Magdalene's Chapel in Ripon but it was a disappointment to him that it depended on support from existing church members rather than an influx of new blood. Although inspired by a desire to evangelise, there was nothing ungenerous or sectarian about his spirit. He still referred to "the dear old C of E" and longed for the day when the separation of Christians would come to an end so that they could unite in proclaiming the Gospel.
In August 1997 Father Andrew decided to give up their car, which meant that the journey to Cusworth on a Sunday morning was no longer possible. It was a difficult decision and he wrote to Abba Seraphim to say, "We miss the service which reminds us of the Holy Scriptures in so many ways. We miss the good fellowship of your congregation – some of whom have been most helpful in our services in Ripon." This also coincided with the beginning of a gradual decline in his health. Abba Seraphim gave his blessing to their attending Christ Church, which could be reached by a short walk from their home, advising them that "when cut off from our own communities we do well to share in worship with those around us who witness to the Christian Faith." However, the Divine Liturgy was celebrated in their home whenever Abba Seraphim visited Harrogate.
Although in failing health for several months following a heart attack, Father Andrew's passing came as a surprise. He and Heather saw in the New Year watching the fireworks on 'the Stray' (onto which their house backed). The next morning he woke feeling very shivery and was admitted to hospital with a high temperature and very low blood pressure. Heather stayed with him all day and returned home that night. At 2.30 a.m. she was called back because his condition was deteriorating rapidly and was just in time to witness his peaceful passing. He died on 2nd January 2000 at Harrogate, North Yorkshire, aged 85 years.
Appropriately a memorial service was conducted at Kirkby Malzeard on 10th January, at which all their children were able to be present (Leo having flown from Australia at the last minute). Speaking at the Forty Day Requiem at Cusworth on 13th February, Abba Seraphim said, "Father Andrew's ministry was long and rich. In his prime he was a man of great vigor, passionate for truth and justice, dedicated to the practice of his faith. By the time he came to the Orthodox Church much of that physical energy was in decline, but the intellectual vitality in upholding the faith and commitment to truth was as ardent as ever. He was in a hurry. He had all that godly impatience of those who are determined to use all their energy to the end. Nor was he interested in position or pre-eminence as one might expect from one with such experience and knowledge. He came humbly, seeking only the truth. … How does one measure the ministry of a priest ? Is it length of service, the number of converts he has made, the positions he has held or even the unseen ministry of the hours in private prayer and intercession, the tears shed for himself and those in his care. The Apostle Paul speaks of the 'measure of the stature of the fullness of Christ': the various gifts and ministries which build us up to the likeness of Christ and which we use to build up our brethren in the faith. That is the only measure we can use. I believe Father Andrew was ever striving for that fullness."