Archdeacon James GODDARD (1957-1993)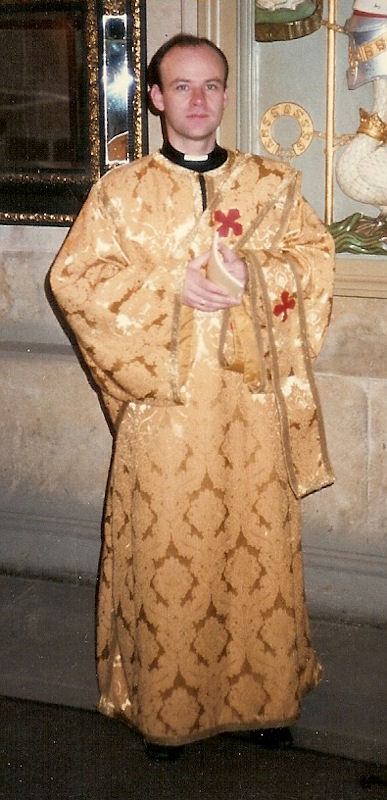 The tragic early death of Archdeacon James deprived the Church of an energetic and able member of the clergy . Although he began his Church association as a protege of the new Abba Seraphim (having been one of his former pupils) he soon became his "own man" and his sound advice and professional expertise were much valued. In spite of a long battle against ill health, Archdeacon James had an active and lively personality and was well known and liked not only by the British clergy and congregations, but also by the communities abroad which at that time depended on the British Orthodox Church, where he was once a frequent and popular visitor. His contribution to strengthening Church finances and establishing sound fiscal policies were based on many years of careful stewardship. Although the fruits of his labours only began to manifest themselves in the last months of his life later generations of church members owe him much.
Leigh Jonathan GODDARD was born at Lewisham, London, on 21st October 1957. His father, Dennis Albert Goddard was a carpenter and joiner and came from a family who had been settled in South-East London for over a century. His mother, Theresa Ellen Sullivan was a daughter of the colourful Labour pioneer, Alderman Jack Sullivan (1893-1968), Mayor of Stepney during the 1926 General Strike, a member of the London County Council and a close colleague of Clement Attlee, a former Mayor of Stepney and M.P. for Stepney-Limehouse. The Sullivans were a staunchly Catholic family and Leigh was duly baptised at Holy Cross Roman Catholic Church, Sangley Road, Catford, on 8th December 1957.
Sadly part of his inheritance was haemophilia, an hereditary genetic condition in which the clotting agent in blood is either absent or deficient and which although transmitted by females is only manifested in males. As his haemophilia was fairly mild he was able to lead a normal childhood but the more boisterous sports, like football, inevitably led to hard knocks and bruising precipitating haemorrhages and he early learned to adapt his life-style to his condition.
When he was four Leigh's mother died suddenly of a brain haemorrhage and he and his father were left alone. It was a particularly warm and affectionate relationship and a number of housekeepers helped Dennis with the practical problems of bringing up a young son and holding down a job at the same time. Shortly after Leigh went to secondary school Dennis married the current housekeeper but his sudden death from a heart attack when Leigh was only fourteen left him an orphan living with a step-mother to whom he was not particularly close. Matters were not improved when Leigh's step-mother informed him that she was making a will in which the house, which was now hers, would be divided equally between Leigh and her children from her former marriage. Having a strong sense of justice he felt cheated of his inheritance and efforts to seek legal redress proved fruitless and only heightened the antipathy he felt for his step-mother. The simmering domestic tension finally erupted when he was in the Sixth form at school and a violent scene led to his departure from his family home. He left with nothing except a bitter realisation that he could only expect from life what he worked for himself. Providentially he was offered a home with his mother's sister and her husband, where he lived happily until he bought his own flat in 1988.
In September 1969 he became a pupil at Catford Boys' School. Also starting that term was the young Abba Seraphim, then a deacon, who was beginning his teaching career. Leigh's class was one of the less able groups yet he was obviously an intelligent and articulate student who stood out among his contemporaries. In later years he was to attribute his slow progress at school to the shock of having lost his mother when so young.
As he progressed at school he came into contact with a group of pupils and teachers who were friendly with Abba Seraphim and he began to attend the Blackheath Parish Monthly Meetings and other church functions. Among the clergy with whom he established an especially warm relationship was the late Father Paulos (Lawson-Wood). When Father Paulos visited Blackheath at weekends the young Leigh Goddard would sit and listen attentively as the elderly priest talked. Father Paulos had devised an Aptitude Assessment Test, originally intended for use by School Teachers, Careers Officers and Vocational Guidance Counsellors, but equally suitable in the selection of prospective ordinands. He invited Leigh to be a "guinea pig" for his test and was not surprised when it showed up some extraordinary qualities in this young man, whom it revealed had "an unusually well-balanced and strong personality". So impressed was Father Paulos that when he became too infirm to operate his assessments any longer he asked that Leigh Goddard should be given his papers and files on these tests as he was the person best suited to use it.
In 1975 he left school having achieved good exam results but they were not sufficient for him to train for his chosen career as an accountant. During the next three years he worked in the City for a firm of Stockbrokers but continued his studies in his own time, eventually achieving eight passes at Ordinary level G.C.E. and with Advanced level Accounting, Law and Economics to his credit. He now entered the Polytechnic of the South Bank and began studying to become a Certified Accountant, for which he qualified in June 1985. During this period he worked for a number of accounting firms, including Touche Ross, where in five years he rose from Junior to Manager. He later worked as an accountant with various firms of Stockbrokers and his last post was as accountant to a firm of International Investment Advisors.
Abba Seraphim's consecration as a bishop brought Leigh Goddard into still closer involvement with Church affairs and in October 1977 he accompanied Abba Seraphim on one of his first episcopal visitations to the West Country. He was appointed an Ecclesiastical Notary in July 1980. At the time of Abba Seraphim's enthronement he met many of the clergy from the church's then congregation in Davis, California, and resolved to pay an extended visit to California in November and December 1980. Here he was able to experience an active parochial life with people of his own age and he was challenged to make a deeper commitment to Christ. It was therefore not in London, but in Davis, California, on 28th December 1980 that he was chrismated at Abba Seraphim's hands and committed to the pastorship of the Church in British.
In 1982 he became Treasurer to the Church trustees and brought his professional skills to bear in the day to day financing of an expanding Church; and in 1983 was also appointed Registrar and Archivist, positions based on the Church Secretariat. His friendship with clergy and church members abroad enabled him to pay several more visits to Davis and to Canada to stay with Father Silas (Spear), whilst his position as Personal Assistant to Mar Seraphim took him to Brittany as well as services and meetings throughout the British Isles. He had never envisaged himself becoming a member of the clergy but, advised by Mar Seraphim, he answered the Church's call for him to offer himself as a deacon. On 3rd June 1984 he received the Clerical Tonsure and minor order of Doorkeeper at Blackheath at the hands of Bishop Mael and was given the name James in recognition of his practical temperament and belief that "faith, if it hath not works, is dead." He was ordained Reader at St. Dolay on 5th August by Bishop Gall; Catechist/Exorcist at Bournemouth by Bishop Ignatius Peter on 26th August and Acolyte on 9th December 1984 at Blackheath by Abba Seraphim.
For a number of months Brother James had been suffering severe renal pain, which he endured with quiet stoicism. By the summer of 1981 this was diagnosed as a problem arising from a congenitally malformed kidney which could only be resolved by surgery. As a haemophiliac the operation involved further complications and the necessity for large doses of Factor VIII, the blood-clotting drug needed in his condition. He was sad that he was unable to participate in the successful first Bournemouth Mission that August but he was enthusiastic about the progress and was kept in close touch with events by Abba Seraphim who visited him daily in hospital. It was, however, during this period in hospital that he received contaminated Factor VIII, which was to be the eventual cause of his death some twelve years later.
He had been due to advance to the Order of Subdeacon in the summer of 1985, but a routine examination of all haemophiliacs in July 1985 had revealed his infection and the knowledge of his condition made him decline further advancement. This was probably the most difficult time for him as he struggled to come to terms with the fact that although in the prime of life with a promising future ahead of him that now his health, his career and, ultimately his life, were all subject to the uncertain advance of the fatal virus that lay dormant in his body. In October he confided his condition to Abba Seraphim who, apart from his aunt and uncle, was the only other person to know of his condition for several years. He admitted that this tragedy had shaken his newly found Christian commitment and saw it as an assault of the Evil One to deprive him of Faith, but by putting his faith in God's mercy and grace and with the support of the Church he was able to face the future and all that it held. At the end he proclaimed that his faith had even been strengthened by his condition.
Counselled by Abba Seraphim he decided to resume his progress as an ordinand and on 30th March 1986 was ordained Subdeacon by Abba Seraphim at Blackheath. Typically his ordination as Deacon took place abroad, in Brittany, on 26th May 1986 at the hands of Abba Seraphim. Later that year, on 27th December, whilst visiting Father Paulos at Tunbridge Wells to mark his eightieth birthday, he was appointed Coadjutor to the Archdeacon. It was a fitting appointment as Father Paulos had clearly been a formative influence in his spiritual journey. When Father Paulos eventually died on 10th June 1990, he became Archdeacon in his own right. He served as a trustee of the Bournemouth Church Trust from 1986 until its extinguishment as a separate entity in November 1989 and was a trustee of the Cusworth Church Lands from November 1990 until his death.
Renewed problems with his kidney and complete failure in one kidney caused him several painful bouts of illness which he suffered bravely and then in March 1990 the first signs of the various opportunistic illnesses associated with his condition began to appear. Whilst he enjoyed reasonable health he had seen no reason to share the details of his condition with others but now he brought one or two friends into his confidence and as the illness gained a hold he requested Abba Seraphim to inform leading clergy and laity as he valued their prayers. Essentially modest he was quite unprepared for the wave of love and devotion he received from his friends but he felt greatly sustained by the knowledge of their prayers on his behalf. Providentially he was staying at Cusworth when his condition began to became a problem and as it was a Bank Holiday Abba Seraphim sought help from his neighbour who just happened to be the Consultant specialising in his condition. for the Doncaster area. This enabled Archdeacon James to resort to the facilities of the Special Unit at Doncaster Royal Infirmary whenever health problems arose at Cusworth. In August 1991 he was signed off sick from work and recognised that his professional career had come to an end although he now planned to give financial advice from home. Health problems now occurred with increasing frequency and from Christmas 1992 his condition deteriorated steadily but he still concerned himself with his responsibilities as Archdeacon. On 3 July 1993 he appointed Protodeacon Alexander Astill  as his Coadjutor to perform his liturgical duties but he maintained a tight control over fiscal policy to the end and Investors Chronicle and the Financial Times were always beside his bed at the hospice. He heartily approved of David Day's appointment as Treasurer as he had known him from his school days at Catford.
Truly nothing so became him in his life as the way he left it. There was no bitterness, no complaint about the terrible injustice he had suffered. He was composed and realistic and he was at peace with himself, the world and his God. Even as he lay dying his thoughts were for others and, having learnt from his own circumstances, the detailed workings of government Sick Pay and Attendance Allowances he sought to advise others. Certainly two church members actively benefitted from his advice in the weeks before he died. For those who visited him in those last weeks Death will never be so fearful an encounter because of his example and witness. He knew it was only a door into another part of our existance whose richness and variety far outreaches our feeble expectations. For this reason he asked that his tombstone should be inscribed with the words : "I've gone to the land I've always wanted to see."
He died at Sydenham, South London on 13th August 1993 aged 35 years and was buried at Wimborne Road Cemetery, Bournemouth on 24 August 1993 (Grave No. C6/51N)