Joan Olive CARTER (1920-1989)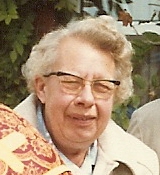 Joan Bailey was born at Southampton on 5 January 1920 and was brought up a devout Anglican. She trained as a nurse and for many years served as a midwife and health visitor in Southampton. Her marriage to Raymond Carter in middle age was very happy and although his early death was a great loss she was sustained  by a vital and well-informed faith.
Saddened by the increasing liberalism of the Anglican Church she had resolved to move from Bournemouth back to Southampton where there was a Greek Church, when she first discovered the Orthodox Church in Osborne Road, Winton. She was received into the Orthodox Church on 14 April 1985 and thereafter became a devout and committed member of the Bournemouth parish. She was always ready to give support and hosted several meetings of the Catechetical School at her home in Broadstone. When the Cusworth Church was rededicated in 1988 she journeyed to Yorkshire to give her support to the new parish and in April 1989 attended the British Orthodox conference at Charlton as a lay representative of the Bournemouth parish.
Although in indifferent health she remained cheerful at all times and her wheezy chuckle was often heard after the services, It was a great delight to Joan when Bournemouth again had a resident priest (after being served from London) and she gave her support whenever she could. She had been at the Liturgy the previous Sunday, but had not felt well on the Thursday night. With presence of mind she telephoned for an ambulance early on Friday morning when she recognised the beginning of a heart attack and unlocked her front door, but when the ambulence arrived Joan was already dead. She died on 17 November 1989 aged 69 years.