Chatham: St Alban and St Athanasios' Parish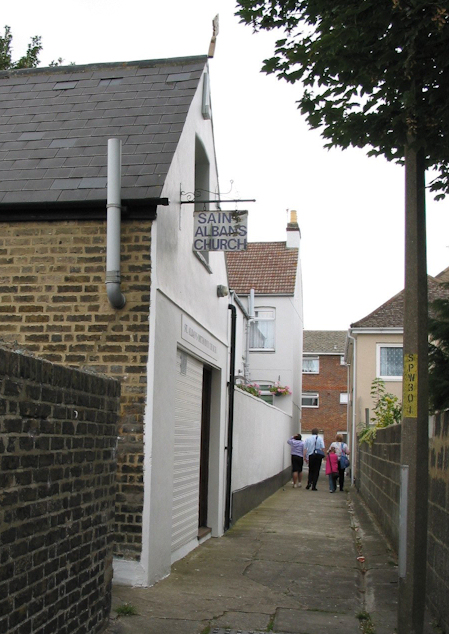 St Alban's Church
St Alban's Walk
Ordnance Street
Chatham
Kent
ME4 6SB
Services and Events
History of St Alban and St Athanasius Orthodox Church
St Alban and St Athanasius British Orthodox Community in West Kent has been in existence, in one form or another, for perhaps nine years. Shortly after the reception of the Orthodox Church of the British Isles into the Coptic Orthodox Patriarchate in 1994, several local enquirers Peter Farrington, Michael Kennedy and Michael Simmons, were baptised and chrismated into the Church.
These enquirers had been meeting on a six weekly basis at Stacklands Retreat Centre, West Kingsdown, where liturgies were celebrated by Abba Seraphim, Father Sergius Scott, Father Philip Bourke and Father Michael Robson for a number of years before the union of the Orthodox Church of the British Isles with the Coptic Orthodox Patriarchate. These clergy offered themselves without pre-conditions, and allowed those of us who were slowly developing an interest in Orthodoxy to learn and experience something of the Orthodox life. Without their support over many years it is undoubtedly true that our community would never have been formed.
After their reception into the British Orthodox Church, this small group began to pray together on a Sunday morning in a borrowed chapel of St Michael and All Angels Church of England, in Maidstone, Kent.
For several years they consistently prayed from the Agpeya, while also attending six weekly liturgies at Stacklands Retreat House, near West Kingsdown. The Administrator of this Anglican centre was Father Michael Robson. Occasional liturgies were also held in St Michael and All Angels Anglican Church. Once again the support of the clergy at Charlton was fundamental in allowing any sort of activity to begin in Maidstone, and our community should be seen as a missionary daughter of Charlton, dependent not least on the constant and faithful ministry of Father Philip Bourke at Blackheath and Charlton over many years.
The prayer group had occasional visitors, but it was clear that the very limited Orthodox worship they were organising was not suitable to build a community. Nor did the group have any other resources available which might have sustained an enquirers group. This period did teach the need for persistence in both prayer and in commitment to the way they had undertaken.
After some time the Cemetery Chapel at Maidstone Cemetery was leased by the fledgling community. Father Michael Robson had joined the British Orthodox Church and been elevated to hegoumenos, and he and Father Sergius Scott began to serve the liturgy at the Cemetery Chapel once or twice a month. Over a period of several years the frequency of the liturgy became weekly, Peter Farrington, Michael Kennedy and Michael Simmons were made Readers and then Sub-deacons.
In 2001 another change took place for the community. The possibility arose of purchasing a small Chapel in Chatham, previously owned by an independent catholic priest. This became St Alban's Orthodox Church in 2002, and is the present home of the St Alban and St Athanasius Orthodox community. Over the past three years the small property has been successfully converted for Orthodox worship. There is an iconostasis and four very high quality icons, produced by the Coptic iconographer, Stephane Rene. It has been decorated in a pleasing and light manner to make the best use of the space, which includes, besides the sanctuary, a small lobby, toilet facilities, and a storage area.
For the first two years in this location effort was spent in converting the building and growing in confidence in celebrating the Liturgy. The British Orthodox Church funded the purchase of the Church, and through the kindness of many British Orthodox members, and other friends, funds were also raised to renovate and decorate the building, making it suitable for Orthodox worship.
Since the consecration of the Church we have also received other gifts from members and friends, including a Legilium, an icon of the Last Supper, and a set of bookshelves. The kindness of so many people in sponsoring items such as icons, and other necessary fittings, has played a large part in making our Church an attractive place of worship and prayer.
St Alban's continues to commit itself to evangelism, and to serving the wider British Orthodox community as it is able. We have seen a steady increase in numbers and continue to experiment with new ideas to increase our congregation and share our Orthodox Faith with the people of North-West Kent. We have a wide range of people worshipping with us, and the diversity of our backgrounds proves that Orthodoxy is truly Catholic, that is universal.